Dr. Amber French grew up on a farm in northern Illinois.  She attended undergraduate school at Augustana College in Rock Island, Illinois, and medical school at the Kirksville College of Osteopathic Medicine in Kirksville, Missouri.  After graduating from medical school, she moved to suburban Philadelphia where she did her residency in Obstetrics and Gynecology.  She moved to Dahlonega, Georgia, in 2004 and started Crown Mountain Women's Health.
It was at a conference on antiaging and regenerative medicine that she first became interested in nutrition and weight loss. After developing a program for herself, she formalized the information and began helping her patients achieve lasting weight loss in a manner that was healthy and beneficial to their bodies.  She completed the fellowship and board certification in antiaging and regenerative medicine in 2010 and was looking for another project to take up all her spare time when friend and fellow food enthusiast Kari Morris approached her about writing a book together.  Over 250 research articles and a year later, the book was finished.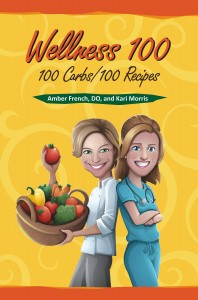 She is still practicing as an OB/GYN in North Georgia, but she integrates antiaging principles into her general practice.  Her practice is geared toward bioidentical hormone replacement therapy, nutrition, and natural therapies.  When she is not delivering babies, doing surgery, researching, or writing, she enjoys traveling with her husband Kevin.
Dr. French recently authored an article for "Wellness Times" called Diet Drugs: Long-Term Risks for Short-Term Weight Loss.
Click here for a sneak peek into Wellness 100: 100 Carbs/100 Recipes.