Arthur Mark Boerke, sadly missed by all, had a penchant for writing children's fiction.
About the Author
If there is one thing that you could say about Arthur Mark Boerke, it is that he lived an exciting life. He spent more than twenty years in the music business, where he was, at one time or another, a radio announcer, program director, concert promoter, talent buyer, band manager, and nightclub owner. He ran the music and promotion department for the famed Rockafellas' rock 'n roll club in Columbia, South Carolina, from 1988 to 1999.
In 2002, "Art" decided it was time for a change and went back to college to become a professor. In 2007, he was hired as an adjunct history professor at High Point University in North Carolina. From then until his death, he worked steadily at a number of  North Carolina colleges and universities.
In 2008 he contributed a chapter, "Conscription in the Habsburg Empire to 1815," to the book entitled, Conscription in the Napoleonic Era: a Revolution in Military Affairs, by Donald Stoker, Frederick C. Schneid, and Harold D. Blanton eds.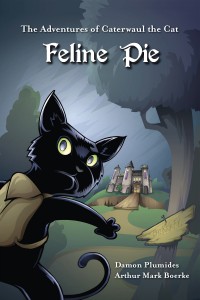 (London, Routledge, Taylor and Francis Group, 2008).
In 2010, Boerke decided to join friend Damon Plumides on a collaborative work of fiction. The result was the humorous action novel called The Adventures of Caterwaul the Cat: Feline Pie. He, as is his coauthor, was very proud of the world they created.
A graduate of the University of South Carolina in Columbia, Boerke held a Master of Arts degree in History and Bachelor of Arts degrees in History, Journalism, and International Studies/Political Science.
Sadly, Boerke passed away on February 20, 2013. He is already deeply missed by his BQB family.
About the Book
Fiction book reviews for Arthur and Damon agree that this book is a delight to read.
The Adventures of Caterwaul the Cat: Feline Pie is available in paperback through the BQB online store, and the below retailers: