Bryson Maples is a first-time, young author who has put his heart, soul, and intellect into his debut historical fiction novel.
About the Author
Bryson Maples, twenty years old, was born and raised in Pigeon Forge, Tennessee. From a very young age, Bryson aspired to become a published writer. Growing up, he would read through his mother's papers that she had written in college, and it was then that he realized he wanted to follow in her footsteps in becoming a skilled writer. It was during his senior year of high school, in his honors English class, when he realized his true potential. The groundwork of his writing talent was established by his eighth grade English teacher. The writing methods taught to him then are what gave him the confidence to hone his writing skills and are what also gave him the ability to transform these skills into a whole new level of writing in high school.
Bryson attributes his writing ability to his outstanding English teachers Tina Brasington and Tad Wynn. These two educators challenged him in the classroom to not only become a creative writer, but also to be the type of writer who stands out, who people remember. If asked to pinpoint the spark that got him interested in writing, Bryson would say it all boils down to the support and the encouragement that he has received throughout the years. In addition to this support, Bryson would also give the majority of the credit to his mother, whom he believes ignited his determination to become a published writer.
Bryson has always believed that if writers truly want to relate to their readers, their words have to come from deep within their soul. Bryson is also a firm believer that a person's work has to come from his or her heart, and if writers fail to speak from their heart, a true reader will have the ability to detect this negligence within the first few pages. It is tantamount to him to write about a topic for which he truly cares, and he strives for others to be able to understand and relate to his writing. For Bryson, it is all about the heart and soul that one puts into their writing.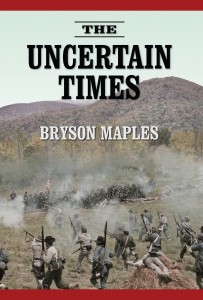 When Bryson Maples started writing his first book, many people asked him, where did you find the time, and how did you ever have the patience to complete it?
The answer is simple: anyone can do anything if they have the desire and the determination. Bryson's advice to others who dream of becoming a published author is this: Don't ever let anyone tell you that you can't—if you want it bad enough then you will achieve it. The only person stopping you is yourself; just keep the faith and determination, and you will eventually succeed in every aspect that you are pursuing.
Bryson is the type of person who believes he was led to become a writer, not only by people, but by God as well. This writer values faith, strongly believes that he was led to project his story to the public, and truly hopes that his work may reach out to someone to possibly encourage them in some area of their own life.
As well as being a writer, Bryson has played football for the past fourteen years, and even had the privilege of competing at the collegiate level at the University of the Cumberlands, in Williamsburg, Kentucky. In 2011, he realized that discontinuing his football career would allow him to focus more on his studies, which would ultimately help him better prepare for his future. Bryson is currently working toward his bachelor's degree in criminal justice and plans to become a criminal investigator post graduation.
This young author enjoys spending time with his family, reading historical novels, and absolutely loves every aspect of the outdoors. Growing up within eye shot of the Great Smoky Mountains, it is easy for one to see why this writer has become an outdoorsman. Bryson will tell you, whether he is fishing, hunting, or riding horses, you can be sure to find him in the great outdoors. Bryson also plays the guitar and enjoys writing small songs during his leisure time.
Bryson's first book, The Uncertain Times, is about a soldier's journey and life in the Atlanta Campaign during the American Civil War.
Bryson has traveled the actual Atlanta Campaign trail, which lends compelling pathos to his vivid historical details. Throughout his research process, Bryson met many people that helped him tremendously; however, the person that Bryson credits the most in helping him find accurate research would be longtime Civil War artifact hunter Terry Miller. Without the information from Terry Miller, this book would not display the type of historical accuracy that it contains.
Bryson hopes that all of his readers enjoy reading this book as much as he enjoyed writing it. Bryson strongly values this opportunity and would like to personally thank those of you who have shown your great support.
About the Book 
The Uncertain Times is available in the BQB online store. All versions (print and eBook) are available through the following retailers, as well as all other major book and eBook retailers: