Damon Plumides has a knack for creating memorable and cherished characters for children's books.
About the Author
Born and raised in Charlotte, North Carolina, and Myrtle Beach, South Carolina, Damon Plumides is a former student at Coastal Carolina University. It was while living in Myrtle Beach that he met guitarist Brian McKenzie and the two formed the hard rock band, Dead Cut Tree. Dead Cut Tree toured steadily around the southeastern United States between 1990 and 1996, producing two albums of original material and gaining a solid following in the clubs. The band was offered a seven-album deal with Relativity Records, but the length of commitment caused tensions within the band, which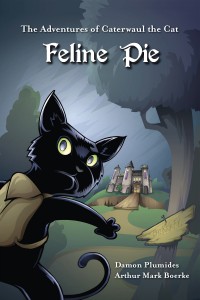 eventually led to its break-up. It was while singing in Dead Cut Tree that he met his friend and future writing partner Arthur Mark Boerke, who ran Rockafellas', a nightclub in Columbia, South Carolina.
In 2010, Damon approached Arthur with the idea of creating a world where magic was real and animals and people coexisted and interacted as equals. The hero of the story would be a black cat named Caterwaul. The result of this collaboration, The Adventures of Caterwaul the Cat: Feline Pie, is a tour de force that's chock full of action and humor.
When he is not writing or developing the Caterwaul universe, Damon is a wine consultant with international wine merchants PRP Wines. He has recently become the father of a baby boy named Michael and currently lives in Charlotte North Carolina.
Connect with the Author
Connect with Damon on his website or Facebook.
About the Book
The Adventures of Caterwaul the Cat: Feline Pie is available in paperback through the BQB online store, and the below retailers: