Ed Loffredo's series is sure to delight kids of all ages!
About the Author
Edward Loffredo was born in New York City. He went into the Air Force at age 18, and his first station was in Cheyenne, Wyoming—imagine moving to Cheyenne after only knowing New York City! Ed's friends back in New York did not know that people in Wyoming drove cars, had electricity, watched TV, and such. So Ed, being the type of person that he is, started telling tall tales, and Bob the Buffarillo was born. Every time he went back to New York the people there expected more stories, and the saga continues to this day.
Ed spent twenty years in the Air Force and retired, but then he was bored, so he took the test for the Post Office and spent twenty years working there. He is finally in official retirement and can indulge full-time in his passions, which are writing, singing karaoke, and acting. He is now doing all three in Denver, Colorado.
Connect with the Author
Check back for ways to get in touch with Ed!
About the Book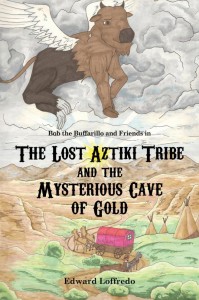 Bob the Buffarillo and Friends: The Lost Atziki Tribe and the Mysterious Cave of Gold is now available for order on the BQB website, as well from major retailers including those below: