Edith Hawkins delivers a number of beautiful messages in her debut book for children and their families.
About the Author
Edith Hawkins grew up and still lives in rural South Carolina near Lake Murray, where she relishes the fact that within two or three hours you can be walking on a sandy beach or viewing the spectacular hues of fall in the mountains. After graduating from Midlands Technical College and later the University of South Carolina, Edith worked as a medical laboratory technologist for thirty-three years before recently retiring. She now spends her time in her garden and is an accomplished and passionate gardener, receiving certification as a Master Gardener from Clemson University's Master Gardener Program. Edith is also an active member of her church where she teaches Sunday school, is a member of the choir, along with women's groups and the church council.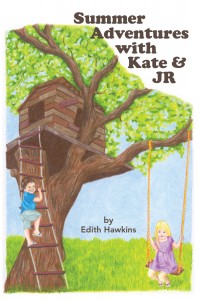 Edith belongs to a writer's group, where she has worked with fellow writers to develop her love of writing children's books. Having no children of her own, Edith was inspired to write a children's story after years of reading to her nieces and nephews. Her young family members loved having someone read to them from an early age and, along with reading being an easy way to keep them quietly entertained, Edith enjoys seeing the expressions on their faces as the story unfolds. Drawing on experiences from her past and the many adventures shared with family and the countless number of kindergarten students that she has taught in Sunday school, Kate and JR were born. Edith hopes that through reading her book or having someone read to them, children will be inspired to explore their creative side, look for adventures in the world in which they live, and appreciate the learning experiences gained while having fun with their parents, grandparents, and other adults in their lives.
Edith hopes that through her experience gained by working with other writers in her group, she will be able to continue writing stories that children will enjoy reading over and over again.
About the Book
Summer Adventures with Kate and JR is available in the BQB online store. All versions (print and eBook) are available through the following retailers, as well as all other major book and eBook retailers: