Lori Beard-Daily brings a unique and infectious flavor to her writing.
About the Author
Empowered and accomplished aptly describes Lori Beard-Daily's steady rise from corporate to entrepreneur to play-wright, author and speaker. Lori began her advertising career at Delta Air Lines. After a two-year stint as an advertising director, she became the founder and CEO of her own marketing communications agency, Beard|Daily. This opportunity allowed her to build a diverse blue chip client list for 14 years. Her company was also selected by Turner Broadcasting System Inc. to be its sole protege in an Atlanta based entrepreneurial program.
While running her business, Lori continued her passion for writing and speaking. She penned a travel column for Delta Air Lines and coached C-level executives on internal communications and led diversity workshops. Her speaking topics now include practical tools that aid her audience to rediscover themselves and reach their ultimate potential.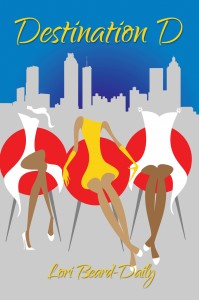 Her first play, Trunk of Fate, a "twist-fictional" about President Abraham Lincoln dis-covering he was really black garnered recognition from the media, historians, the general public and theatre critics. Her second play, Daddy's Girl was based on a female federal agent who goes undercover and marries an affluent drug lord to bring down his establishment, but gets caught in her own trap when she captures his little girl's heart long before she brings down the criminal ring. Both plays were directed and produced by the late theatre thespian Carol Mitchell-Leon. A third play, Civil Unrest, which was a follow-up to Trunk of Fate soon followed with a staged reading and was directed by renowned actor and director, Gary Yates.
Lori has also been featured on 60 Minutes. She and her family were interviewed by Mike Wallace in a segment entitled "Going Home to the South." Shortly after the segment aired, she began writing her first novel, Destination D, also based in the South. This story is about three friends from Spelman College who make a promise they can't keep. Their broken promise leads to unexpected discord, duplicity and denial.
Lori has also been nominated for the 48th Georgia Author of the Year Awards, one of the most prestigious literary awards in the nation and the oldest in the Southeastern United States. A graduate of Spelman College, she holds a bachelor of arts degree in English. Lori is a native of Milwaukee, Wisconsin and is married to Bryon Daily. They have three children.
Connect with the Author
You can visit Lori's website, Facebook, or Twitter to connect!
To learn more about Lori's speaking experience and to learn more about booking her for an event, download her speaker brochure here.
About the Book
Destination D is available in the BQB online store. All versions (print and eBook) are available through the following retailers, as well as all other major book and eBook retailers: