Mike Blyth brings his sense of humor and love of kids to bear in his new book!
About the Author
Mike Blyth is a retired Royal Marine Commandos Major and is presently the chief operating officer of a risk management company supporting government and commercial projects in high-risk environments. Mike has worked or lived in over forty-three countries, most of them rather dodgy in nature, and which require a fair degree of zig-zagging when going down to the shops.
Mike has a masters degree in security management and is a published author (Wiley and Sons) on risk management and business continuity management. Mike is a qualified nuclear accident manager; has commanded over 650 security personnel in Iraq; speaks at international conferences on security and emergency management topics; writes professional manuals, policies, and training programs for both the public and private sectors; and leads crisis and business continuity management teams dealing with a wide range of emergency situations.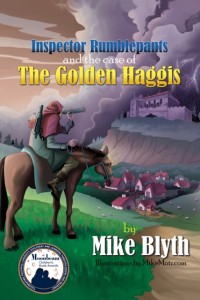 Mike is married to Kristen, who is retired from the US Navy and frequently points out she has a much higher IQ than her husband. They have five children together. Mike enjoys writing the Inspector Rumblepants books every time his wife gives birth in order to escape changing diapers (which happens rather frequently). The Inspector Rumblepants series started after his first child, Alex, displayed a propensity for unusual amounts of flatulence. Being a fan of the Sherlock Holmes stories, the stage was set for Mike. His daughter Amber has already been recruited into M16, as she is tougher than anyone Mike met in the Royal Marine Commandos. His youngest son Christopher will either end up in, or being arrested by, the police. Mike now lives in the United States in the Washington, DC, area to avoid his children having wonky teeth and a funny accent.
About the Book
Inspector Rumblepants and the Case of the Golden Haggis is now available to in paperback through BQB's online store, and the below retailers: