Sarah Voskamp shows a lot of promise in her first book!
About the Author
Sarah Voskamp was inspired to write her first book, Filly Girls, when she was nine and would love to write more because writing is her passion. In fact, she hopes to grow up to be the next J.K. Rowling! While Sarah is very smart and enjoys all of her subjects in school, reading and writing are definitely her favorites. Sarah also loves sports, her family, and her friends. She lives in Georgia with two brothers, her mom and dad, and an adorable dog who is almost as big as she is!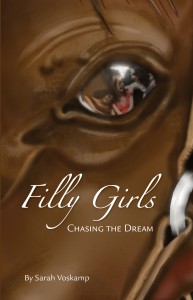 Connect with the Author
To keep up with Sarah's activities and blog with her, go to her website or Facebook.
Sarah was recently at a reading and book signing at an elementary school in Peterborough, Ontario, Canada.
Listen to an interview with Sarah from the 2011 Decatur Book Festival.
About the Book
Filly Girls is available through the BQB online store, and the book retailers below: