Tammy Turner has a rich gift for writing fantasy for young adults.
About the Author
Growing up in the coastal town of Charleston, South Carolina, instilled an infatuation with history, mystery, and legend in first-time author Tammy Turner. From the time she could shuffle along behind her father, they would hunt for sharks' teeth, explore crumbling cemeteries, and dig for lost pirate gold along the low country beaches. Attending school in the heart of the city, she passed cannons and navigated cobblestones on her way to class, the palpable lore of history feeding her imagination and inspiring her to craft her own stories.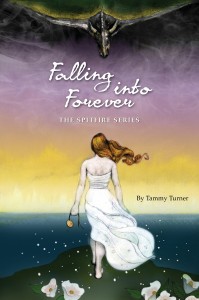 Tammy attended Georgia State University where she graduated with a degree in journalism and earned summa cum laude honors. While she has pursued a career in international business, the power of words have continued to intrigue her.
After years of talking about writing her own novel, she decided to put pen to paper and go for it. Born out of hours spent sitting on bleachers football practice and daydreaming in hideous commuter traffic, Falling into Forever is her first novel but not her last. The struggle and thrill of creating Falling into Forever left Tammy eager to continue creating more adventures for her characters, and she looks forward to sharing more of their lives with readers.
Now a resident of Atlanta, Georgia, Tammy devotes the best of her time to her son and capturing the essence of make believe with her writing.

Connect with the Author
Go to Tammy's website for more information about her writing!
About the Books
Tammy's books are available paperback and eBook through the following retailers, as well as through all major print and eBook retailers.
Falling into Forever
The End of Never