Five-Star Review by Wajeeha Jalil for Readers' Favorite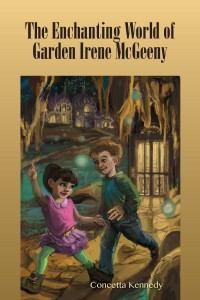 "The Enchanting World of Garden Irene McGeeny" by Concetta Kennedy tells the story of a young girl who lives in a secret underground castle. Garden McGeeny is a little girl who has moved recently into town. She lives in a secret underground castle that her grandfather and great-grand uncle built years ago. No one knows about the existence of this castle. Garden is new in school and does not yet have many friends. The only good friend she has is Peter, the smartest boy in class. One day in a discussion about different types of homes, Garden blurts out about her secret castle, much to the surprise of her classmates and teacher. Now she must figure out a way to get out of the predicament, answer the relentless questions asked by Peter about her home and prove to him that she is not a liar; all while keeping a promise to her parents not to tell anyone about the castle.
"The Enchanting World of Garden Irene McGeeny" is a book of wonder and make-believe. Concetta Kennedy spins an engaging tale. The descriptions in the story are vivid and awe-inspiring, capturing the imagination of the reader. The story deals with a young girl's dilemma as she tries to do the right thing by her parents and her friend. It has a happy ending as the girl, Garden, makes the morally correct choice. The book is delightful in its plot and fluency; nowhere does it seem to be stale or boring. The scenery and castle described in the book are sure to fascinate any young reader. I really enjoyed reading this book.

This review is by Valle Blair for the James Prendergast Library (click the image to enlarge):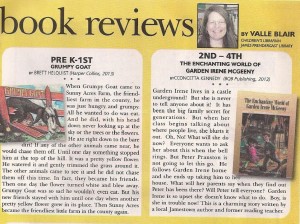 The Enchanting World of Garden Irene McGeeny is a cute children's book about a girl named Garden Irene, who tells her classmates one day in social studies that she lives in an underground castle. I remember being amazed at castles when I first read about them, so I can just imagine that a statement like that would bring about such excitement in a classroom!
Naturally everyone doesn't believe poor Garden Irene – the author states that she came up with an unusual name so that people will remember her story. She goes home and tells her parents what she did, and her parents – especially her father – are very disappointed with her. And the rest of the story goes on from there.
I think this is a great, cute story for tweens. My only real negative is the drawings were all in black and white and it would have been nice to have seen at least a few color drawings.
~Anastacia Zittel for NetGalley

You are sitting in 6th grade class and everyone is talking about the one thing that has been the best for them over the past 12 months. Before you know it you blurt out the you live in an underground castle. But, everyone knows you live on the outskirts of town in a very tiny house at the end of the bus route!
Wow, talk about a big problem and an even bigger reason to solve it Garden Irene has a Whopper. Great read, about truthfulness, friendship and family relations.
~Bill Tillman for NetGalley

Garden Irene McGeeny and her parents had moved Frostburg, her father Padrick's childhood home, just recently. Mrs. Fitzpatrick, Garden Irene's teacher, had begun a discussion during social studies about unusual dwellings people lived in and Garden Irene spoke up to tell that her and her family lived in an underground castle. The teacher and her other classmates began asking her questions Peter Pranston was vocal in saying he knew wher she lived and it sure wasn't a castle. The teacher returned the class back to their routine with a promise to ask Garden Irene more questions at the end of class. Unfortunately time ran out and class was dismissed with the promise they would begin the next days classes with questions for Irene and sdismissed the class for everyone to head home.
All the way home Garden Irene tried to think of a way to fix her problem anout the class knowing about her home. Her parents had always told her to keep it a secret. Now she has to tell her parents what she has done, plus she has a note from the teacher for them. That night she tells her parents and tho they do not yell or punish her she knows they are disappointed with her. They again tell her never to tell anyone about their home.
What is Garden Irene going to do? Who can she talk to? How can she regain her parents trust? Does she really live underground in a castle? If so how did it get there without anyone outside of her family knowing about it? So many questions I know, you will only find the answers when you read Concetta Kennedy's "The Enchanting World of Garden Irene McGeeny" for yourself.
This delightful tale will leave you with a smile on your face and your mind wondering if we might hear more from Garden Irene in the future. I originally planned to read this story to my nieces and nephews as a bed time story, but found myself enjoying it on my own. The kids loved it as well and we look forward to reading more from Ms. Kennedy. Thank you to NetGalley and the publishers for allowing me to read The Enchanting World of Garden Irene McGeeny in exchange for an honest review from me. It is definitely written on a level for young readers but can definitely be enjoyed by the young at heart as well.
~DelAnne Frazee for NetGalley