Five-Star Review by Alice D. for Readers Favorite
"The Adventures of Caterwault the Cat: Feline Pie" is a delightful original fairy tale that will appeal to many preteen readers. Caterwault, the Witch's black cat, longs to escape her den and does so one day while she is sleeping. He takes a small bag filled with herbs and potions and makes it beyond the poison dart frogs, the huge snapping turtle, and the oppossums and journeys to Queen Druciah's castle where he and the Queen become friends. Vengeful Druciah is no longer young and wants her youth and beauty back. Caterwault can only tell her that the witch, from whose cave he escaped, has just the potion for restoring youth: Feline Pie which requires among other ingredients salamanders, owls' beaks and the tail of a white cat. The Queen sets off to meet the witch after seeing that Caterwault is no average cat. He knows magic and puts a spell on all the mirrors in Druciah's kingdom. Anyone looking in these mirrors turns into a cat, and of course, her kingdom is filled with cats who were formerly her human subjects. And among all these cats there appears Muse, a pure white cat who becomes the love of Catwault's life. But can their love surmount cat fights galore and Druciah's need for Muse's beautiful white tail?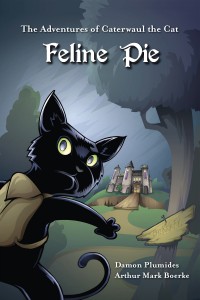 Original fairy tales are delightful, and "The Adventures of Caterwault" is just that, filled with humorous dialogues and phrases that will keep the reader spellbound. The animal and human characters are well-created and some of them like Edsel the rat are fabulous. The formatting and artwork at each chapter's beginning add to this tale and its conclusion is satisfying. This is sure to be a wonderful preteen classic.

You guys REALLY inspired one of my students to really take off and write. From homeroom time this morning until the end of the day he had filled 3 pages front and back—and that was just using his spare time throughout the day. He came to me this morning and told me he wants to write a book and asked what he should write about. I told him to start with what he knows…and he did. He seems to have some natural ability. Also, one of our sixth-grade English teachers told me this morning he took his classroom copy of Feline Pie home to read and his sixth-grade daughter—who rarely reads, preferring TV instead—saw the cover, took the book from him, and read late into last night, and won't give the book back until she is finished. She wanted to take the book to school today, but he told her since it is signed, she'd have to wait until she got home.


This tale of the mischievous but adorably lovable Caterwaul the cat captivated my imagination from beginning to end. I found myself transported into a magical world with a a wide variety of fantastic characters waiting to be met around every corner! It took me back to my early days of reading as a child, when stories could take you on the most wonderful adventures and fill your dreams with a world where anything was possible. This book is so perfectly written that children and adults of all ages will fall in love with Caterwaul and all his amazing newfound friends. An absolutely excellent first offering from Plumides and Boerke. I can hardly wait to continue the journey with the next one!
~K. Revels (Lexington, SC United States)

On first blush this book would appear as 4th grade fun reading…however, once started you look forward to each page and character as, like most people, they all have their own quirks and foibles. Much like Dr. Seuss there is meaning behind the story that extends across all ages…not to mention really fun adventures with endearing creatures. Like any good story, Feline Pie has something for all ages to smile about and learn from…just take your time and enjoy the adventure with Caterwaul.

This is a great book. It looks like a book for older kids but I've been reading it to my 6 year old daughter and she hangs on every word…..expanding her vocabulary a bit in the process!! I highly recommend this book if you are looking for a fun adventure that will spark a child's imagination. I'm looking forward to more adventures for Caterwaul in the future!!

The Adventures of Caterwaul the Cat: Feline Pie is an entertaining and humorous adventure tale in the vein of Harry Potter with a lighter more accessible treatment of the genre. The story opens by introducing the reader to Queen Druciah who, while at first blush may appear somewhat familiar, is actually an intriguingly provocative bitter old queen who spends her lonely days in her cold dark castle lamenting the loss of her youth. Before too long, Caterwaul The Cat, an immediately endearing character, appears on the scene to rock the queen's world just a bit. Like a good gravy, the plot thickens as these two main characters get to know one another and eventually form a tenuous alliance that will lead to some truly original and refreshing adventures. This story really has it all- some very clever prose, hilariously creative characters populating an inventive and magical world and multiple layers and sub-text which should appeal to young readers as well as their parents. All in all this is a delightful book and it leaves you hoping that "Feline Pie" is just the first of many more adventures for Caterwaul The Cat coming from these two new and promising authors.
~Derek S. Chiarenza (New York)


Dopo essere sfuggito alle grinfie della Strega della Foresta della Luna Rossa, il nostro eroe protagonista, uno scaltro gatto di nome Caterwaul, si mette in viaggio in cerca di amici e di una casa in cui stare. Caterwaul pensa di aver finalmente trovato il suo posto ideale quando arriva al castello di Cathoon, governato da un'acida regina, Druciah, che passa le giornate e dolersi di stare invecchiando. La regina gli promette grandi onori e beni, ma ad un prezzo: Caterwaul dovrà trovarle una gatta completamente bianca e pura e utilizzare la magia per ricreare un'antica ricetta, quella per la Feline Pie ("torta felina").
Il nostro, insieme a diversi amici, si cimenterà in quest'impresa, incontrando nella sua avventura i più disparati e talora buffi personaggi animaleschi.
La storia è abbastanza scorrevole e venata di umorismo. La sua costruzione talvolta rallenta un po' il ritmo, ci sono delle parti nelle quali la descrizione di ciò che sta accadendo ha la meglio sull'azione vera e propria, affievolendo la suspense e la fluidità.
Caterwaul ha fin da subito un carattere accattivante ed è ben tratteggiato, sottolineando alcune peculiarità tipicamente feline e altre quasi antropomorfizzate. È intelligente, furbo, malizioso, ma anche leale.
Tutti i personaggi sono appassionanti e con spunti originali.
Un romanzo per ragazzi davvero carino, che riesce ancora una volta a coniugare gli spunti classici delle fiabe con un sapore decisamente più nuovo e inedito.
Poi, quando di mezzo ci sono i gatti, le storie hanno sempre un valore aggiunto.
My rating: 3.5-4/5.
~Francesca Fuochi for NetGalley

I thought this was a very cute childrens book. It's got just the right amount of mischief and adventure. I read it to my five year old son and he really seems to enjoy it. I will recommend this book on my media sites. I would like to thank the author and the publisher for giving me the opportunity to share this book with my child and teach him that reading can be fun! I hope to continue to read and review for you in the future.
~Ashley Finnegan for NetGalley