Read these fantastic reviews for J.R. Hardin's books!

Five-Star Review by Karen P. for Readers' Favorite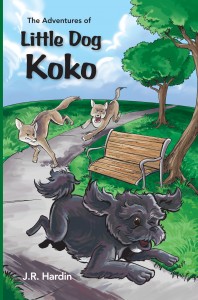 The Adventures of Little Dog Koko by J.R. Hardin is a small reader for early elementary aged children. Little Koko is a Shih Tzu who lived for a while with a wonderful lady he called Mama. She took ill, and Koko was put into the care of Mama's nephew, an evil dog catcher who turned Koko loose to fend for himself. Koko had one adventure after another as he roamed the park looking for food, browsing the streets, and down a storm drain, all in attempts to evade the dog catcher. He eventually finds a scraggly friend named Moochee, but after Moochee is captured by the dog catcher, Koko feels alone and scared. However, even in his darkest moment of fear, he is able to reach out and try to help an invalid dog who is his enemy.
There were a lot of themes in the book…resourcefulness, friendliness, and overcoming fears…but the author was able to blend them together into a lovely story that will appeal to early elementary aged children. I would like to have seen larger type and more colorful illustrations to better keep the interest of the younger readers, and there were a couple of scenes which might frighten the younger child listener, but all in all, this is a story that most young readers will enjoy.

I just finished reading The Adventures of Little Dog Koko and I loved it! In fact I couldn't put it down. Like J.R.'s other books, it has something for everyone: chapter cliffhangers, humor, a touch of mystery, bullying, excitement, friendship, and teamwork. While reading it, I kept thinking, "This is Home Alone for dogs!" There's plenty of action and adventure, some very funny scenes, and I love the justice that prevails at the end. Five stars!"
~Susan Magee-Bibi, Youth Services Coordinator for Berks County Public Libraries, Berks County, Pennsylvania

For The Adventures of Little Dog Koko: I can't highly enough praise this book–simultaneously heart-wrenching and heart-inspiring, this story sees from Koko's viewpoint, eliciting empathy and compassion and joy. Great for children of all ages (including adults:) ) though the very young may find the early chapters of Koko's life too painful. I'd definitely buy to share with grand kids–and reread for myself.
~Mallory Forbes for NetGalley

For The Adventures of Little Dog Koko: A fun, cute little story about a shih tzu called Koko. This will delight younger kids and has the advantage of being perfect for adults to read to children but also accessible enough for early readers to tackle themselves. The book is occasionally educational as well as enjoyable, giving some insight into the history of shih tzus as royal dogs who were pampered in China.
~Emily Mitchell for NetGalley

Koko is a Shih Tzu and used to live with a very nice old lady he called Momma, but she became ill one day and went to the hospital and did not come home again. She loved Koko very much and left money for her nephew, Stewart, to take care Koko. Stewart tho was as mean a man as he had been a boy and abandoned Koko at a park. Koko was at first scared and not sure how he would survive. Then he met a new friend, named Moochee. Moochee is still a puppy and what is ofter referred to as a Mutt, which is a way of saying he was of mixed decent. Koko and Moochee soon became best of friends.
Koko has such adventure in this book and encounters Stewart many time. He makes a friend from an enemy. Learns how to find food and shelter. He encounters dangers from coyotes, stray mean dogs and life threatening injuries. Through it all Koto dreams of finding a new family to love and care for him. Follow along with this spunk little dog is the adorable story. Learn what becomes of Koko and his friends. Find out how Stuart ends up. I enjoyed reading this story as much as my nieces and nephews enjoyed hearing it. It appeals to both adult and children alike. This only one of stories about Koko, you may want ot check out the others. I know I will. Randy Hardin has a talent with the written word they we are blessed he shared with us the reader.
~DelAnne Frazee for NetGalley

Four-Star Review by Jacqueline Ruiz for Readers' Favorite
In The Further Adventures of Koko and Moochee by J.R. Hardin, we meet Koko and Moochee, two dogs who are always getting into adventures. In this story, Koko and Moochee are after Stewart and his gang of thieves. The bandits have just robbed a jewelry store and Koko and Moochee, having had a previous experience with Stewart, are determined to turn them in. The two dogs are joined by Tango, the cat, and together they embark on this new adventure!I found this book fun to read. It was interesting to read from the point of view of the dogs. They are so small, yet so brave! I think any child will enjoy this book as well as its predecessor. Hardin has a way with words and vivid imagery. I could picture every scene described as well as the anxiety the  dogs felt at times when they thought they would get caught by Stewart and his friends. One thing I especially liked about this book was that some chapters had drawings. This reminded me of when I was a little girl and I loved to read books with drawings. It really highlights what you are reading because with the drawings you can really see what the author is trying to convey. For example, I pictured Koko as a tannish dog and in the picture I saw that he is actually black! I can't wait to read what other adventures Koko, Moochee, and Tango will get into!

Moochee has come to visit with Koko while his humans go on holiday. While they are walking a black van slows when driving by them and sees a face that seems familiar, but he can not place. Later as they are lounging in the back yard a man appears looking over the fence trying to lure them with treats. They begin barking and he runs away, but he soon returns with a hammer to remove some of the planks to get to them. Moochee chases after the intruder and Koko chases after Moochee to make him come back when they find that an old enemy is behind the man breaking the fence; an old enemy that want's Koko dead because he blames the sweet little dog for his being arrested and sent to prison. Koko and Moochee meet a new friend and an old one as they try to foil the bad guys and make their way home.
This delightful tale brings back the little dogs from book one and shows that one should never under estimate the intelligence of a determined dog on a mission. You will renew your love affair with the playful Koko and Moochee, meet the sassy Tango and renew the acquaintance of their former foe now friend. Your kids will adore this story as much as the ones in my family did. You could not ask for a more interactive and thrilling story with some very beautifully done illustrations. If you have a young reader who likes adventure in their stories then this is the book for them.
~DelAnne Frazee for NetGalley

My daughter read this out loud on her kindle and very much enjoyed the story! She laughed a few times and said she would tell her friends how much she enjoyed it.
~Cathy Newgy for NetGalley

Four-Star Review by Lynn F. for Readers' Favorite
Kudzu Monsters Versus The Creeper Horde is the third book of the Kalvin the Kudzu Monster series by J.R. Hardin. Geared toward the ages of 9-14, they are action packed and just right for this age group. The Kudzu monsters are friendly towards animals and humans and help maintain peace in the forest. Years earlier they had been attacked by the creeping horde which are like an evil spider. Every 30-40 years in the spring, the horde moves north, and this time Kalvin and the rest of the kudzu monsters are waiting for them. If they can kill the queen who got away the last time, that would stop the horde from moving north and keep them in the Florida swamps. As the battle rages, they have to get to the queen who plans to set a trap to kill the kudzu monsters. Will she win again or have Kalvin and the others gained more knowledge in fighting them off and winning the battle?
This action-packed book is small enough to keep the attention of the reader. Although it can be read as a stand-alone, I feel if the first two books in the series, The Kudzu Monsters and Kalvin The Kudzu Monster, were read first, the reader would get a better understanding of the third book and also just what kudzu is and how it became so widespread over the southeast United States. I feel like almost all preteens would enjoy this book.

A most delightful collection of chapter books portraying the lives and events of a friendly family of kudzu–considered "monsters" by humans–who explore; protect the land, forest and forest wildlife; and keep a wary eye towards troublesome humanity, this Trilogy is wonderful engrossing, reading for both children and adults.
~M. Anne-Marie Forbes for NetGalley

I loved this story. I didn't realize it was already released so it is on my short list of "must have now" books for school.
~Nanci Booher for NetGalley

The Golden Chime Mermaid and The Silver Scaled Merman Book 1 is a children's novel written by J R Hardin. In this undersea fantasy novel, an adventure is set to take place. Tinkle, a Golden-Chime Mermaid and the protector of the underwater city of Gold Chime, is losing her powers. To keep the city safe, she must pass on her abilities to a young Golden-Chime Mermaid by the name of Twinkle. Unfortunately the young Twinkle has been captured by the evil warlock, Grim. While the City of Gold Chime needs a hero to rescue the young mermaid, none has appeared for twenty years. Time is running out for not only the Tinkle but the city as well. Just when all l looks hopeless, a young silver-scaled merman named Dart arrives to undertake the task. Dart must find Twinkle and free her from the large sea serpent that is guarding her. In order to free her, he must complete several quests. With every task Dart undertakes, he faces more and more dangerous tasks. He only has ten days to complete the quest before the old Golden-Chime Mermaid loses all her power. Will Dart Finish the quest in time? What will happen to Tinkle, Twinkle and the city of Golden Chime? The Golden Chime Mermaid and The Silver Scaled Merman was a bit hard to get into at the beginning. The first two chapters were slow moving but once I got through that, it was a great book. It was a classic hero's journey with plenty of foreshadowing. As with most hero journeys, you expect it to end well for the heroes. This tale is no exception. The fun is seeing how it unfolds. Out of five stars, I give this book four stars and would definitely pick it up again to re read.
~Terri Babcock for NetGalley

This is an undersea tale, which follows the true heart of traditional adventures and all it's components. There's a brave, valiant and heroic merman, Dart, who's determined to help save Golden-Chime City by freeing a captured mermaid, Twinkle, from the hands of an evil warlock. Of course, this isn't easy. To do so, he must overcome a series of quests, ones that will test not only his strength but also his cunning. And with each one, he's lead into increasingly dangerous situations.
I enjoy this traditional story form. It's worked for centuries and definitely, can still entertain today. What kid doesn't love cheering on a hero, especially one who isn't always perfect. Dart is amazing, but it's fun to watch him overcome simple things such as walking too. Yep, the hero falls on his face. Literally. But that's all the more reason to cheer him on.
The writing style is very narrative. I found it a bit overly simplified, but I believe it will appeal to children as they concentrate on the action and predicaments thrown at Dart. The first chapters are slow, but as soon as Dart begins his journey, the action continues full speed ahead. There's magic, goblins, creatures with wonderful names such as 'Grim' and 'Slime' and tales which are tense as well as slightly humorous. Especially the various animals in this tale added a really nice touch.
The illustrations are terrific – well done! I just wish there were more of them. I honestly think it would have added a lot to the book and made it even more attractive, especially for more reluctant readers who already will be drawn to this with it's wonderful length of 90 some pages. So please, more pictures!
Summed up, this is a fun, short tale that kids (especially reluctant readers) can enjoy. It will be fun to see where this mermaid folk ends up next.