Five-Star Review by Karen P. for Readers Favorite
In a Kingdom of Olde, there is a generous King who rules with fairness and kindness, allowing his subjects to learn their own talents and skills while gently encouraging and providing gifts which may be used along the way. Four sisters named Grace, Faith, Joy and Hope have been charged with using their innate gifts to ward off the influence of the town bully who is named Fear.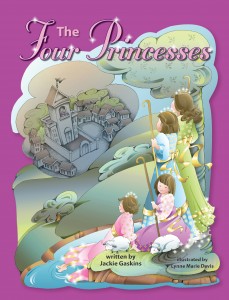 The four princess sisters set off to confront the townsfolk about their own fears. There are fears of inadequacy, fears of being judged, fears of letting others down and fears of being happy and engaged in the world. Gently, the princesses talk with the townsfolk, giving them courage to enjoy what God has given, and so they gradually begin to feel joy and a sense of belonging which chases away the fears that held them captive for years.
The illustrations in the book are lovely, and they compliment the plot such that children will want to become engaged in the fantasy. There is a great deal of teaching in the book, but it is not "preachy" or thrust at the child so as to appear demanding. Rather it is the child who leads the adults to the realization of their own potential, and this surely will appeal to young children who tend to be somewhat egocentric. The Four Princesses is intended for the middle school child but would more likely appeal to the early elementary child, and would be a welcome addition to most Sunday school libraries.

This story is pretty nice, or more importantly the moral of the story is, to me anyway.
I think it's a great story to teach small children (girls in particular, cause what little girls don't love princess stories!) So what you have is 4 little princesses who help many of the towns people to overcome their fears. I thought this was realy nice, especially because I have a niece who I read this with, and I think this type of story helped encourage her or to see that she too would need to overcome her fears sometimes too!
~Laura House for NetGalley

I really loved this book and enjoyed the illustrations. I especially loved the idea of the princesses encompasses such great attributes. I especially loved that these Princesses had a very good purpose! They were not just princesses, they had a very important purpose. Great lessons learned!
~Diana Silva for NetGalley

Wonderful read for small children. Beautiful illustrations, entertaining and lesson comes across loud and clear. Definitely recommended!
~E. Flores for NetGalley