Sadly, Keith Donaldson passed away in November 2013. He is deeply missed by his BQB family.
Five-Star Review by Alice D. for Readers Favorite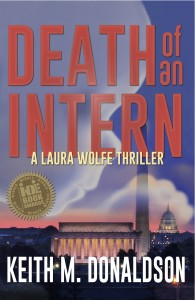 This is the first in the Washington D.C based Laura Wolfe mystery thriller series and it promises great things to come from the author. Laura Wolfe is a reporter who does the crime beat assignments for the Washington Daily Star. Laura is pregnant and rather than stay home and off her feet as she is advised, she is aggressive and goes after stories for the inside lead. A member of the Vice President's staff have been brutally murdered and her unborn child ripped from her body. Another woman was similarly murdered just days before the staffer, Janet Rausch, and the Metropolitan Police Department fear a serial killer is on the loose in D.C.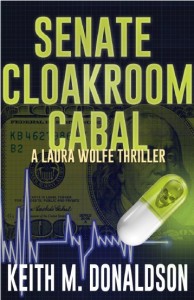 Laura teams up with close friend African-American Max Walsh, who heads the Homicide division of the Metropolitan Police Department, to take a closer look at this case. All signs in this case point to Vice President Grayson and his twin sister Frankie who have engaged in sexual encounters first with staff members and then with women provided by Grayson's friendship with a man by the name of Manchester who is known for corruption. Another woman is murdered in the same brutal fashion as Janet Rausch and then the black van driven by the murderer is found by the police, now working with the FBI and Secret Service. Laura will not give up ferreting out the truth about the Graysons and the killer, but will her search end in her death?
Keith Donaldson has written a riveting, well-edited beginning in his series featuring aggressive, appealing reporter Laura Wolfe. The formatting is brilliant, making use of short chapters, sometimes only one page in length. More applause is due for the formatting in the use of newspaper print behind each chapter heading. Characters are delineated nicely, even to the highly-sexed Vice President, and the reader will be totally shocked at who the killer actually is! "Death of an Intern" uses great suspense throughout the entire story and the plot flows nicely to the book's end.

Laura Wolfe is on the trail of a serial killer, but she's no cop. She's a reporter with the Washington Star and she is tracking a deviant who kills pregnant women, and then takes their fetuses. Laura is horrified to learn she knew one of the victims; she met Janet at a party for the Vice President. After some digging she learns that the conservative Janet had a very different type of private life and Laura begins to think there is more to her death than is suspected. The police don't buy her theory, leaving Laura no choice but to investigate on her own. A well written thriller with a very likeable heroine. I would like to see more of Laura.
~Rosemary Smith for NetGalley

Five-Star Review by Debra G. for Readers Favorite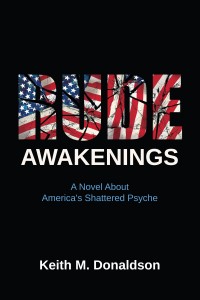 Only seventeen hours ago President Michael Macdonald was sworn into office. It was 2013 and a third party had gained control of the Congress as well as the Presidency. Macdonald's term began with a bang when Detroit Michigan was hit with a nuclear explosion, leaving millions dead or injured. Macdonald was facing a President's worse nightmare; a nuclear attack on American soil and the threat of the economic collapse of the United States.
Author Keith Donaldson offers readers an exciting contemporary political thriller in "Rude Awakenings." Donaldson skillfully sketches the first few days of Macdonald's term in office, which seems all to possible in our current climate of economic unrest and threats of terrorist attacks. I found "Rude Awakenings" to be extremely entertaining and I look forward to more books by Keith Donaldson.

I liked the way the short, snappy chapters of this book unfolded the story of a nuclear attack on America and the aftermath and actions by the president and other ruling members of the country as well as delving further into the who, hows and whys of such an attack. President Macdonald is the first president from the Centrist Party and within hours of taking the oath of office comes face to face with what can acknowledged as the biggest crisis in America since 9/11. Though new to the office, he is a very smart man and politician and knows how to take charge of things to get to a successful conclusion. This story is his story, while, at the same time, presents a very realistic picture of life within the White House and Congress during an extremely difficult time. It is also the story of President Macdonald and his life during this span of time. The setting for the story is well done, as are the characters. The scenario of a Centrist Party President who rises to the challenge of leading the country through everyone's worst nightmare is almost too realistic to fathom, and the author definitely does this justice. I have not read any other books by this author, but will seek them out after reading this one. If you enjoy reading the political intrigue that Tom Clancy is so famous for, you will enjoy reading this novel, for it is equally as good as Clancy's novels. I received this from NetGalley to read and review.
~Kathy Talley for NetGalley
Death of an Intern is an award winner!