Five-Star Review by Alice D. for Readers' Favorite
Amanda, Dee, and Pam have come a long way since they were schoolgirl friends. Pam is now a ruthless, highly successful attorney. Amanda is a single mother, raising a daughter, Tracey, on her own and working as a paralegal in Pam's law firm. Dee, the most troubled of the three friends, has completed law school at Columbia but never brought herself to take the bar exam that would make her a working lawyer. Instead, she lies and pretends to be anything but what she really is, an airline flight attendant. As to romance, Amanda has formed a strong relationship with tough but delightful Melvin until Tracey's father reenters the picture after an absence of seventeen years. Pam is pursued by Marco, a wealthy Italian psychiatrist, but pushes him away. She suffered a miscarriage and the loss of her fiance years before and is frightened of commitment. Dee tells lies that she regrets. The last lie might make her lose her longtime friend Sedrick forever as a result. Can these three women find true love before it is too late?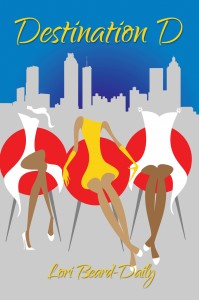 Destination D is a well-written romance with a plot that twists and turns believably to its happy ending. The friction between the characters is excellent as is their dialogue. The story zips along at a pace that will keep the readers absorbed. This is a novel that all romance readers should read and enjoy as Pam, Dee, and Amanda are African-American, beautiful, screwed-up (in Dee's case), full of moxy and good at withstanding adversity, and totally delightful, believable heroines. Destination D is a novel that belongs in libraries, public and personal, everywhere. Don't pass it by!

Fantastic!!!! As a fan of Lori Beard-Daily, I was eager to read her debut novel . . . Destination D. Having seen one of Lori's plays, I knew I was in for a treat upon reading her novel. The chapter titles are clever uses of lingo and phrases used in the airline industry. Themes of love, betrayal, insecurities, and friendship carried me through unforeseen journeys. I was especially intrigued when Dee was involved in one of her many "encounters" such that she and Chris were "cradled in each other's salt." Amanda's devotion to her daughter was admirable, but I must say Pam was my favorite character. Her strength and tenacity was a driving force behind her success. However, her drive to be successful interfered with her ability to allow herself to fall in love and to maintain the friendships she developed at Spelman College. Thank you, Lori, for sharing Destination D with the world. I appreciate you too! Continued success.
~Flo

I thought Destination D was a page turner. I literally could not put it down. The book provided all the elements of a best-selling novel – a great storyline, believable characters and well-written. Kudos to author Lori Beard-Daily.
Thoroughly Engaging….,December 29, 2011,
~K. Shearer "KBSSig" (ATL, GA)

This was my introduction to Beard-Daily's writings, and I was completely blown away. I loved the various story lines and how they were interwoven throughout the book. I literally could not put the book down. It is an excellent book club selection. I can't wait for her next book!
~KBS

Beard-Daily has a blockbuster novel on her hands. Destination D combines humor, mystery and a few surprises. I found myself laughing out loud at times and wiping away tears at others. This book about three college friends who take decidely different paths intricately weaves love, anger, bitterness, redemption, and finally forgiveness in way that keeps the reader waiting to see what will happen next in their lives. If you are looking for a great book that is definitely a page turner, Destination D is the book for you. Be warned, for mature audiences only :)!!!


Lori Beard Daily has woven together an intriguing story of three college friends whose lives followed different paths after graduation from undergraduate school. While they had the best intentions of keeping the promise they made as students at Atlanta's Spelman College–"life" happened. The characters are a wonderful mix of some of the behaviors many of us have seen in people we know in our own lives. You will laugh, cry, get angry, cheer, chuckle and most of all enjoy this book! Makes for the perfect read during the upcoming holiday season, on the beach, on long flights or for book club selections. Lori Beard Daily, I for one am anxious for your next book to be completed. BTW this book is for mature readers ….24 and older.


 Great read for a bookclub or just a book to read after a long day at work. Once I start reading the book I did not want to put it down, it helped me get through a very sensative time in my life shortly after it was published. Each chapter/episode captured my attention as I read about the characters and their life endeavours. Lori's description of the each character was very well written. Looking for the sequel. I highly recommend purchasing this book. Hope to see Lori at a book signing here in Milwaukee. Thanks Lori! Best Wishes, A High School Classmate


A truly magnificent read entwining the lives/loves and losses between friends. You would be amazed as to how many of us see ourselves within the pages. Don't stop. We are waiting on the next one!


If you are looking for a book that will keep your attention, pick up Destination D. Lori Beard-Daily takes the strengths and weaknesses of the three main characters and intertwines them into a GREAT story. This book will make you think about your friendships and what you have gone through with them. We learn how each of the characters handles the unexpected in their lives and how it affects their relationships with each other. Readers will enjoy the unexpected events which will keep them turning the pages. Kudos to my Spelman College Sister! I highly recommend this book and looking forward to the sequel!
~ForeverReadingAT

Wonderfully written, totally absorbing.


Destination D, A Novel is a great story with well-developed characters and an engrossing storyline that keeps you going from the first chapter.  Three friends from college, who thought they'd spend the rest of their lives together, find their lives diverging and (somewhat) spiraling out of control.  We get to go on the ride with them and there's never a dull moment.  It's a "must-read"!