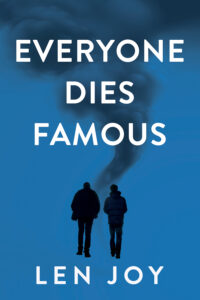 5 stars. "This is an incredibly well written book. The dialogue is compelling and I felt like I knew each and every character. I loved the premise – the analysis of what we leave behind. There was a sense of an ending throughout this – it's not a depressing or dark book but there is something somber behind even the uplifting aspects of this tale. I can't quite explain why, but I loved it."
— Louise Gray, NetGalley
---
5 stars. "'This is a small town, Dancer. Everyone dies famous here.'
This book was a joy to read, even while the characters are dealing with their own personal grief.
These characters show great personal growth, and acceptance of themselves and their circumstances.
I was captivated from the first page and stayed like that throughout the rest of the book. You want to know what happens next. All the characters are relatable in some way and you miss them when the book is done.
Len Joy leaves you wanting more."
— Moraye Potgieter (Educator), NetGalley
---
5 stars. "I was sent this novel from FSB Associates, and was already incredibly taken with the title before I even cracked the spine. One of my favorite Miranda Lambert songs, 'Famous in a Small Town', deals with the same concept; that when you're from the smallest of communities, anything you do will be seen, heard, and scrutinized. Life in Maple Springs, Missouri is no exception. We are presented with a rural area on the verge of drawing life and visitors back to the area when disaster strikes. In the beginning chapter, a tornado rips through the sleepy area, and then we get to see the moments before tragedy. What follows is a beautiful character study divided into five separate voices, and in those accounts we see the hidden heart of Maple Springs, and the broken people keeping it alive.
I've lived in one small town or another my whole life, and so this novel felt like home to me. I recognized people I know and love in the faces of the jilted veteran, the grieving father, the girl and her beau with dreams far larger than the space they're in. It was so easy to fall for these characters, and to care about each one. As they were woven into each other's stories, you start to slowly see the connections tethering them, and how close some are to breaking. Joy has done a fantastic job of painting different shades of grief across this narrative; some with a yellow beacon of hope and others with the black tinge of despair. It was an emotional rollercoaster, especially knowing the horror that awaited these people who are trying to get their lives back together. It is extremely lifelike in that way; you never know how much time you have, and it certainly beckons the reader to rise above the waters of life that threaten to drown them."
---
"I should start by saying that I have not read the first book and this in no way affected this book. I really enjoyed this. The pace was good and the chapter length perfect for squeezing on the odd chapter at work. The characters are simple and they felt real and relatable. There is quite a lot going on, but they never felt overloaded with information. The author sets up the story and the crescendo seems inevitable and yet still surprising.
I definitely preferred some characters to others and I like the way their true stories are revealed at the end. I'm not entirely sure what I think about the ending. It was abrupt and fitting and disappointing and satisfying all at the same time. There is a definite uncertainty and I guess you get to decide for yourself what happens next.
I will definitely add this author to my read list."
— Cathy Eades (Educator), for NetGalley