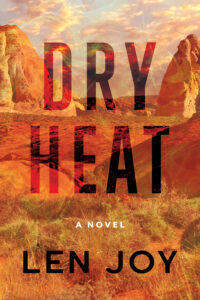 "DRY HEAT by Len Joy takes you on a crazy, wild ride on top of that thin- fine-line of life that can sometimes suddenly change the future in unexpected and not always good ways. When Joey, a young promising football hero on a fast track to a college athletic scholarship, gets blamed for someone else's crime, it strips him of the life he had planned and pulls him down a dark path into a world that leaves him broken, alone, and drastically changed. But can the lessons he learns keep him alive, allow him to start over, and possibly even find love again? DRY HEAT is thrilling, emotional, and thought-provoking as we root for Joey to be able to live the life he was born to and one that he deserves. This book is a must-read!"
— Jana Zinser, author of The Children's Train and Fly Like a Bird
---
"'Dry Heat' is an engrossing tale of a high school athlete, with a very promising future, whose life and aspirations are thrown into turmoil by a series of ill-fated decisions and bad luck. Author Len Joy masterfully draws in the reader through a realistic depiction of youthful innocence and naivety overwhelmed by spiraling misfortune. The well-developed characters are interesting and relatable, and the dialogue is both convincing and endearing.
The compelling drama of 'Dry Heat' flows in and out of the lives of strained families, into the courtroom, and ultimately on to retrospection. At no point does the reader lose interest in the story or their deep investment in its unforgettable characters. Highly recommended."
— John A. Daly, author of The Sean Coleman Thrillers
---
5 stars. "Intense, thought provoking, impactful story that I could not put down…totally engrossing from beginning to end!
What I liked: * Joey: athlete, high school senior, intelligent, typical in many ways of young men his age, has a brilliant future ahead of him…until his world abruptly changes. * Mallory: young girl in high school, difficult family situation, friend of Joey's, likable, facing a difficult situation * That Joey's family seemed a cohesive loving supportive unit…though they were also human * Lua: a good friend of Joey's who stood with him through thick and thin * The writing, era, setting, plot and character development * That it made me think and feel while seeming all too believable * The growth and changes in both Joey and Mallory * That it wasn't polished and pretty but rather nitty gritty and at times dark…but not too dark * Thinking about whether or not there is really justice when people go to court * That not everybody who was bad was entirely evil just as not everyone good was perfect * Joey's lists, his personal rules, and his solutions to situations toward the end of the book * That there was hope at the end of the story…and thinking about what might happen to the characters after that last page of the book. What I didn't like: * Exactly who and what I was meant not to like * Knowing that justice is not always meted out fairly and it may happen more often than we realize Did I enjoy this book? Yes Would I read more by this author? Definitely"
— Cathy Geha, NetGalley
---
5 stars. "This might be the novel of the year for crime readers. Thick overwhelming suspense and sadness. Feels very real. Outstanding novel."
— David Odeen, NetGalley
---
5 stars. "Oh boy, how quickly someone's life can crumble. Everything had been falling into place for eighteen-year-old Joey Blade. He had been offered a football college scholarship, and he had a new girlfriend and hoped to get lucky with her later. That evening at the High School bonfire, he learns that his ex-girlfriend Mallory is pregnant. Then an explosion sends everyone running.
Joey jumps in the driving seat of his girlfriend's truck, along with her and her drug-dealing friend TJ. The police are soon in pursuit when TJ pulls a gun and fires at the police. When Joey pulls up, his two companions run off, leaving him to take the blame for the shooting. Things quickly worsen when secondary charges are brought against him for underage sex with Mallory. Whoa, this is all action, and the story has just begun. Joey is a fabulous character with whom I connected from the start. How different his life could have been by just a couple of alternate choices. It seemed that Joey's life had been taken out of his hands, but there was one person that could make a difference for him. As no one will believe what he says, Joey takes the only path left for him, but his life will get even more complicated and deadly. It is a gripping read from the start because just being innocent isn't enough. It is a spiral that intensifies in every chapter and becomes a darker and a heart-pounding page-turner. What a brilliant second novel from Len Joy. Highly recommended."
— Susan Hampson, Books from Dusk Till Dawn

---
5 stars. "Dry Heat opens in late November 1999 and finds seventeen-year-old Joey Blades, a Phoenix, Arizona high school student, shooting baskets with his best friend, fifteen-year-old Mallory Stewart. Blades is a six-foot, two-inch, 200-pound running back with a promising future where his most pressing issue is to decide upon which university to attend on a full-ride football scholarship.
Returning to Mallory's home, with her creepy father away, in a tender moment, Joey loses his virginity to Mallory. The story then moves forward six weeks to the eve of the New Millenium, which also happens to be Joey's eighteenth birthday. Joey and others, including his new girlfriend Wendy, are preparing to enjoy a high school bonfire to ring in the new year. Just before the lighting of the bonfire, in a moment of privacy, Mallory appears and tells Joey she is pregnant with his baby. After Mallory leaves, the lighting of the bonfire goes horribly awry, sending Joey down a road of difficult decisions where every answer seems to turn out wrong with horrible repercussions, including a possible lengthy prison term for Joey. Even though innocent of potential criminal charges, those able to exonerate Joey refuse to do so and Joey must then attempt to help himself, which includes seeking help from Chico Torres, a murderous and notorious gang leader, who is somehow aligned with Joey's father, Dutch. Dry Heat is broken up into three parts and moves from 1999 to 2017 and deals with Joey's rise, fall, and redemption. It is also about families, loyal friends, and betrayals and a novel where the most evil of villains can be those that walk among us as normal people. Dry Heat has been one of the best books I have read this year and it is always pleasurable in finding books that are gems when not expected and Dry Heat is one of those books. One other thing Joy does well, and it is not a spoiler to reveal this, is how reader despair and sympathy toward the Joey Blade character builds because the reader knows he is innocent of any criminal charges from the start. Dry Heat is highly recommended to all readers, with Len Joy telling a mature story without resorting to needless depictions of sexuality or violence."
— Eric Ellis, Murder & Suspense 
---
"'Dry Heat' by Len Joy is a must-read if you like to … well, read! I could have devoured this book in one sitting if life didn't get in the way. Each page made me want for more, and I looked forward to escaping into the book each time I could.
Have you ever had a raw deal? If so, you will easily relate to "Dry Heat." Joey Blade was a senior in high school with a promising college/football scholarship future, but his life was upended when a friend betrayed him. In this fast-paced, easy-to-read novel, I felt like a fly on the wall of Joey's life and I was definitely rooting for him. I recommend this book to anyone who likes to read!"
— Donna O'Donnell Figurski, author of Prisoners Without Bars
---
5 stars. "This was a new author for me. I never read anything from this author before but for the most part I really liked this book. I thought the whole story was amazing. I honestly didn't want this book to end. I can't wait to see what this author comes up with on the next book they write. I usually judge a book from the cover because for me it shows if it's going to be interesting or not and I loved the book."
– Courtney C., NetGalley