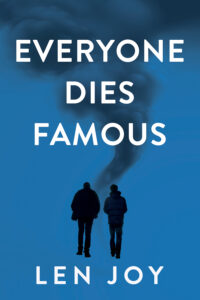 5 stars. "This is an incredibly well written book. The dialogue is compelling and I felt like I knew each and every character. I loved the premise – the analysis of what we leave behind. There was a sense of an ending throughout this – it's not a depressing or dark book but there is something somber behind even the uplifting aspects of this tale. I can't quite explain why, but I loved it."
— Louise Gray, NetGalley
---
5 stars. "'This is a small town, Dancer. Everyone dies famous here.'
This book was a joy to read, even while the characters are dealing with their own personal grief.
These characters show great personal growth, and acceptance of themselves and their circumstances.
I was captivated from the first page and stayed like that throughout the rest of the book. You want to know what happens next. All the characters are relatable in some way and you miss them when the book is done.
Len Joy leaves you wanting more."
— Moraye Potgieter (Educator), NetGalley
---
5 stars. "I was sent this novel from FSB Associates, and was already incredibly taken with the title before I even cracked the spine. One of my favorite Miranda Lambert songs, 'Famous in a Small Town', deals with the same concept; that when you're from the smallest of communities, anything you do will be seen, heard, and scrutinized. Life in Maple Springs, Missouri is no exception. We are presented with a rural area on the verge of drawing life and visitors back to the area when disaster strikes. In the beginning chapter, a tornado rips through the sleepy area, and then we get to see the moments before tragedy. What follows is a beautiful character study divided into five separate voices, and in those accounts we see the hidden heart of Maple Springs, and the broken people keeping it alive.
I've lived in one small town or another my whole life, and so this novel felt like home to me. I recognized people I know and love in the faces of the jilted veteran, the grieving father, the girl and her beau with dreams far larger than the space they're in. It was so easy to fall for these characters, and to care about each one. As they were woven into each other's stories, you start to slowly see the connections tethering them, and how close some are to breaking. Joy has done a fantastic job of painting different shades of grief across this narrative; some with a yellow beacon of hope and others with the black tinge of despair. It was an emotional rollercoaster, especially knowing the horror that awaited these people who are trying to get their lives back together. It is extremely lifelike in that way; you never know how much time you have, and it certainly beckons the reader to rise above the waters of life that threaten to drown them."
---
"I should start by saying that I have not read the first book and this in no way affected this book. I really enjoyed this. The pace was good and the chapter length perfect for squeezing on the odd chapter at work. The characters are simple and they felt real and relatable. There is quite a lot going on, but they never felt overloaded with information. The author sets up the story and the crescendo seems inevitable and yet still surprising.
I definitely preferred some characters to others and I like the way their true stories are revealed at the end. I'm not entirely sure what I think about the ending. It was abrupt and fitting and disappointing and satisfying all at the same time. There is a definite uncertainty and I guess you get to decide for yourself what happens next.
I will definitely add this author to my read list."
— Cathy Eades (Educator), for NetGalley
---
"Len Joy is a nationally ranked triathlete who competes internationally representing the United States as part of TEAM USA. He is also the author of 'Letting Go: Stories,' 'American Past Time: After the Cheering Stops' and 'Better Days: In This World Heroes Don't Get Parades.' His fourth novel 'Everyone Dies Famous,' released last month, is the story of a stubborn old man, who, as a tornado threatens their town, teams up with a troubled young soldier to deliver a jukebox to the wealthy developer having an affair with the soldier's wife.
In the Prologue set on July 18, 2003 at 7p.m. Zeke Mesirow, one of Maple Springs, Missouri residents, leaves his apartment after a tornado and surveys the devastation left behind. He eerily witnesses '….a man, his dark business suit turned gray with grit, standing in his front lawn clutching an open briefcase and staring down the road like he was waiting for the bus.' After the Prologue, the first chapter begins fourteen hours earlier and the last chapter, set at 6:40p.m. ends the tragic story. The chapters in between track the residents' lives before the tornado hits and sets the stage for the damage left behind by the storm. The small town is going through a drought, so many of the residents are unprepared for the approaching storm. Dancer Stonemason, an aging and long-forgotten hometown hero, is still grieving the death of his oldest son Clayton. He is liquidating his late son's jukebox business so he hires Wayne Mesirow, an Iraqi war veteran, to help him transport two jukeboxes. Wayne is also dealing with grief: one of his fellow soldiers, Sonny, killed himself and Wayne feels he should have done more to help. His wife's infidelity is also weighing heavily on his mind. Together, Dancer and Wayne navigate through their own family drama while the storm brings its own disaster that will leave one of them dead.
For those familiar with Len Joy's work, 'Everyone Dies Famous' is the sequel to 'American Past Time' where Dancer Stonemason's story continues. Years later, his son Clayton is dead and Dancer is trying to move on. The aftermath of the tornado is set at the beginning, so there is no surprise ending. The fun is in trying to find out how the different characters end up after the storm. Due to the extensive character build up, by the time the storm hits, the reader has spent time getting to know them and is eagerly flipping pages to find out their fate. The tornado action is just as exciting as the family drama taking place within the small town. Throughout the story, the storm is lurking in the background until it comes roaring into the picture starting on Chapter 33. From there the action shifts as the residents have to rely on each other to survive. Len Joy has an excellent grasp on the human condition and uses it to create brilliant storytelling. "Everyone Dies Famous" is an easy read, with relatable characters that spotlight the heart of everyday American life. It is a definite must-read and is recommended for fans of character-driven small town dramas."
— Sandra Cruz, SA Examiner

---
"You will be immediately caught up in Len Joy's gripping novel and its cast of interesting and eccentric characters that takes place over 24 hours! As a deadly tornado is about to come barreling through a small mid-west town it's unknowing residents are embroiled in their day to day lives. You'll meet Dancer, once a legend in the town who fell for grace. You'll learn about Clayton, Dancer's haunted son who touched the lives of most of the characters in the book—the women who loved him, his younger brother who idolized him, and the tragic accident (or was it?) that took his life. Lost loves, lost chances, second changes, secrets unfolding, are just some of the themes that playout during the 24 hours. It's a page turner that will keep your interest to the very last page."
---
"The kind of novel that will linger in the mind and memory long after it has been finished and set back upon the shelf, 'Everyone Dies Famous' is an impressively original story featuring the human condition of a select group of interacting and ordinary people in terms of the choices they make, how they live their lives, — and how they die."
— Midwest Book Review
---
"Readers generally don't enjoy a work which includes too many characters in it but Len Joy has an art of carving out a great story even after adding too many characters in it; which is certainly a rare thing and thus makes this book one of the finest fiction.
This is a story of common people from a small town of Maple Springs. Dancer Stonemason, an old man and a long forgotten baseball legend was mourning over the loss of his older son, Clayton; and moved to live with his younger son, Jim Stonemason; a dedicated businessman.
Dancer hired Wayne; a war veteran to help him in liquidating his dead son's Jukeboxes. The businessman they are settling it with (Ted Landis) was having an affair with soldier's wife; Anita. As Dancer and Wayne set off to deliver those jukeboxes; their life story unfolds, where Dancer was initiating to take wise actions in present, Wayne on other hand was realising the reason for his wife's indifference and initiated to take revenge.
As a tornado hits the town on the busiest day; people rushed in to save each other. An emotional book which will describe the uncommon lives of common people and the critical decisions of their mundane lives.
Writer kept the reader demanding; there was this urge to turn pages faster. Characters had an impact which is worth caring for; that stubborn old man-Dancer and spoiled young man-Wayne will surely live with you long after finishing this riveting tale.
P.S: Keeping his (Dancer) own life at stake to save Clayton's dog. Oh! You got me."
— Mansi Singh, NetGalley
---
"Dancer who list his son a while ago hires a war veteran to consolidate his late sons business in a small town called Maple Springs. During that fateful summer, a tornado hit that small town in Missouri. Who will survive? I enjoyed the vast array of characters in this book."
— Laura A., NetGalley
---
"The plot involves a revolving cast of characters in a small Missouri town. It is told through various POVs. Generally I don't enjoy that particular plot device but the author is so skillful that there was no problem keeping track of the characters. The variety of POVs adds interest and depth.
I had no idea this book is a sequel. This book stands alone. It is well written and draws the reader in. My one criticism is that I found the ending was abrupt.
I will definitely keep an eye out for this author."
— Evan Garren, NetGalley
---
5 stars. "Heart-Wrenching and Thought Provoking. Don't Miss It!
There's a tornado twisting it's dangerous winds down on this small Missouri town but the worst destruction for the people who live there may be their inattention to those they love, and the lost opportunities to forgive others and themselves. The engaging and deeply profound story of Len Joy's "Everyone Dies Famous"  will have your heart breaking for those searching for love, acceptance, and identity. It's a moving and emotionally complex story that resonates because their struggles live in all of us. Don't miss this wonderfully-written tale of struggle, redemption, and family love. It's simply beautiful."

---
5 stars. "Life in a small town, like the fictional Maple Springs, Missouri, is lived as an open book. You know your neighbors and their business, and they know yours. Every choice is open to judgement from the crowd.
A tornado will tear apart this town. The impact will change lives without regard for their standing in the neighborhood or their hopes and dreams. Told as a look in the rear view mirror, the tornado in all it's terrible energy strikes the town in the first chapter. Len Joy introduces us to the unforgettable characters as they move through the day of the disaster, closer to their destiny than they know. As they walk the streets of Maple Springs, we hear their joy and their sorrow and hold our breathe that the raging winds we know are coming will not completely destroy those we have come to care about.
A first rate story written so skillfully you would swear you're reading an article in the paper of a real life tragedy. This is a very emotional read. At the end, all I could do was sit and think about the people and place and how it could be our small town in Oklahoma very easily. A 5 star read because there are no more stars."
— Denice Langley, NetGalley