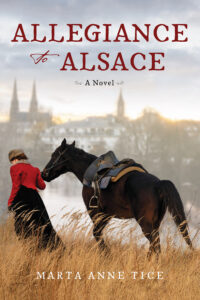 ". . . Readers will easily become attached to Annaelise and feel her joy and her sorrow as she lives through one of the most fascinating periods in history. If you are an avid reader of historical romance novels, you will love Allegiance to Alsace."
– JOANNE DIMAGGIO, MA, CHT, author of Soul Writing: Conversing with your Higher Self
---
"On a visit to the Pfalz in Germany and the Alsace-Lorraine region of France as a young girl, Marta Anne Tice had a vivid déjà vu experience of living in the eighteenth and nineteenth century. So it comes as no surprise that her novel brilliantly recreates the sparkling pageantry and powerful history of the Napoleonic era of that bygone time. A wonderful read!"
– STEFAN BECHTEL, author of Through a Glass, Darkly and Mr. Hornaday's War
---
"Historical fiction, and French history are some of my favorite things and I found all this in Allegiance to Alsace. It was a fascinating glimpse of Europe in the early 1800's. However, life for women in that era was a struggle and we watch as the protagonist finds her way through her journey."
– Ethel Fagin, NetGalley
---
5 stars. "Love, history and horses. Read this book!
Marta Tice's debut novel, Allegiance to Alsace, is a beautifully written love story full of surprising twists and turns set during the tumultuous times of the Napoleonic Wars. This story weaves an historically correct tale taking you from privilege to oppression, vineyards, to prison. You will admire Annaelise, our young heroine as she struggles to pursue her destiny amidst a family divided, tragedy and triumph. The equestrian pursuits give the book another authentic flavor of the era. This book is a page turner. Hoping for a sequel!"
— Melissa Slutzky, Charlottesville, VA
---
5 stars. "It took no time at all to fall in love with the main character Annaelise. From the beginning there was a sense of suspense concerning the dangers of the age following the French Revolution. Then, coming of age beneath the shadow of the on-coming invasion of Napoleon—that is when the test of character is met. And then it is no longer the familiar reality of one's childhood. Love, romantic and familial, is given a rich and deep beauty by the author as she paints the many realistic details for the time and places that Annaelise must live through. I had to know how this story ended. And then, I needed to know how it must continue. This character whispered to me that, '…the best and the rest is yet to come. Does Marta A. Tice already have a sequel in mind?
— Daniel Roell, Amazon
---
5 stars. "I really enjoyed this book. I don't usually read books set in this time period so I appreciated learning more about the battles and regions mentioned. The plot was intriguing and historical aspects well researched. The author made the time period come to life through the main character, Annaliese, and her description of details from decor to recounting of what daily life looked like during Napoleon's invasion. The author reached the right balance of history and fiction to make this book exceptionally enjoyable. It was a quick and easy read that kept my interest the entire way through and piqued my interest in this period of history."
— Eric Deane, Amazon
---
5 stars. "Marta Anne Tice captures the essence of Alsatian life during Napoleon's invasion into Germany. She writes about daily life in the winery, the stable, and equestrian activities, hunting, elegant balls, and the dangers of war and the sensations, emotions, and uncertainty of love. "We walked away from the crowd and onto the veranda. The moon was high and so were my spirits. My heart was beating wildly. He turned toward while placing his arm around my waist and drew me closer … My cheeks flushed with embarrassment…" So many parallels to War and Peace without the length. Ms. Tice successfully brought her inner dream like déjà vu world into real and present time and onto the page for us to enjoy. She is among the generation of new riders with talent, passion, and ambition. I am anxiously awaiting the sequel for Netflix to make a mini-series."
Susie Gushue Dent, Charlottesville, VA
---
5 stars. "For anyone who has read or watched the Outlander and Poldark series or is a fan of fine historical fiction, especially of this period of history, or for anyone who loves fiction that illustrates the struggles of the individual caught up in much larger forces and rises to be as authentic and loving as they can be, this will be an inspiriting and rewarding read."
—Richard Leahy, Author of Beyond Jefferson's Vines
---
5 stars. "I found myself totally immersed in the life and family of the main character. Her journey from idyllic life in Alsace to survive war, lost love and family. A genuine treat for lovers of history who will be transported to post French Revolution and the struggles to return to normalcy. The book is a gem that I will return to enjoy again."
— verified Amazon customer
---
5 stars. "Allegiance to Alsace written by Marta Anne Tice is an exquisitely crafted novel.
I was spellbound by the extraordinary juxtaposition of events. Set in the Napoleonic era, I was struck by the similarities to our current global dilemma. I was especially impressed by Ms. Tice's beautiful writing style and her accurate attention to historical detail. I felt as though I were in the banquet hall myself holding a gilded rimmed crystal glass of fine wine from the Theiss Family vineyard. The character development was beyond measure as was the historical data and stunning sequence of events. I thoroughly enjoyed this book on many levels and would highly recommend it to anyone who wishes to explore their own ancestral heritage. Most importantly though, I found this novel to be deeply inspiring because it spoke directly to the importance of family, the beauty of a special place and the preciousness of life and love. Prepare yourself to be transformed as you drink deep from this Alsatian nectar. This is a book to be savored!"
—C. M. Fischer, Founder of Rise Up Productions, Keswick Virginia
---
5 stars. "History, romance, war, this wonderful book has it all. Marta Tice knocks it out of the park!
I have never been a big fan of period pieces. But I did love Downton Abbey. And now Allegiance to Alsace! Marta Tice's extensive research and extreme attention to detail of the history of the region is so compelling that it was like a time travel right into the main character, Annaelise Theiss. I did not want to leave. Her descriptions of everyday life after the Revolution, the gorgeous landscapes and country houses, fashion, food, wine making, horse drawn carriages, riding to the hunt atop beautiful horses, the parties and the heartbreaking toll of war, love and loss, and the characters – you just have to read it. I hope Ms. Tice writes a sequel. If Netflix doesn't pick this up they are asleep at the switch."
— Claire Kennett, Roanoke, Virginia
---
5 stars. "Beautifully Written!
Ms. Tice has woven together a beautiful story of history and romance. I was totally engaged from the first page. Superb writing and attention to details. Well done!"
—Nancy from Amazon