Five-Star Review by Fran L. for Readers' Favorite
Filly Girls by author Sara Voskamp will enchant and engage the reader from the start. Every young child has a dream. Some dream to become Olympic stars, and others, like Ellie and her two friends, dream to win a riding competition. When her parents presented her with Miracle as her Christmas surprise, 12-year old Ellie was more than ecstatic, and owning her own horse really made a difference. She received an email inviting her to ride in a competition in Georgia, and learning the invitation came from her own trainer was exciting. Working hard to get her horse ready, learning the patterns and making sure Miracle felt safe and confident kept Ellie quite focused. Yet as any child, she envisioned herself at the head of the winner's circle and could not imagine anyone but her or her two friends winning the competition.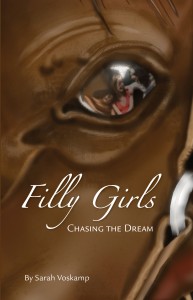 Writing in her daily diary you hear her inner thoughts and hopes but when she reads Felicity's diary things change for both girls. Ellie, being a kind and true friend was upset that Felicity was angry with her and wanted to try and mend the fences. But could she before the competition? Chasing her dream to win this competition she knew she had hard work. Will their friendships hold? Then the unthinkable happens and the competition might not take place. One judge died and kids understand but when they are looking forward to something the disappointment is great and Ellie is really crushed. She takes a chance approaching one of the judges, is scolded by her parents but this was her life-long dream and she was going to experience it.
Ellie is headstrong and determined and by going off alone with her two friends she could have endangered all three of them but she would stop at nothing to ride in this competition. Her plan is ingenious and what happens you need to read for yourself. What does she come up with and what is the end result you will have to read for yourself? The end result of the competition teaches Ellie many lessons about friendship, determination and loyalty. How does this all play out? Who gets to go to National's and who does not?
Ten-year-old Sarah Voskamp's debut novel engages the reader and helps one understand the inner thoughts of a young girl. Hearing her voice, feeling her frustrations and understanding her disappointments and successes brings the story alive for children of all ages. Great story. Great characters. This is a fun book for all kids to read. Anyone that loves riding and horses will understand Ellie's passion for wanting to be part of the show and her joy of just owning Miracle.

From the Governor of Georgia, Nathan Deal
Letters of Review
STATE OF GEORGIA
OFFICE OF THE GOVERNOR
ATLANTA 30334-0900
Nathan Deal GOVERNOR
Dear Sarah:
Congratulations on having your first book, Filly Girls, published. You are an inspiration to young writers everywhere. Thanks for sharing your gift of writing with your peers across the state. I encourage you to keep working hard and to continue to inspire those around you. Sandra and I are extremely impressed with your achievements and wish you the best of luck in your future endeavors.
I view education as our number one economic development tool and there is no more forward looking or strategic place to invest. Children like you are the next generation of Georgia's leaders. Preparing you and your peers to start businesses, launch successful careers, bring creative ideas to life and pursue your dreams is a priority for me. It is an opportunity that I want for every student in Georgia. Working together, we can present opportunities to allow students to continue their growth in the academic realm.
If my office can further help you please let me know. Keep up the good work!

September 19, 2011 – Hi Sarah I read your book,and it was the best book I have ever read. I think you are very talented. Keep following your dreams Sarah.
~Jackie E.

Hi Sarah, My name is Hannah and I am the girl that you gave the book "Filly Girls" to, and it seems to be the best book I have ever read. I am kinda like you my passion is horses, I have even loved reading even more since I have read your book. I have progressed so much in horseback riding I am now learning to jump on my instructer's horse, BlackJack (Hustling for BlackJack). In your book I am only on chapter 2 because I haven't read it in a long time it's not because I don't like it… I love it :). I am glad you signed it because you have inspried me, your pretty and I love your book. Thank you for it, it is the best book I have EVER read. If you ever write another book please give it to my grandma. I would love to read another of your awesome and inspring stories. Well I have to go so again thank you for the AMAZING book.  Sincerely, Hannah 🙂


Dear Sarah, I love your book! It's amazing a 10-year-old wrote THAT! It's a great book and u r an AWESOME writer! I hope u keep writing! I KNOW u will be the next J.K. Rowling!!!!!
~Isabelle

Hello Sarah, That was a really good book. I hope you make a series out of it. It was really good and, hopefully, I could do that someday…And by the way, I like horses too. I even have my own, his name is Chocolate, and he's a Quarter Paint. BYE!!!!
~MereckAnonymous

Im 10 years old and this is my favorite book ever.



I am 40 years old and read this book and enjoyed the content very much.

I didn't know this was written by a 10 year old until after I finished it.
I think it's wonderful that Sarah accomplished this. It's a very cute book for kids, and it is written very well. Sarah is an inspiration for kids and adults alike. Good for her for following her dreams and not listening to anyone telling her she is too young.
~Katarina Ortmann for NetGalley

Written when the author was only ten Filly Girl's is the story of a young girl who receieves the horse she has been dreaming about one Christmas.  She is so excited, and places the horse in many shows.  The story is a great one for girls who love horses  from eight to twelve years old.  I was impressed with how well this story was written by an author so young.  Great story one I would definitely recomend to girls who love horses in my life…
~Michelle Kidwell for NetGalley

A good read for tween girls. The lesson in this book is a perfect lesson which should be taught at this age… everything turns out how it should, not necessarily how you would like.
~E. Flores for NetGalley