Lori Beard-Daily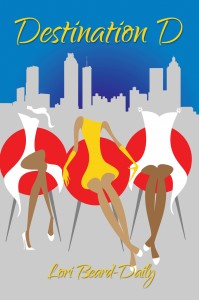 An accomplished motivational speaker, playwright, entrepreneur, and public relations executive, Lori Beard‐Daily is a graduate of Spelman College and leads a progressive achievement-driven blog called Working On Your Now.  She was nominated for the 48th Georgia of the Year Author Awards, one of the most prestigious literary awards in the nation and the oldest in the southeastern United States. A native of Milwaukee, Wisconsin, Lori and her husband, Bryon Daily, live in Atlanta, Georgia, with their three children Erin, Erica, and Eric. Her first novel is Destination D, a highly acclaimed story of the life-altering choices three college friends make after breaking a pact. We spoke with Lori to peek behind the scenes of the creation and marketing involved with Destination D.
What attracts you to writing novels?
I enjoy telling stories. My first real stab at writing stories was when I began writing plays. I loved seeing the characters come to life on stage.  Destination D originally started off as a play. My best friend suggested that I turn one of my plays into a novel because she thought I would be great at being an author. I took her up on her suggestion and I'm glad I did!
How has your experience in writing plays influenced your novels?
Plays do not allow room for a lot of drawn-out or extended details. No one is going to sit through a 400 page play, but they will read a novel if it's a page turner! Writing a novel allowed me to expand my characters more and add more visuals to the storyline.
You've mentioned in past interviews (like this one) that your book characters feel like they are your children. Tell us a little of the behind the scenes work you do to create a character and get to know them as intimately as you do?
There is no secret formula on how I create characters.  I do it without even realizing it. I visualize who the characters are, and I sit down and sketch out their personality and what they look like. Sometimes, I can actually hear them speaking to me J and it helps me to make changes when it's appropriate.  It does not take me very long to do this. It seems like the character's dimensions easily unfold in my mind and before I know it, they are developed on paper. It's like magic!
What is the most successful way you've made people aware of your books?
When I'm in front of an audience, it's easy to talk about my book.  People will buy when I talk to them. Typically, I'm successful at selling my books out of my car if I'm at an event or carrying them around with me. I've sold to store clerks in Walmart just by chatting with them.  I really enjoy striking up conversations with people. I think they feel at ease and enjoy talking with me because I have an interest in what they are doing or what they are talking about.  I believe when you have a connection with people it makes them interested in seeing what else you are about. In my case, they have been intrigued enough to purchase my book.
You recently had your publicity team create a fantastic speaker brochure for event planners, what do you enjoy about motivational speaking?
I enjoy connecting with people and offering them information and/or solutions that they can take away and benefit from long term.
What is your favorite way to interact with readers?
I enjoy going to book clubs that are reading my books. It's fun to listen to the comments and even have people offer me suggestions on what they think the characters should be doing in the sequel.
Any other writing projects underway?
I'm writing the sequel to Destination D, and I'm also writing a non-fiction book entitled Are You Working On Your Now?
What one piece of advice do you have for a first-time author?
Don't give up. Ever.
* * * * *
To learn more about Lori, you can view her Author Profile or visit destinationdthebook.com or workingonyournow.com. You can also purchase her book through our online store, Amazon, Barnes & Noble, or your favorite bookstore. Her book is also available download to any eReader for $6.99.