New Release — Women's Fiction
A university professor's sound theory on happiness is challenged by none other than an international soccer star.
Marta Aneva, charming, self-reliant, and bright, is a university professor who does not seem to be living the best of lives. She is still saddened by the breakup of her long marriage, and when faced with new setbacks in her work, she fears that a coveted promotion will elude her as well.
Marta takes a six-month leave from her university in Toronto and travels to Uruguay, where she seeks to experience a new way of living. She takes a position as a private English tutor to the two young children of a handsome and self-absorbed soccer star, Eduardo Rodriguez. The age gap between Marta and Eduardo is only the beginning of their differences. Regardless, Marta is disconcertingly attracted to him.
When she suspects that her feelings might be reciprocated, she must decide whether she is willing to sacrifice her independence and career for the promise of love. Ultimately, will her choice be the right one, one she will never regret?
Readers who are tantalized by the intelligence and romance in Jane Austen's novels and enchanted by the whimsy and benevolence of Amelie from the eponymous French movie will love this entertaining and thought-provoking story.
ISBN 978-1-952782-81-7 (Paperback)
Women's Fiction
9 x 6, 350 pages
Publication date: September 20, 2022
This book is available in paperback and eBook format:
~~~~~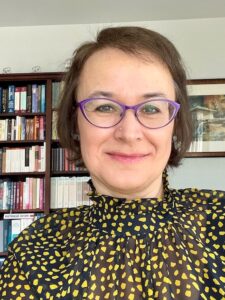 Stefka Marinova-Todd was born and raised in Sofia, the capital of Bulgaria, and has spent all of her adult life in North America.
A university professor of bilingualism at the University of British Columbia in Vancouver, Canada, she has a B.A. in Developmental Psychology from York University in Toronto, and a doctorate in Second Language Acquisition from Harvard University Graduate School of Education.
LOVE AND IMPEDIMENTS is her first work of fiction.
Please follow and like us: