Dr. Anissa Freeman's first book is a beautifully written and amazingly illustrated foray into children's picture books.
About the Author
Anissa Freeman was born and raised in Athens, Georgia, with her parents, older brother, and younger brother. As a native of Athens, Georgia, she is a die-hard Bulldog fan. She currently resides in Kennesaw, Georgia, with her four parrotlets, Midori, Spring, Kendall, and Owen, as well as her Malti-Tzu Coco.
She knew at a very early age that she wanted to become a teacher.  She has always loved to read. Her mother instilled the joy of reading when she was in preschool, as her mother would read to her each night before going to bed. Her love for bugs developed at an early age as well. She could always be found catching various insects in old pickle jars in her grandparents' backyard. Her love of gardening developed later in life, which she credits to her aunt and late grandmother. She dreams of having a greenhouse one day.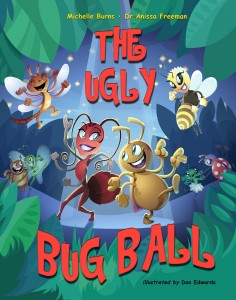 She is a fifth grade teacher with twelve years of teaching experience. She has also taught first grade and third grade, as well as Title I reading for fourth and fifth grades. She holds a bachelor of social work degree from the University of Georgia, a master of arts degree in teaching from Piedmont College, a doctorate degree in curriculum and instruction from Argosy University, and a leadership certification from Kennesaw State University.
Anissa's love of reading, gardening, and interest in bugs helped to launch the writing of her first book, The Ugly Bug Ball, with co-author Michelle Burns. She always had a desire to write, but could never find the time until she and Michelle decided one day after a faculty meeting to take the time to develop the characters, plot, and setting for The Ugly Bug Ball. The creation of this book has taken some time, but Anissa feels it was well worth the wait.
Anissa and Michelle became friends after Anissa taught Michelle's daughter in first grade. Their friendship developed even further when Anissa was fortunate enough to have Michelle's daughter again in third grade. They knew that this destined friendship would lead to something great: The Ugly Bug Ball. After many hours of writing, re-writing, texting, emailing, and meetings at Barnes and Noble, the story has finally come to life.  She hopes that this is just the beginning of her writing career and hopes to produce many more stories for children, tweens, and teens.
Connect with the Author
Learn more about the book and follow Michelle and Anissa's blog on TheUglyBugBallBook.com. Connect with Anissa through Facebook or Twitter.
About the Book
The Ugly Bug Ball is available through the BQB online store, and the below retailers: