Read reviews for Give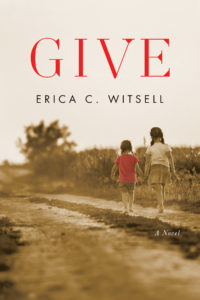 "I met Erica at a conference and after hearing her speak, I couldn't wait to read her book – I was not disappointed. Jessie and Emma are the product of a broken marriage between Len and Laurel. Laurel was absent and at times a danger to the girls and Emma no longer wants to spend summers with her the way Jessie does. This novel tells of the trials and tribulations of loyalty to their two moms as well as their dad and the struggles of life in general. It's a lovely coming of age story that shows an honest portrait of a family that loves each other but may not always know the best ways to show it. "
— Andrea, Fountain Bookstore, Richmond, VA
---
5 stars. "This debut novel showcases the complex relationships within one family, focusing on two sisters and their path from infancy through life. Joy, sadness, pain and growth – the story is poignant and beautifully written. The characters come to life and I found myself more invested than I thought, in wanting them to reach a place of resolution and contentment. I loved this book, and highly recommend it!"
— Susanne Bart, for NetGalley
---
5 stars. "I love family saga's especially ones that change perspectives between characters or that follow one family through different time periods. This novel has both! We see the family, as they navigate through their relationships from the 1970's up to the early 2000's. There are two characters we see the most of, as they cope with tension and their complex relationships with one another as well as other members of their family. We also see what family means to the characters and how they deal with relatable issues every person faces as they grow older and trying to discover who they are.
I was instantly drawn into the book and Witsell's characters, especially how she writes the females of the family. Witsell has a beautiful way of writing and creating complex characters. I've grown tired of the typical female characters in other books and appreciated Witsell giving us females who we could relate to but also be messy, imperfect humans! There were times when I cheered both for and against a character's decisions, but it made them so much better when you realize, "people mess up and make mistakes, even the fictional ones!" There are also characters I tried to empathize with and I ended up loving to hate them. They reminded me of people from my own life at times, which made me want to try to understand them better.
Give is one of my new favorite books for this year!"
— Madeline Lacy, for NetGalley
---
"This is a debut novel by Erica C Witsell. And I must say I was amazed! The story is so poignant and beautifully written. It has joy, pain, grief, sadness and everything bonded together. It's a family saga, a complex relationship within the family. It's about two sisters, and their journey along their lives.
The characters have been beautifully sketched. As one progresses with the story, it feels as if the story comes to life. They are complex within themselves. There is so much going on.
To be honest, at some part I felt it was a bit dragging but I guess it was all worth it. The ending was so good! I was literally in tears.
I found myself much more invested than I had imagined myself to be. I wanted them characters to reach a solid satisfactory place.
I loved this book and would surely recommend!"
— Mamata Rao, for NetGalley
---
"This book is about two sisters who are caught between living with their biological father and his wife or their biological mother. They grow up with their dad and stepmother who is very close with them until they become teenagers. They spend summers with their mom who has not always been the best role model. When she eventually filed for custody the girls had to decide who they wanted to live with. The story is very well written and has believable characters. I definitely would recommend this book."
— Sherry Wood, for NetGalley
---
"I realize that this book is, in large part, about sisterhood. Unfortunately, I don't have a sister or a similar relationship to measure against. I loved Emma and Jessie anyway, and found them credible characters in their own right. Emma's struggle to find a nourishing relationship is deeply touching. The dynamics between the two of them and between Laurel and Jessie are written with honesty and affection.
But what grabbed me by the heart and wouldn't let go was Witsell's descriptions of parenting and motherhood. It's unflinching in a way that I haven't read before without someone being written as a monster. Laurel isn't a monster; She's just not cut out for motherhood. She's a flawed person whose flaws are particularly incompatible with mothering. God, I sympathized with her. Early motherhood was frequently intolerable for me as well, and I found a sort of weird validation from reading someone else who wasn't very good at it. However, I also loved Sarah's character. She wasn't any more perfect than Laurel was imperfect.
I especially applaud Witsell's commitment to Laurel's integrity. Laurel never "rises above" or adopts the proper level of selflessness. It would have been pretty but dishonest to do otherwise. Even when her intentions are good, as with baby Liza, she manages to get it all wrong.
Everything about this book feels real, genuine, and honest. It it were written as memoir, I would believe it, but I think it somehow points to even larger truths by being written as fiction."
— Sunrise Books, High Point, NC
---
"I was really drawn to the story in this book. Laurel is the mother of two little girls and decides to leave them with their father and to move away. The father remarries to their babysitter and she becomes their mom. Laurel returns and thus begins the backward and forward pull from place to place. I loved how this book was told from multiple perspectives and that it goes forward into time. This is the first I have read from this author, but will not be the last."
— Jennifer Jones, for NetGalley
---
5 stars. "I love a good family saga and this book is one of the best sagas that i have read this year. A very enjoyable book with so many different emotions. A very well written book and to think this is a debut book. I am not going to write what the story is about as i prefer one to read the book for themselves, but it do highly recommend."
— Jeanette Styles, for NetGalley
---
5 stars. "Give, by Erica C Witsell is an interesting and compelling novel. Starting in the 1970s, it didn't take long for me to become engrossed by this novel. Honestly, I truly became consumed by this book.
Laurel is struggling under the weight of motherhood and the reader immediately sees how selfish she is. Len, meanwhile, is immediately a likable and sympathetic character.
Honestly though, I find the book description to be deceptive. It doesn't convey how much of this story is about Jessie and Emma's childhood. The first part of the book is about Laurel and Len, and how they end up separated, with the girls not knowing Laurel for years. After that, the point of views transition into that of the girls as they go through adolescence followed by adulthood. The next part follows snippets through the years, as they grow up.
This book hit me on so many levels; as a mother, as a wife, and as a daughter.
This story heavily delves into motherhood, and the different ways people can show love.
It's as multi-layered as it gets, covering many years and many events. It includes divorce, step-parents, egg donorship, motherhood in general. It conveys the pain that stems from the rejection of a parent, the different things that truly make a mother, and heavily explores the meaning of biological parents in one's life. It covers alcoholism, polyamory, and more.
The author takes the reader through many different povs, including that of the children. This is one hell of a multi-layered read that to me, this would make an interesting book club read.
Give, A Novel is a terrific read. This Erica C Witsell book is a deep, thought-provoking family novel and coming of age story. It certainly doesn't fall easily into any one category. Personally, I consider it an amazing women's fiction read. But book stores list it as LGBT family fiction. Whatever it is, it's well worth a read."
— Amy Dufera, Amy's MM Romance Reviews
---
"This novel had me like a fish on the line, I was hooked and couldn't shake free! What a wonderful story with beautifully drawn characters. Some I loved and one, Laurel, for whom I couldn't muster a positive feeling if I was forced. To say she was a train wreck is an understatement of monumental proportions. She was a multitude of train wrecks. In all my reading years never have I felt such compelling revulsion for a fictional character. She should never had one child, much less two. Jessie and Emma were never a priority in her life, she was consumed with her own self-interest. She was simply a horrible mother and person. Strong feeling, strong words, I know, but those feelings make for a "grab you and hold you" sort of book. This was definitely one of those.
I particularly liked the way in which the story moved through time and from person to person. The movement was clearly defined, never leaving you wondering where or with whom you were currently. This attention to detail is important to me and I believe a lot of readers. No confusion, therefore no need to page back and try to pick up the threads.
This was an outstanding debut novel. I am looking forward to more from Ms. Witsell."
— Dianna Marshall (Educator), for NetGalley
---
"Give, a Novel by Erica C. Witsell was one of those novels that just sticks with you after you read it. As the story unfolds I realized the meaning of the title was evolving as each of the characters evolved.
Witsell writes with an amazing clarity of voice and offers the reader characters who feel more than lifelike. Main characters Len, Laurel and their two daughters, Jessie and Emma are complex characters and each carries with them their own humanness. As the story unfolds over the pages of this debut novel each character shares their strengths and weaknesses.
Sisterly bonds, mother/daughter complexities, love and disappointment all come into the story . The complexities of relationships, the shortcomings and strengths of each character is deftly fleshed out by author Witsell.
This was an easy book to read and I found myself staying up late to finish it. As the story is spread out over many years it is interesting to see how the author continues to develop each character and personality as they grow older."
— Beth Ann Chiles, for NetGalley
---
5 stars. "Wow, what a emotional story. So well written and I recommend it. The story follows a family after Divorce and moving on with their lives with heartache and love. I will be looking for more books by this author."
— Nancy Knox, for NetGalley
---
5 stars. "Speaks to the Heart. Don't Miss This One!
Families are complicated. Erica C. Witsell's GIVE shows us the thrilling and devastating rollercoaster ride of love, regret, acceptance, and forgiveness. This story follows one family's emotional journey to find where they belong within their family and in the world. It's sweet and bitter and very real. Loved it!"