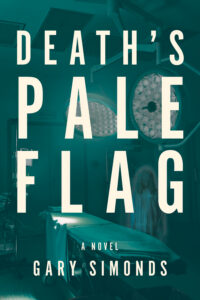 "The author did a marvelous job of portraying some of the norms of society and breaking them. He wants the readers to have a peek at what the life of a so-called 'Hero of People' looks like without downright degrading it, like some authors seem to be doing these days. I think everybody, doctor or not, should read this book. There's a norm fixed deep inside our minds- heroes don't need saving. But here's what's wrong with the theory. Everything. Everybody may need saving at some point, if not by others then by themselves.
Nevertheless, there seems to be glory in Ryan's life after all, the times when he marched into the operation theatre, I couldn't help but wonder and be concerned for the patient. But Ryan was no loser at his job. He knew neurosurgery like the back of his hand.
One thing I appreciated very much in Death's Pale Flag was the way Gary described what was happening in Operation Theatre in the 'common people's language. He didn't simply throw away all that medical jargon and expected the readers to get along. He broke it down into digestible chunks so you could easily chew on (and taste them).
Likewise, I adore the way Ryan interacted with his patients. Not only was he kind to them, but he also spared time to console them and comfort them when there was bad news to be delivered. He was very responsible, sometimes preferring his patients over his family, even if this caused him great hurt.
The title of the book yells that the author may just be a great fan of Shakespeare- Death's Pale Flag, the famous words of Romeo to Juliet when he mistakenly thought she was dead. So could it be that death (albeit a fake one) is coming for Ryan or his family members? The thought kept me on edge, especially at the ending pages of the book.
One thing that I didn't enjoy was the slow pacing of the book. I would have enjoyed the book much more if it were fast-paced. The hospital scenes were alright but some of the scenes were dragged a bit too much for my liking. But if you're okay with descriptive scenes with a slow pacing, you may not even notice this.
Highly recommended for fans of the autobiography 'When breath becomes air' and TV shows 'The Good Doctor' and 'Gray's Anatomy'- Death's Pale Flag is a cozy fiction with light horror and the enlightenment of attending a mental health seminar, all in one book."
---
"This book is magnificent. While weaving a fascinating paranormal mystery tale, Gary Simonds has artfully depicted the pain and poignancy (and nobility) of life in neurosurgery, both for the surgeon and his/her spouse/family. Like all good art, he engages the reader, then takes them on not just a narratively-described but an emotionally-cathected journey; the relentlessness of brain surgeon, Ryan's work/life and existential/humanistic conflicts are grueling to experience, as is the endless compassion and questioning that his wife, Kelly, must live with. In fact, despite the increasingly unsettling paranormal events and the heart-racing peeks into the neurosurgery universe, the heart of this novel lies in the Brenan's struggle to save their marriage.
Lovers of medical thrillers will enjoy the accurate portrayal of the minute to minute critical decision making involved in caring for the tidal waves of sick and injured patients crashing upon our hospitals every day. Lovers of ghost stories will savor this story of a man who is relentlessly and inexplicably haunted, rather than a dilapidated house or mist-laden hollow. And, this is a novel that should be assigned reading for anyone who wants to explore the fallout of workaholic over-commitment to even the most noble of causes, and those who wish to TRULY understand life in medicine and life in a "medical family."
Further thoughts:
The writing is sensational. The characters are compelling – the reader thirsts for evermore info about Kelley and Ryan; the wordsmithing of contexts and settings is eloquently intelligent; and the drama of the story is well-paced.
Descriptions of in-the-trenches experiences of a neurosurgeon and the interplay with other members of the team and the variety of patients dealt with (their brief stories describing the circumstances that lead to the tragedies that resulted in their injuries) are nothing short of fascinating and galvanizing.
The theme of "that which you focus on and immerse oneself in magnifies; what you ignore in life shrinks" is powerful… We readily come to understand that much can be lost in that cauldron of duty to endlessly needy constituents, ego gratification, going where the affirmation is, the reflexive avoiding of the tensions of a failing home life, etc..
The vignettes that offer a glimpse into life in the E.R., ICU's, and operating rooms are "grab the reader by the shirt and shake them into paying attention" effective. They are fast-paced, fascinating, educational, and awe-inspiring. They leave the reader's head spinning. And each vignette begs for the reader's consideration of its meta theme:
Caring for a seriously ill or injured patient, also necessarily involves caring for a host of devastated family members.
Dealing with less competent, compulsive, and/or caring colleagues
Dealing with arrogant and difficult colleagues
Recognizing the heroism and altruism of the many unsung heroes on a medical team
The glee of educating naïve medical students
The joy of seeing a resident turn into a trusted professional
The relentlessness of the mission …constantly called
The sustaining value of intelligent banter among a "band of brothers"
The existential anxieties that come from a constant barrage of witnessing the frailty of life
The almost inexpressible admiration that stems from experiencing the grace and love shown by people, during the worst of times
The existential quandaries that eventually come – "am I truly making a difference? Am I worth the amount of money I get paid?"
The deep and abiding joy and pride and, eventually, actualizations that comes from doing this heroic work
The shame "what am I doing!" that comes when one finally "loses it", and goes off on a colleague or patient
Even earlier, what it's like to have been an maximum-achiever and leader throughout one's life, then encounter the hazing of residency
And more, and more"
—Wayne M. Sotile, Ph.D.
---
Death's Pale Flag by Gary Simonds is a thrilling book about the experiences of a neurosurgeon who loves his work. Ryan, the protagonist, becomes so involved with the patients that every death on his table takes a part of his heart and soul. He wants to save everyone, which leads to overworking every day and on weekends. His excessive busyness with work becomes a challenge because he starts forgetting his family.
Ryan's work completely takes over all aspects of his life, and he begins to see ghosts or hallucinations of the people who died due to medical complications. They appear to be the patients he couldn't save on the operating table. The doctor tries to understand the reasons within his capacity and struggles to decipher these apparitions. This further worsens his health, work, and family life. As his career becomes Ryan's only respite and his family drifts away from him, one catastrophic event may bring him closer to taking life more seriously.
I found the writing style of this book captivating, and I enjoyed the intense details of brain surgeries in an easy-to-understand language that I could follow. It deepened my appreciation for neurosurgery and the delicate, life-saving procedure. In addition, the author did a brilliant job of expressing how remaining the life of a neurosurgeon can be and how challenging work-life balance can be to achieve, especially with a career in the medical field. Ryan's emotional journey is captured perfectly, along with other characters in the book, and the plot development is exceptional.
The story's progression blended well with the period, and I found the neurosurgeon's personal and professional challenges exciting and, at times, amusing, which only made the book more enjoyable to read. This is a compelling book with a realistic plot woven into a fantasy story. Death's Pale Flag by Gary Simonds is an excellent book, combining elements of a thriller, medical drama, comedy, and paranormal themes. It's a worthwhile read, and I recommend it to fans of supernatural thrillers.
---
Death's Pale Flag is a work of fiction in the psychological thriller and suspense subgenres. It is best suited to mature teen and adult readers owing to some dark themes but no graphic descriptions. Penned by author Gary Simonds, in this chilling work, we find ourselves immersed in the dark world of medical trauma and neuroscience when our protagonist Ryan Brenan starts to believe he is encountering ghosts. Frayed to his last nerve, Ryan has to wonder if the ghosts are real or if something in his brain has given way to chaos. Exploring strain, burnout, and psychological exhaustion with a thrilling paranormal twist, we follow with bated breath the turns of Ryan's life to see where his adventures take him.
Author Gary Simonds offers a unique novel unlike anything I've ever read before, and the themes and combination of different genres are something I'd love to see more of in the medical thriller field. It is clear that Simonds knows the field well and speaks from personal experience in the world of neurosurgery, as the novel has a clinical overtone that provides a great level of professional detail. The narrative balances this out perfectly with the presence of our workaholic protagonist Ryan Brenan, who becomes more and more relatable as his life and struggles are revealed to us. The paranormal elements are believably incorporated and really highlight the mystery and psychological aspects of the plot well. Overall, Death's Pale Flag is a fascinating, detailed, and engrossing novel that I would certainly recommend for medical, psychological, and paranormal thriller fans alike, as it has much to satisfy all these groups and so much more.
– K.C. Finn, Readers' Favorite
---
5 stars. "Ryan is a successful neurosurgeon. He's not arrogant. There's no God complex. The patients in an accident always get his full attention. But his focus is overdue on his children. When Death's Pale Flag begins he's rushing off to another emergency. His kids Ava, Riley, and Erin are looking forward to pumpkin carving. His wife Kelly is patient and reminds him of family obligations.
Young Olivia's brain is hemorrhaging, but Ryan and his team remain calm. They are trying to get things under control. There's already one dead kid this week. They get the bleeding stopped. He's a pillar of strength.
Ryan drives home. As he sits in this driveway, something moves on the side of the porch. He catches a glimpse of a woman, but she disappears before he can be sure. He grabs a flashlight to investigate, no one is hidden. Ryan continues to look in every hiding spot. The doctor thinks it's sleep deprivation. It gets worse because it becomes a habit of seeing things. Things resurrected from the hellscapes. He's about to go to psychological war with the supernatural.
I enjoy a good psychological thriller. I love the mystery of exploring a solution to an impossible problem. What's harder to navigate than ghosts, marriage, and sanity?
I was fully engaged. Gary Simonds messed with my head. To the point that I'm now a fan.
There's quite a lot of graphic descriptions of medical terms. I didn't mind. It was an easy-to-understand conversational tone. I haven't been this excited about a book this winter.
Death's Pale Flag checked all the boxes -haunting, compelling, and engaging. It gets under the skin of its sympathetic hero Ryan Brennan. The author offers the psychology of being a surgeon; a human being.
Readers who are ready to jump into a unique ghost story can find a memorable one here. This supernatural psychological thriller is full of eerie surprises."
– Andrea Smith, Reedsy Discovery

---
"From its riveting beginning to the last sentence, 'Death's Pale Flag' is a fast-paced and engaging read by author Gary Simonds. Himself a neurosurgeon, Dr. Simonds writes the 'fictional' story of Dr. Ryan Brenan, a high-powered (aren't they all?) neurosurgeon, who just can't stop and 'smell the roses.' He is totally absorbed in his high risk profession, and yes, totally absorbed in himself. Only he can accurately assess the patient's condition, choose the best surgical approach, and provide the ideal post-operative care. The novel is a work of fiction—not autobiographical per se, but filled with the realities of the life of a neurosurgeon whose every decision has a profound effect on life itself. Myself, I am a family doctor, knowledgeable about the scope of work of the neurosurgeon, but I could still not believe the pace and volume of high-risk work described. So I asked Gary—is there hyperbole here? His answer—not really; he had actually toned it down as real life in the day of a neurosurgeon would seem totally unbelievable to the reader. Yikes!
So that's the backdrop for a story which then explores the effect of Dr. Brenan's personality and life-experience on his family, friends, colleagues, and—most profoundly—on himself. A parallel reality builds inside his head—one that is not experienced by those around him. And there are ghosts—ghosts of the past and present. The reader wonders—is this a ghost story now or has Dr. Brenan's mental health deteriorated to the point where he can no longer distinguish between his two realities. And what if his parallel world eventually encroaches into the operating room setting? Is 'Death's Pale Flag' actually a cautionary tale about the mental health effects on people whose professions involve life and death decisions on nearly a daily basis? The novel certainly is that…and much more."
– Cynda Johnson MD, founding Dean of the Virginia Tech Carilion School of Medicine
---
"This was good. A well written psychological thriller with a paranormal thread in it. It will keep you entertained and guessing."
– Lori Clendenin for NetGalley
---
5 stars. "This was fresh and unique. It was captivating. The characters were well developed and well written. The paranormal aspect was so intriguing. A great thriller."
– Kay Oliver for NetGalley

---
10/10 rating. "This was a compelling and captivating medical thriller meets paranormal fantasy read. The author does an amazing job of grounding this story in as much reality as possible, tying the paranormal aspects of the narrative into the protagonist's work in the medical field. As someone interested in the paranormal and who has become fascinated with doctor's studies and theories regarding life after death, the setting and atmosphere the author created in his work really struck home in terms of the tone they were trying to achieve.
To me, the heart of this narrative rested in the character growth and the emotional core related to the protagonist's personal life and work-life imbalances. The way the author was able to bring realism and expertise to the protagonist's story and work in the field of brain surgery made this a compelling read, and the way work and the experiences as a surgeon would impact his home life set the stage perfectly for the paranormal aspect of the narrative to come into play, making for an exciting story.
Memorable, thrilling, and entertaining, author Gary Simonds's "Death's Pale Flag" is a must-read medical thriller meets paranormal novel of 2023! The grounded realism of the characters and backstory with the engaging paranormal twists and fascinating connection between the mind and the paranormal the author touches upon made this a truly amazing novel to get lost in. If you haven't yet, be sure to grab your copy today!"
---
"An overworked physician is bedeviled by strange visions in Simonds' thriller.
Dr. Ryan Brenan is an incredibly dedicated and talented neurosurgeon, but his powerful work ethic leaves him depressed, with little time to spend with his family. His wife, Kelly, is concerned for his health and wants him to curtail his time at the hospital, but Ryan is too anxious to rely on other doctors and nurses because he's seen what happens when people aren't as careful as he is. The situation grows much worse as he begins to hallucinate such disturbing scenes as a child running into the street, a truck crashing into leaves that are left undisturbed, and a man being run over. Physician assistant Ariana Salazar suggests that his hallucinations may be the work of the supernatural and that he might be seeing ghosts that have devious intentions for him. As tensions rise and the specters grow worse, Ryan's strained marriage approaches a breaking point. Before he loses everything and everyone he loves—and perhaps even his own life—Ryan has to figure out what these ghosts want. The author has created a compelling character in Ryan Brenan, a man who goes beyond the limit for his patients and cares for his family while navigating both human and supernatural obstacles. Ryan's dialogue is occasionally overburdened with exposition, especially regarding medical information ("It's an epidural hematoma. The brain and spinal cord are contained in a bag of fluid called the 'dura.' This clot of blood is on the outside of the dura and thus is 'epi-dural.' If it were under the dura, it would be 'sub-dural' "), but the majority of the narrative avoids this problem. The supernatural elements are well developed and believable, creating scenes of insanity that feel truly consequential. Readers will be drawn in by the novel's great characters, steady pace, and satisfying ending.
A fantastic medical and supernatural thriller with a memorable hero."