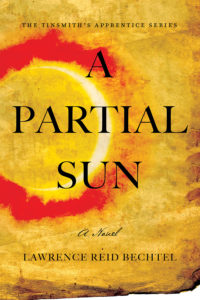 "This was an illuminating and intriguing read. While the book itself is fiction, the people and storyline were very real. I had read books on Jefferson before, but never from the point of view of one of his slaves, and it is a unique perspective I wish I could read more about. Isaac Granger led a fascinating life full of complicated experiences with prejudice, with slavery, with freedom, with love, and with the worth and measure of any given human being. I felt this book conveyed the nuances of slavery to a master who wasn't cruel and exposed me the reader to the real struggles and class differences amongst all African Americans. I would absolutely recommend this book. In our world today, where prejudice and freedom and issues of human worth are all being questioned, this book is a must read."
— Kendra Westerberg, for NetGalley
---
"A Partial Sun is a interesting and well written book. The characters are well developed and the storyline is unique."
— Heather Bennett, for NetGalley
---
5 stars. "A Partial Sun is the first installment of The Tinsmith's Apprentice Series, which is the fictional story of Isaac Granger Jefferson, a slave of Thomas Jefferson. Sixteen year old Isaac is sent to Philadelphia in 1791, where Jefferson is serving as Washington's Secretary of State, to apprentice as a tinsmith.
The novel is the recollection of Isaac, fifty years later, telling his story to Reverend Campbell, a clergyman and aspiring historian.
This is impressive work. It will obviously appeal to early American history buffs – Bechtel does a masterful job of describing 18th century Monticello, Philadelphia and the intricacies of tinsmithing – but it is much more than an historical travelogue. The real Isaac Granger wrote a memoir and there is abundance of history on all aspects of Thomas Jefferson. Bechtel, mining the historical documents, has imagined a compelling, story that was engrossing from beginning to end.
It is not hagiography, nor is it revisionist history. To me, it felt honest and real. I look forward to the next installment."
— Len Joy, author of Everyone Dies Famous and Dry Heat
---
The year is 1791. Secretary of State Thomas Jefferson sends his slave, Isaac Granger, to begin a tinsmith apprenticeship in Philadelphia. Lawrence Bechtel's novel, A Partial Sun, imagines this young man's life as he travels to the nation's capital to learn the tinsmith trade with a Quaker family. With arresting prose and engaging storytelling, Bechtel deftly probes the complicated nature of identity, freedom, prejudice, and oppression. At a time when many Americans are examining racial injustice and its fraught history, A Partial Sun offers the reader a well-researched and beautifully-wrought glimpse of our nation's early years and sheds new light on the hypocrisy of Jefferson's famous declaration that all men are created equal. This wonderful, thoughtful novel had me hooked from the first chapter. I can't wait to rejoin Isaac in the next book of the Tinsmith Apprentice Series, That Dazzling Sun.
— Erica C. Witsell, author of Give