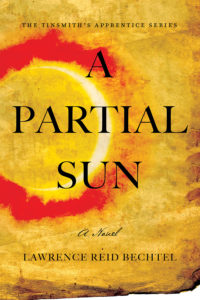 "This was an illuminating and intriguing read. While the book itself is fiction, the people and storyline were very real. I had read books on Jefferson before, but never from the point of view of one of his slaves, and it is a unique perspective I wish I could read more about. Isaac Granger led a fascinating life full of complicated experiences with prejudice, with slavery, with freedom, with love, and with the worth and measure of any given human being. I felt this book conveyed the nuances of slavery to a master who wasn't cruel and exposed me the reader to the real struggles and class differences amongst all African Americans. I would absolutely recommend this book. In our world today, where prejudice and freedom and issues of human worth are all being questioned, this book is a must read."
— Kendra Westerberg, for NetGalley
---
"A Partial Sun is a interesting and well written book. The characters are well developed and the storyline is unique."
— Heather Bennett, for NetGalley
---
5 stars. "A Partial Sun is the first installment of The Tinsmith's Apprentice Series, which is the fictional story of Isaac Granger Jefferson, a slave of Thomas Jefferson. Sixteen year old Isaac is sent to Philadelphia in 1791, where Jefferson is serving as Washington's Secretary of State, to apprentice as a tinsmith.
The novel is the recollection of Isaac, fifty years later, telling his story to Reverend Campbell, a clergyman and aspiring historian.
This is impressive work. It will obviously appeal to early American history buffs – Bechtel does a masterful job of describing 18th century Monticello, Philadelphia and the intricacies of tinsmithing – but it is much more than an historical travelogue. The real Isaac Granger wrote a memoir and there is abundance of history on all aspects of Thomas Jefferson. Bechtel, mining the historical documents, has imagined a compelling, story that was engrossing from beginning to end.
It is not hagiography, nor is it revisionist history. To me, it felt honest and real. I look forward to the next installment."
— Len Joy, author of Everyone Dies Famous