5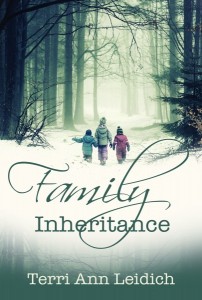 out of 5 stars. "Very moving. I recognize that the book has a greater appeal for the female audience. . .but all sensitive men can benefit greatly from reading it. I want all three of my ladies (wife and two daughters) and both my sons-in-law to read the book. It serves as a primer and encouragement for those facing enormous family struggles and gives hope and promise to those who are suffering and crying out for help. The greatest compliment I can give: the book made me cry."
~Stan Cooper
---
5 out of 5 stars. "This book is extremely well written and you won't want to put it down until you've read the very last page. Even then, the characters will continue to stick with you. I liked this book very much and would definitely recommend it.
Family Inheritance is a heartbreaking tale of three sisters struggling in their adult lives as a direct result of the abusive childhood that they suffered.
Helene, the oldest sister, left her hometown as soon as she possibly could and hasn't looked back. She's been married for over twenty years, but her marriage has been anything but happy. Her husband constantly cheats on her and she never does anything to stop it because she doesn't feel that she is deserving of anything better.
Middle sister Alice stayed close to home, having married right out of high school. Her husband is abusive. Alice feels like this is normal since her father was abusive and her friend's husband is abusive as well.
Like Helene, the youngest sister, Suzanne, also left their hometown soon after graduating high school. She's done well in her career but her personal life is a different story. As a result of the sexual abuse she suffered as a child, she finds herself unable to be with a man unless she's drunk. This leads to an alcohol addiction.
The three sisters reunite after many years apart when they learn that their mother is ill. In the beginning, there is some hostility among them due to each of them not understanding the circumstances of the others' lives and assuming that the others are so much better off than they are. As secrets are revealed, they realize that none of their lives are perfect – in fact they're far from it. With the help of the others, each sister soon begins to realize that they deserve better than the lives that they are currently living. Do they have the courage to make the necessary changes that will lead them to these better lives?"
~Librarian, Lisa Knox for NetGalley
---
5 out of 5 stars. "Engrossing."
~Librarian, Rosemary Smith for Cayocosta72 Book Reviews
---
4 out of 5 stars. "When I began this book, I wasn't sure I would finish it. It was such a dysfunctional family. I am really glad I stuck with it. The problems these girls faced and solved made this a very heartwarming read. I would recommend this book to everyone."
~Librarian, Joyce Chaplin for NetGalley
---
5 out of 5 stars. "Family Inheritance by Terri Ann Leidich is a heartbreaking story of three sisters struggling through their adult life as a result of the childhood abuse they suffered. Their Mother is dying, they all return home and are reunited. With the help of each other they decide they deserve so much better and set about to make changes in their lives. This is an emotional book which I had to stop several times to wipe the tears before I could read more. I enjoyed reading this and found it to be a real page-turner, I look forward to more by this author.
My favorite quote from the book is… Maybe her childhood and her past were like any other family inheritance. It all depended on what she did with it."
~Kimberly Scott for NetGalley
---
4 out of 5 stars. "I recommend this for those who enjoy women's fiction and feel good happy endings, and those who are hoping to make changes in their lives… This novel is well written and easy to read through with a certain addictiveness that you keep turning the page to know that these sisters are going to do next… This novel did an excellent job portraying difficult emotions in a way that for the most part was realistic, relatable, and with raw honesty… Would certainly read more from this author in the future."
~Laura Lehman for NetGalley
---
5 out of 5 stars. "Family Inheritance is a well written book that deals with serious social issues. The emotions contained in the book seem very real to me and at times felt gut-wrenching. From the very first page I was drawn into the drama and I had to keep turning the pages to see what would happen next.
The writing style flows smoothly and this was a quick easy read (although at times the emotional turmoil was hard to read about). The writing was raw and emotional, descriptive and informative. The characters are well developed, well rounded and three dimensional. You cannot help being drawn to them and into their worlds.
I would recommend this book to anyone who enjoys a well written fictional story, that is based on some sad truths of our society. And to anyone who enjoys an emotional, thought provoking read. This is the first book that I have red from this author and I am looking forward to reading more of her books."
~Mary Brown for NetGalley
---
4 out of 5 stars. "This is a very dark novel with adversity and strength. Abuse and family discourse are major players in this story. The title Family Inheritance does not mean money or land. It is more about the cycle of abuse that travels through a family and everyone it touches.
The abuse is very stout in places and I had to set the book aside to catch my breath and take a break. I love how the sisters find their way back into each other's lives. The courage each sister portrays as they each handle their own adversity is amazing.
A very courageous read!"
~Reeca Elliott for Reeca's Pieces
---
4 out of 5 stars. "Make sure you have a fresh box of tissues by your side, because Family Inheritance will leave you reaching for many a tissue. Terri Ann Leidich has written a gripping, moving heart filled tale of three sisters each battling their own demons. I was hooked early on and completely absorbed in the sisters' story. Family Inheritance is well written, raw and honest. A compelling read and one I would recommend."
~Cindy Henzel for NetGalley
---
5 out of 5 stars. "Three sisters from a dysfunctional family who have gone their separate ways over the years, are called to their mothers' bedside. You'll find out the problems each faces in her own life, discover how their childhood contributed to these problems, and walk with them as they face their past and build a better future. A touching and informative novel. A very high recommendation!"
~Georgia Hamilton for NetGalley
---
5 out of 5 stars. "This book is heartfelt and emotional. The way things were for these girls will tear you up. This book is hard to put down as well so I suggest that you have a box of tissue while reading."
~Peggy Salkill for NetGalley
---
4 out of 5 stars. "Very thought-provoking… It's heartbreaking to think that, unfortunately, this story is probably a bit to realistic for too many readers, but this is a book that will give readers hope for a better life."
~Beth Martin (Librarian) for NetGalley
---
4 out of 5 stars. "I really enjoyed this book and was reading it every chance I had. In my opinion, that's how I know it's a good book…
I think the author did a great job telling each of their stories and the struggles they were going through.  The transitions between them made it easy to read.   She started each character at a low point then as the weeks and months passed you notice that Helene, Alice, and Suzanne are slowly putting their lives back together, with a few bumps along the way.  This high and low cycle continues throughout the book until the end when everything seems right…
Overall, I think the book was good and I would recommend it as a must read."
~Danielle Miller for NetGalley
---
5 out of 5 stars. "Family Inheritance by Terri Ann Leidich is a very dramatic contemporary read. I enjoyed reading it and was very invested in the character's lives. Family inheritance has a fast moving plot that keeps the reader turning the pages. I have never read this author before but I would definitely pick up another book by her. Family Inheritance is about three estranged sisters coming together in the face of tragedy.
…Family Inheritance is a poignant drama. I couldn't put it down and I would probably read the book again someday.
…I would highly recommend Family Inheritance to those who enjoy reading contemporary stories."
~Isis Ray-Sisco for NetGalley
---
4 out of 5 stars. "FAMILY INHERITANCE, by Terri Ann Leidich is a riveting novel, of a family's hopes and dreams and the tragedies and secrets which haunt them, as they journey to forgiveness and acceptance… An emotional and heartbreaking novel, one of flawed and troubled characters, with highly charged social issues of abuse, alcoholism, rape, and infidelity… A beautifully written and inspiring family drama–one of overcoming life's messiness, and not allowing it to have the control and power to define your future. Looking forward to reading more by Terri Ann Leidich!
~Judith D. Collins for NetGalley
---
"This was such a sad, yet highly interesting read. I felt for all of the characters, and felt like I was actually a part of this dysfunctional family. The writing is wonderful, and draws you right into the plot, and keeps you hooked until the end.
The story of abuse and incest was very real and wasn't taken lightly. For that reason, it might be a slightly difficult read for some. The author doesn't tip toe around the topic. I think that that is what I really liked about it. It's a fresh take on a very serious topic, and the outcome was great. Not every story needs a happily ever after.
Family Inheritance felt real, and the plot was very interesting. I never thought "well they clearly wanna wrap things up now." at the end, and that was great. I'd recommend this."
~Coley Newton for NetGalley
---
"I loved, loved LOVED this book!! I couldn't put it down. The characters and situations were so very real, very raw, and extremely relatable… The plot is likable, the characters are lovable, the situations are real. The dialogue is funny, thoughtful, and completely sister-like. Not that I would know from experience, but the banter is real and at times comical… I highly highly recommend this book to anyone, especially fans of chick lit!!!"
~Melissa Dowden of A Thread of Fiction
---
5 out of 5 stars. "I cried several times reading this and it made me think of how our families can influence us so much for several generations. 5 of 5 stars for me and I think this book would be great for reading groups that aren't afraid to tackle tough topics."
~Anika Peters
---
5 out of 5 stars. "Sometimes it takes a tragedy to bring a family together. These three sisters have had such a tragedy. Their mother is dying and in a coma and Helene, Suzanne and Alice come together after many years to decide what to do with the homestead. You become a part of this family, feeling the pain that they each are going through. And then you realize that they aren't all that different than anyone else. Skeletons in the closet which need to come out and sisters who need to reunite in order to be there for each other."
~Pam Rule for NetGalley
---
"I thoroughly enjoyed reading this novel.  Definitely worth reading!"
~Karen Klein for NetGalley
---
"This is a very moving book, not meant for casual reading at all. The reader is made to empathise with, and feel the pain that the characters deal with in the book. The narration is done well. Although the situation is made out to be very grim and the author handles it well, the only aspect that the reader wishes is that there seems a stereotype that the author could have avoided. For instance, the third sister faces weight issues and there are many mentions of the adjective that the author uses to describe her body size. The other two sisters also face emotional challenges. While the first sister is married to an adulterous man, the second one is made to be an alcoholic and herself. The author narrates how the turn of events seem a result of the emotional conditions of the sisters, impacted by their pasts. The characters draw one into them.
I would definitely recommend this book to lovers of books dealing with family dramas and social issues."
~RC Bean for SiMPLiREAD
---
"The development of the characters is superb… The writing style is smooth and flows easily. One thing that I really enjoyed was the strong start and the satisfying ending… Most highly recommended and for multiple reasons."
~Pat Ch for NetGalley
---
"Family Inheritance offers a dark and disturbing look at family dysfunctional. The author has done a tremendous job conveying emotions without being sappy and characters that seem like people we might all know. As the story evolves, the reader will find the need to set the book aside for a moment and take a deep breath. Intriguing and well written."
~Susan O'Bryan (Media Professional)
---
"For me, this was a superbly written and well thought out developed book. Full of emotions… I loved this book. It shows us how by not communicating, by not understanding and assuming that other's have a better life than you, its not always the case. It also shows how the past reflects and dominoe's on our future [if we allow it]… This is the first book I have read by Terri Ann Leidich so I will be seeking out more of her books, I adore her style."
~Susan Ward for the 'Read along with Sue' blog
---
"A beautiful story of redemption and second chances."
~Heatherly Whiteside (Educator) for NetGalley
---
"This book had me hooked from the very beginning- the deep feelings that the sisters felt and the stressful events they were going through really moved me. I just wanted to keep reading to understand their lives and to learn their secrets. I loved how each sister had something going on in their lives that was hard, but very different from each other. It touched on so many different things that happen to people and it gave a nice in depth perspective of each of these scenarios… Beautiful story. Absolutely phenomenal!"
~Jessica Szczepanski for NetGalley
---
5 stars. "I found this book to be extremely interesting and couldn't put it down. I laughed, I cried and was sad when it ended. I became very attached to the characters."
~Jennifer Block (Educator) for NetGalley
---
"… very thought provoking… Several serious issues are brought to light and looked at in some depth… I think this book could prove cathartic for some who might identify with some of these issues, or anyone wishing to understand how these things can and do happen. It is very easy to read… and offers some very sound psychological insight."
~Julie McBride for NetGalley
---
"This is a story of heartbreak and struggle, but also a story of growth and healing. Though much of it was a bit dark, I enjoyed getting to know these women and watching them develop and embracing their full potential."
~Kimberly Westrope for Goodreads
---
"Terri Ann Leidich's novel is a portrait of a family nobody wants to live in. It is the combination of despicable circumstances, weak characters and bad luck that sets in motion a development from which the girls cannot run away.
The author really succeeded in drawing authentic characters whose story is absolutely convincible and at the same time frightening. Yet, this is a reality for many people and as such a good example where not looking too close can cause serious problems and leave people alone in despair. At some points it was very hard going on reading due to what the characters have to go through. At others the novel provides hope for everybody who does not see a way out of their life. All in all, a very touching story which leaves you thinking about it some time after closing the book."
~Katja Zimmermann (Educator), miss-mesmerized blog
---
"This was a cautionary tale and so much more about how if we are not careful we can sometimes bring our childhood traumas into our adult lives. It is also the sad story how innocent children are damaged by the awful dysfunctional lives that parents can unwittingly cause their children by modeling a bad marriage for their children to witness. I thought at first that this story of three adult estranged siblings was going to be very dark. This pleasantly surprised me by being a story about hope and change for the better and redemption.
Dallas
Suzanne lives in Dallas and is the youngest of three grown adult sister's. She is divorced and has inherited the gene for alcoholism from her long dead father. She has a fantastic job but drinks to get drunk when she is lonely and she ends up having a lot of one night stands. A colleague who works beneath her gets her into a compromising position by taking pictures of her and then he proceeds to hold her hostage by her night of indiscretion. His name is Jeff and he bribes her into giving him a raise and promotions that he doesn't deserve by telling her that if she doesn't comply he will send the pictures to her boss, upper management and the CEO of the company.
Minnesota
Alice lives with an abusive husband who beats her up and also hurts her daughter while Alice spends time in her room after she puts their young son Sam to bed and goes to bed herself. Alice is overweight and she eats twelve candy bars at a time hiding in her room while she doesn't do housework and her daughter who is a teen aged suffers silently at the hands of her father and other boys her own age.
Atlanta
Helene is married to a lawyer and has one son named Thomas who is in his senior year of High school. One day Helene gets a phone call from her son's school saying he has missed a lot of school and has brought in notes signed by her and she is asked if she is aware of them. She decides to cover for her son and lies to the school saying she is aware of her son's absences. She knows that her husband is cheating on her and accepts his bad behavior because she thinks she somehow deserves it.
Obviously these three sister's have all grown up in a unhappy household where they all watched their father get drunk and mistreat their mother and Alice. Their mother did not stick up for herself or her daughter's but now lies in a diabetic coma and will not pass over until she knows that her three daughter's are reconciled and have started to change and have better self esteems. The three daughter's gather around their mother's death bed. She can hear them discussing their various problems.
The High school intervenes about Thomas's absences and orders him into counselling. The infidelities rise to the surface as the whole family begins family therapy. Alice moves her daughter and young son into a shelter for abused women. Suzanne takes a leave of absence from her job and joins rehabilitation for her alcoholism. There is some magical realism that takes place in five month's time as all three sister's seek help and take responsibility for their lives. The enabling stops and by coming together they all find support from one another. They spend Christmas together and visit their mother who still lays unconscious but feels that her daughter's are in a better place and all three of them are but not before changing their behavior's."
~Karen Murphy, NetGalley
---
5 stars. "'Family Inheritance' by author Terri Ann Leidich oozes with examples of family dysfunction, including abuse, neglect, and addiction. It is a story of family strife and emotional challenge. Ms. Leidich takes the reader on a journey through the lives of three sisters from youth through adulthood.
As children, sisters Helene, Alice, and Suzanne felt unloved, lacked self-confidence, and were insecure. These unhealthy traits followed each young girl into her adult life and were exhibited by her poor decisions.
When their estranged mother becomes gravely ill, the sisters are forced to return to their childhood home to confront their ghosts, probe their buried pasts, and overcome their unresolved issues with both their mother and each other. Ms. Leidich weaves a tale in which readers will often identify with one of the characters and ask 'Is that me?'"
~Donna O'Donnell Figurski – author of Prisoners Without Bars: A Caregiver's Tale
---
5 stars. "FAMILY INHERITANCE, is a story of a family's complicated legacy of pain, abuse, and redemption by Terri Leidich. It takes us on a ride through the dark, inner secrets of an abusive father, a mother unable to change her circumstances, and the broken pieces of life passed on to their three daughters. The destruction of the girls' self-worth and their struggles to find a way to survive and then mend, is an unbelievable journey of sorrow, failure, courage, and hope as the girls now grown, try to leave the past behind and find healthy, meaningful lives for themselves and their children, hoping not to pass the pain on to the next generation."
~Jana Zinser – author of "The Children's Train" and "Fly Like a Bird"

---
5 stars. "This was a new author for me. I never read anything from this author before but for the most part I really liked this book. I thought the whole story was amazing. I honestly didn't want this book to end. I can't wait to see what this author comes up with on the next book they write. I usually judge a book from the cover because for me it shows if it's going to be interesting or not and I loved the book."
~Courtney C., NetGalley