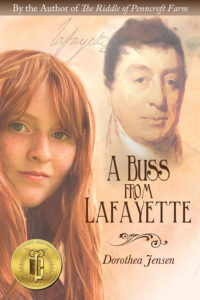 "Dorothea Jensen has written a warm, funny, coming-of-age novel about a 19th century teenage girl who lives on a farm in Hopkinton, New Hampshire. Set in June 1825 as the Town and its inhabitants prepare for General Lafayette's Farewell Tour visit, the story begins on June 21 and ends 6 days later, the day that Lafayette pays Hopkinton (and Clara) a call. A lot happens in that fateful week; and we see Clara morph from a precocious, rambunctious, somewhat petulant 14-year old into a wiser, more mature young adult.
Jensen sketches her characters with short but believable strokes. Clara, her aunt/stepmother, Priscilla, her brother, Joss, the boy Dickon and her cousin, Hetty, are vividly and sympathetically portrayed. Lafayette is, well, Lafayette, charming and oh so French. Jensen also paints what appears to be an authentic portrait of life in 1825 New Hampshire as well as the Nation's response to Lafayette's final visit to his adoptive land…"
– Alan R. Hoffman, President, American Friends of Lafayette; President, Massachusetts Lafayette Society; translator, Lafayette in America in 1824 and 1825 by Auguste Levasseur
---
"Fifty years after American independence, General Lafayette is visiting all 24 of the new nation's states and everyone is eager to catch a glimpse of the honored guest, even 14-year old Clara Hargaves. Jensen effortlessly weaves history together with the daily trials of a girl resenting her stepmother's reminders to behave like a lady. Most schoolchildren know Lafayette's role in the Revolutionary War only superficially, and Jensen makes him come alive in a way they will remember. Historical accuracy, character development, and engaging dialogue enliven this narrative and make it an enjoyable read."
– The BookLife Prize in Fiction
---
"This book is one of my new favorites. It has a believable storyline. It is set on Gould Hill road in Hopkinton, New Hampshire and is based on a real event that happened in June 1825.  The storyline moved along at a good pace and was always interesting. It has a taste of romance and lots of bravery. I couldn't put it down!  It was educational too! This book is a Historical Fiction Novel and has many facts about Lafayette and his great deeds helping the Americans win the war against the British. It taught me a lot about American independence and clearly showed the reader what life was like in the 19th century. I would highly recommend this book to girls who are 9 and up. This was a fabulous book and I definitely will reread it!"
– an 11 year-old girl

---
5 stars. "Clara Hargraves is the heroine of A Buss from Lafayette. She is a young teenager living in New England, and the book is related from her point of view. She is dealing with a new step-mother (her deceased mother's older sister) a spiteful cousin, a clueless brother, and all the intensity of being required to act more like a young lady than like a child. Add to that the visit of a nationally adored hero, the Marquis de Lafayette, and the result is a sometimes overly sweet narrative.
Clara is quite charming, and this is overall a lovely book. As a longtime fangirl of the Marquis de Lafayette, I really appreciate the loving and respectful way that he and his legacy are portrayed. A very worthwhile read."
– Critter Bee (Librarian) for NetGalley

---
"In Jensen's (Frizzy, the S.A.D. Elf, 2014, etc.) middle-grade novel, a young girl in New Hampshire meets the titular, illustrious French hero of the American Revolution during his commemorative trip through America.
Clara Hargraves turns 14 on the first day of summer in 1825—a date that coincides with the one-year anniversary of her father's marriage to Clara's straight-laced aunt, Priscilla, which occurred only one week after Clara's mother died. The stepdaughter and stepmother don't get along; Priscilla considers Clara a "hopeless hoyden" for her tomboyish ways, while Clara stubbornly refuses to call Priscilla "Mama," as her father urges her to do. Between her clashes with Priscilla, red-haired Clara chafes at the teasing of her brother Joss' friend Dickon Weeks and her "dread cousin" Hetty—they call her "carroty pate" and "pumpkin head." As Clara is preoccupied with her own small problems, the whole country is aflutter over "The Nation's Guest," the Marquis de Lafayette, who's touring the United States to mark the 50th anniversary of the revolution; everywhere she goes, people are eager to relate tales of Lafayette's noble deeds during the war, show off souvenirs, or share their delight in getting a wave or a buss ("a playful, smacking kiss") on the cheek from the marquis. Her brief encounter with him will forever change how she views herself. Overall, this novel is well-researched; for example, Clara saves her pennies to buy a Simeon's lead comb from a local store—a real-life product that promised to turn red hair "a beautiful shade of black."
Some other aspects of Jensen's novel are predictable, however: Clara is a fairly standard spunky heroine, and her rapprochement with Priscilla is a foregone conclusion. But Jensen still manages to deliver a lot of historical facts without dull exposition—it's perfectly plausible, for instance, that the adults in Clara's life would tell her stories about Lafayette's exploits, and her curiosity becomes infectious. Jensen also includes a glossary and bibliography for further reading.
A winning historical tale that may appeal to young fans of the musical Hamilton."
– Kirkus Review
---
"Middle grade girls will immediately identify and relate with Clara. Despite the historical time gap, Clara's life isn't so different from theirs; Chores, boys, growing womanhood and greater responsibilities. Meanwhile, without even realizing it they will pick up an excellent education on the primary figures of the American Revolution, as well what life was like for kids their age in the early 1800's. For that reason, I believe in a classroom setting this book would also appeal to middle grade boys."
---
"As a fan of The Riddle of Penncroft Farm, I was hoping A Buss From Lafayette would be as good, and it is! The characters really came to life for me and the story moved along at a good pace. The heroine, Clara, has some of the same issues as girls of today, even though she's living almost 200 years ago! Historical fiction fans will enjoy this book, especially as it was based upon a real historical event, General Lafayette's visit to New Hampshire. I found the glossary helpful and informative. Read it…You'll be glad you did!"
– Readnride for Goodreads

---
"Dorothea Jensen brings history to life in this vibrant coming-of-age story about a young girl, Clara Hargraves, who is living in the time of the 50th anniversary of the American Revolution and General Lafayette's farewell tour. What is history for us was current events for the people of that time and Jensen skillfully tells it like that. She describes hammering chips off a pound-sized block of sugar and making strawberry jam with ready-made syrup from the West Indies. Much of the history is learned through conversations that flow naturally. The characters are engaging and I enjoyed the sibling rivalry between clever Clara and her competent brother, Joss. There's also a bit of young love by a certain admirer amidst all of the shenanigans.
I highly recommend this historical novel for all middle grade and young adult readers."
– Christina Morley for Amanda's Books and More

---
5 stars. "I drank this novel like water, and loved the depth in all the characters as well as the historical detail. I got emotionally invested in Clara and her problems, which made the book about her, with the historical aspect of the novel more as a frame of reference than an end. Also, the love story and all the changes that the lead character is going through internally (a girl turning into a woman) made it very relatable. The romantic aspect of the story will be a big plus for young teen girls who are going through the same hormonal soup, as an extra layer to this novel. The prose of Ms. Jensen is vivid and very rich, making it easy to recreate the whole period of time in my mind. This is a great way to get younger tweens and early teens to LIVE the history of the American Revolution, instead of just learning the facts about it. I recommend this novel wholeheartedly to anyone who loves historical novels."
– Mami Tales for Amazon.com

---
5 stars. "This book was such a fun read! There were a few different storylines going on and I loved the way the author pulled them all together… I especially loved the stories of General Lafayette and learned so much more about him that I didn't know. This is my favorite way to learn history since the stories are brought to life and make me feel like I was there. I also liked the Glossary in the back. I didn't know what "buss" meant so was curious about the title and love the way it fit into the story! This is the first book I've read by this author but it won't be my last!"
– Mel's Shelves Blog

---
"Nothing draws me in more than historical fiction. I love stories and I love history. With this story I was drawn in by the title of the book. I had no idea what a 'Buss' was and knew I had to find out. This middle grade/young adult historical fiction takes place in a 1825 New Hampshire town interweaving the historical event of General Lafayette's 7 day tour of the region in his final farewell to the American people and the story of Clara Hargraves, the spunky, feisty fourteen heroine.
I found many elements of this book very enjoyable. First, I found the book pleasantly paced. You know the type of book when you reach the end of the chapter and are left with little morsels and tell yourself just one more chapter, I felt this way on many occasion and read later in the evening then expected. I just knew the young girl would meet Lafayette in the most bizarre manner and have a grand tale to tell.
Secondly, I found the blend of the story and the historical elements to flow seamlessly. It is evident that this author did her research and it made the story feel that much more authentic. I could easily imagine a fourteen old girl like Clara and everything that she had to face and the problems she had to overcome through the detailed descriptions of time and place as well as the use of prose gives the reader a palette for the time period and location.
In the end the 'Buss' from Lafayette is tied in nicely like a gift with a bow on it with Clara's story surrounding her new sibling. It is also of interest to read about how the author made the story centred around the 'Buss' from Lafayette and how it is connected to where she lives and a person she knows. Read below in the author bio to discover it as well. There is nothing better in my books then a book that combines a great story with historical elements that can teach us something new.
I enjoyed reading this book and I would recommend this one to girls aged 10-15 as well. Clara the main character is dealing with similar issues girls today face even though she is in the 19th century. Feminine stereotypes, stepmother issues, new romance, and acceptance of self. And of course, the reader will learn a little bit about American History as well."
– Bonnie Dani for Adalinc to Life

---
"The author does a marvelous job bringing the past to life. There's just enough details and explanations to make the lifestyle, habits and expectations from that time clear while keeping everything familiar enough that readers can relate to the characters. More unknown terms and items are explained in a way which doesn't break the flow of the story. At the end of the book, there's glossary to help out too.
…Summed up, this is a marvelous historical fiction story. The characters are kept true to their time frame while, at the same time, are portrayed in a way modern day teens will have no trouble relating to. The 'history lesson' glides effortlessly into the main plot, insuring an educational delight. This is one YA historical fiction, I can highly recommend."
– Bookworm for Kids
---
5 stars. "A Buss from Lafayette is an exquisitely detailed and beautifully penned historical fiction novel that chronicles a week's worth of events that ultimately transform a girl into a budding young woman.
It's the summer of 1825 and General Lafayette is on a farewell tour as the Nation's Guest. People are lining up in the big cities just to catch a glimpse of this remarkable man who helped secure America's freedom from the British.
At the same time, in the small town of Hopkinton a girl named Clara Hargraves is celebrating her fourteenth birthday. However, Clara's celebrating is cut short when she's informed by her stepmother, who was/is also her aunt, that she is now a young woman and must start behaving as one. No more riding astride, no more wearing her brother's breeches, and certainly no more swimming in the pond. Clara's not sure what's worse, her red hair or her stepmother who seems to be trying to ruin her life. On top of all this she's been getting a funny feeling every time she's around her brother's friend, and her previous tormentor, Dickon Weeks and she's just discovered her hideous cousin Hetty is coming for a visit. Could things get any worse? Clara's about to find out and what unfolds just may change her life.
I am a big fan of historical fiction and was thrilled at the opportunity of reviewing A Buss from Lafayette and I must say the author does not disappoint. The rich detail and vivid storytelling make it easy to fall into this story. I felt as though I was transported back in time to experience life with Clara and could feel the excitement in the air as the town was a buzz with the talk of Lafayette.
The author also makes her characters easy to relate to which gives the story a sense of timelessness. It's easy to understand Clara's emotional struggles of accepting her stepmother, her nervousness around a certain young man, and her desire to fit in when all her red hair does is stand out. Readers will also be able to identify with the stepmother who wants to be loved and welcomed by her stepchildren, but is also dealing with the pain of losing her sister.
I think one of my favorite aspects of the story is how the author is able to weave a history lesson throughout the daily lives of her characters. Sitting around the dinner table, visiting in town, or chatting after church seem so natural that it's easy to become engrossed in the story and forget you're learning.
Kudos to Dorothea Jensen for a splendidly told tale. I highly recommend picking up a copy."
– Stacie from GoodReads
---
5 stars. "With the current remarkable interest in the American Revolution due to the musical Hamilton, this delightful and poignant book of historical fiction comes along at just the right time to catch the wave, with a focus this time on Lafayette and his many vital contributions to the revolution. The frame of the story is set many years later, when Lafayette made his farewell tour of the United States as the revered and acclaimed Nation's Guest. In many ways the book is a wonderful paean to Lafayette, whose influence on our history has been forgotten by so many. But the book is also the story of fourteen-year-old Clara, a thoroughly engaging young heroine full of tremendous energy and agency. She captivates, charms, and ultimately steals the heart of the reader, young or old.
The book is beautifully–often eloquently–written; the narrative seamlessly blends history and fiction, each enriching the other with emotional and psychological authenticity and meticulous historical detail. The story is filled with timeless and timely gender issues, so vitally relevant to young girls and women today. I loved the historical richness of the novel—its beautiful attention to both minute details of everyday life in 1825 New Hampshire and to the sweep of events in American history. This is wonderful storytelling.
Through her journal entries and first person narrative, we see clearly into Clara's heart and mind as she comes of age. We are moved as we witness her journey to discover and understand her own prejudice and assumptions about people very close to her, especially her stepmother, and how she must be open and learn certain truths about others and herself in order to find love, friendship, and intimacy."
– MidWest Reader for Amazon.com
---
5 stars. "I read this with a 14 year-old grand-daughter who enjoyed the history, while I relished the manners, moral and mischief.
This skillful and engaging author has produced a savvy blend of action and anecdote to recount the alternately cautious/ wild/ eager ride of a girl approaching womanhood in post- Revolutionary America. Never didactic, yet full of facts, the story blends a believable heroine with a pinch of danger, a heap of humour and a generous portion of relatable emotions to concoct a Salmagundi- like feast for a varied female audience."
– Elizabet Filleul and Sofia for Amazon.com
---
5 stars. "This is another great book by Dorothea Jensen. It contains so much history, life lessons and teen emotions in just one week of Clara's diary. The book reminds the reader that people and events are not always what they first appear to be. You can easily put yourself in Clara's place and understand what she is going through. I especially liked all the history facts that are not the major ones we learn in school. I highly recommend this book to both young and older readers."
– Amazon Customer
---
5 stars. "I grew up when children read a lot more than they do today, and was fully immersed in such historical classics for young readers as The Witch of Blackbird Pond and The Sherwood Ring. A Buss From Lafayette is a wonderful book in that genre, about the American Revolution and a young girl's coming of age, It will I'm sure do wonders for getting more young people hooked on reading again instead of watching. Highly recommended."
– Blade of Grass for Amazon.com
---
5 stars. "A Buss from Lafayette is a great way for pre-teens to understand the American Revolution. Dorothea Jensen is accurate in the telling of our American Revolution and how our French Allies assisted us. Lafayette, the celebrated Revolutionary War hero, was critical to the process of our American victory. Jensen explains this with fun detail and an awesome glossary to assist readers with 19th Century English vocabulary. This historical fiction piece could be used in any middle Social Studies or English Language Arts class. Read by the whole class or used for book circles or independent reading for students who want to "read more". I teach American History to 9th graders and plan to use it next year. The Lexile is perfect and the style of writing will be current for our middle school students. Thanks to Jensen for writing a book about history that is accurate, suspenseful and fun.
I Teach in Wisconsin."
– tigger for Amazon.com
---
5 stars. "Having enjoyed the author's previous novel, my daughters and I were anxious to read A Buss from Lafayette. We were, again, utterly enchanted. Seeing the struggles, emotions, and similarities (as well as contrasts) between 'Clara Hargraves' and my nine, seven, and five year old daughters, kept all of us engaged. Learning about the brilliance and historical importance of Lafayette in the process, turned a "fun-read" into a wonderful learning experience, as well…for all of us."
– AJM13 for Amazon.com
---
A Buss From Lafayette is a historical fiction novel that takes the reader through a week in the life of 14-year old Clara. The year is 1825 and Clara lives in the small town of Hopkinton, New Hampshire with her father, stepmother, and brother. The story centers on the town's excitement surrounding the upcoming visit from General Lafayette, a hero and famous French aristocrat from the Revolutionary War.
The book is written from quick-witted Clara's perspective, and each new day's adventures are prefaced by an entry from her diary, which provides a clever preview of the events to come. Clara feels life is unfair because of her family life, her lack of traditional schooling, and her red hair, which she is plotting to try to change to "a beautiful shade of black." Weaved through her story are the events leading up to General Lafayette's visit, who is known for delivering to his many admirers a "buss", which, at the time, was the word used for a playful kiss on the cheek.
The vivid descriptions of clothing, family relationships, period-specific customs, and daily routines create a charming picture of life in 1825, and these elements inform the senses while reminding readers that the scene is from a different era.
As a historical piece, the book dives into rich detail on Revolutionary War tales. The characters retell stories of General Lafayette, General Washington, and others, providing readers with a thorough backdrop of history to accompany the book's main storyline about Clara. Ms. Jensen also weaves throughout the story many words and objects that are common to the era, but are likely unfamiliar to the modern reader. A glossary included in the book provides a useful way for the reader to look up historical words, thus not having to rely upon context alone to interpret.
Recommended for teen readers that have an interest in history, this book is an enjoyable introduction to the post-Revolutionary War period in America, and provides a lovely story about family, determination, and how perspective can change everything.
---
"I've often heard the adage, "Things aren't always as they seem." Jensen's story is as delightfully ambiguous as her title. The line flows with gentle curves, pleasant twists, and light chuckles. Seasoned with history made most personal. I felt as if I had come upon a young girl's journal and as my eyes filled with its pages, I stumbled into another time and place and landed in the heart of its writer. The characters are strong, yet yielding, and not all is as it seems. The author provides a great glossary to heighten the learning and give us a true feel for the time. I truly enjoyed it."
– Darleen Wohlfeil for Story Monsters Ink (Nov. 2016 issue)
---
5 stars. "Like The Beatles Came To New Hampshire – In 1825
When Lafayette visited the United States as he was received with unparalleled adulation, the excitement was tremendous. For many people a brief encounter with Lafayette was one of the high points of their lives. Jensen's story of a young girl captures the excitement beautifully. It is set in the context of a coming of age tale that is very powerful with minutiae of 19th century life seamlessly blended in. A great read."
– Peter Reilly for Amazon
---
"Dorothea Jensen weaves historical facts about Lafayette and his pivotal role in winning the American Revolution for the Patriots into a charming tale told by a 14-year-old girl who by accident meets the General during his Triumphal Tour of America in 1824 -1825. Set in rural New Hampshire, and designed to be read by the younger set, it is a great vehicle for introducing our youth to history through an interesting fictional tale. An easy read, you will not be able to put it down, and you will learn much about "The Nation's Guest" (Lafayette). Great for reading by adults as well!"
– John Becica for Amazon
---
"A Buss from Lafayette by Dorothea Jensen is the story of fourteen-year-old year-old Clara Hargraves from Hopkinton, New Hampshire. Set in the early 1800's, all of Hopkinton is excited about the "Nation's Guest," General Lafayette, traveling through their town.  General Lafayette played an important role in winning the Revolutionary War and was famous at that time throughout the country. The book is a coming-of-age tale centered on the main character Clara's self-consciousness about her bright red hair, her growing up and needing to act more lady-like, and her gradual acceptance of her stepmother Priscilla.  The story tells of Clara's budding attraction to her neighbor Dicken, the sibling rivalry between Clara and her brother Joss, a town dance, and making amends with her cousin Hetty.  Lafayette and his accomplishments are also mentioned throughout the book. Readers will also discover that the word "buss" is an old-fashioned word for "kiss." On Clara's way home to tell her father that her stepmother Priscilla is about to give birth, Clara ends up getting a kiss, or "buss," on the cheek from General Lafayette.
A Buss from Lafayette is a charming work of fiction with many historical facts peppered throughout the novel.  The protagonist, Clara Hargraves, is a strong-willed, tomboyish, quick-witted girl who is fun to read about and makes the pages of the book come to life.  The strengths and accomplishments of General Lafayette are interesting and seamlessly woven through the story of Clara, her family, and her town.  In the end, this is a wonderful novel about a young girl and the events that shape her world."