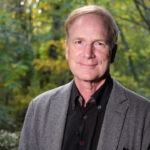 About the Author
Gary Simonds is a Neurosurgeon who has treated tens of thousands of patients with devastating illnesses.
He is a professor at the Virginia Tech Carilion School of Medicine and the Virginia Tech School of Neuroscience.
He has published three nonfiction books on burnout and psychological distress in healthcare providers and routinely writes about, and gives talks on, neuroscience, neurosurgery, medical socioeconomics, medical humanism, medical ethics, and burnout.
Simonds grew up in New Jersey and England, is an avid soccer fan, a guitar and the banjo player; and lives with his wife, Cindy, and border collie, Hamish, in a log cabin in Black Mountain, North Carolina.
Explore
Connect with the Author
Books