Sharon Phennah's love of dogs and humor shines in her debut novel.
About the Author
Born in 1943, Sharon Phennah loved dogs and writing from the moment she discovered them. Before she could walk, she crawled to the backyard fence, much to her mother's horror, and began playing "kissy face" with the neighbor's miniature pinscher. And, yes, she was one of those children who, at the age of eight, wrote dramatic horse stories, humanizing them beyond recognition.
Racing away from the expectations for middle-class young women in the 1950s, Sharon began working after school and on weekends at a local kennel when she was thirteen. By the time she was a senior in high school, Sharon was an accomplished groomer, raised Cocker Spaniels, and could perform any function required at the kennel. Her writing had also advanced accordingly, and she graduated from Rutgers with a BA in English.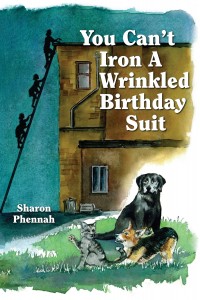 In her junior year in college, it became necessary for Sharon to strike out on her own, so she launched her new business—grooming in the client's home. It was so successful and fulfilling that she finished college and made the business her lifetime career, operating it through two major moves, a marriage, and a divorce. In addition, Sharon squeezed in creative writing courses, a certificate in photography, and the design and construction of a passive solar home in New Hampshire where she lived most of her adult life.
In 1995, Sharon retired from snow shoveling and moved to North Carolina where she presently resides, no longer grooming but actively involved in writing, genealogy, and the care and training of Violet, her third Pembroke Welsh Corgi.
Sharon's first book, You Can't Iron a Wrinkled Birthday Suit, is her imaginative, yet "spot on" collection of three women friends as they negotiate the frontiers of aging with the alter-egos and Greek chorus supplied by their canine and feline companions.
Connect with the Author