These book reviews for Cheryl Campbell's Christmas books are sure to get you in the spirit!

Five-Star Review by Trish B. for Readers Favorite
This book's cover is an eye-catcher with beautifully illustrated pictures. The story line is short and precise without being too brief to not capture your interest. Whether you are reading it for yourself or a child, it will take you away to a simple time and a simple place. Christmas is the time of hope, and it brings that special wonder and joy of the holidays. You wouldn't be disappointed with the message of this story. Told simply with a childhood innocence it will capture your imagination and take you to winter and the North Pole with a twist.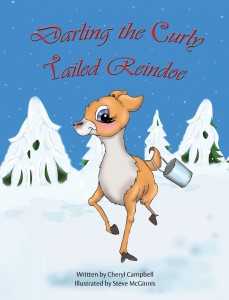 I thoroughly enjoyed this book about Santa and a curly tailed reindeer. It brings a touch of sadness which is soon replaced with a smile and a solution for a problem. It takes you to a simpler time and place where the joys of childhood are expressed easily and wonderfully. Sometimes we wonder and have doubts about our place in this world, and we can't see our purpose; but if we will be patient and wait, our path and purpose will unfold, and we will find ourselves right smack in the middle of what and where we are supposed to be. All of our worries and concerns will fade and we will be transfixed by the reality of this unfolding plan that is set in motion for us. This book seems to call us back to a childlike faith, that there is a place and a purpose for us in this world.

Darling, a young reindoe who lives at the North Pole, is very different than the other reindoes and reindeer. You see, she was born with a special tail that has a curl in it. Because her tail looks different, the other reindoes and reindeer make fun of her. This makes her feel sad. Luckily for her, her Uncle Don, one of Santa's sleigh pulling reindeer, has come up with a wonderful idea. Darling should carry a pail hooked onto the curl of her tail so she can carry stuff around. This makes her feel extremely special. Now, she begins carrying messages between everyone, treats to the elves and reindeer and even soup to anyone who is sick. Darling feels very proud of herself because she has a special job to do at the North Pole. What other job does Darling help Santa do during his Christmas travels around the world?
I just adored Darling and loved the cute illustrations throughout this book. Children, and adults alike, will fall in love with Darling. I found myself cheering her on when she was carrying her pail around delivering messages, treats and even soup to the sick. This is the perfect story to read to your children and have them take the message away with them that there's nothing wrong with being different. I'm definitely adding this one to my ever-growing Christmas library. I highly recommend it!
Happy Reading,
Tammie King
Director of Marketing
Night Owl Reviews, 1410 NW Kearney Street, #910, Portland, Oregon 97209

This book is beautifully illustrated. The artwork is cute, bright, and whimsical. I find that the drawings were a great addition to the story, they definitely enhanced the text. I found all of the story's characters to be charming. I didn't want to put the story down. I think children will enjoy looking at the illustrations. The story was engaging from the beginning to the end. I think this book has a great message for children to learn, loving who you are and embracing your differences is important and is what makes each of us unique.
I would definitely recommend this Christmas story for young readers. It is a adorable twist on the Rudolph story. I think your little ones will eat up this story about this beautiful reindoe.
~Laticia Overton for NetGalley

This was a delightful story of a reindeer with the "gift" of a curly tail. As in the Rudolph story, her gift becomes just what is needed to save the day. Yes, it is a takeoff of Rudolph, but I know my children like repetition and enjoy the similarity of the stories.
~Sandra Knabe for NetGalley

Five-Star Review by Kristie I. for Readers Favorite
Cheryl Campbell's Darling Saves Christmas is a must for anyone's Christmas collection! The mix of Campbell's words and Steve McGinnis' illustrations create a must-read for children! Raindoe Darling's curly tail turns out to be useful and saves the day when she is wandering around with a pail on her tail. Santa spots the light from Darling's pail and realizes this is the solution to his worry about the planes in the sky not seeing him and his sleigh on Christmas Eve. Darling joins the adventure of delivering gifts on Christmas Eve and learns that she is helping.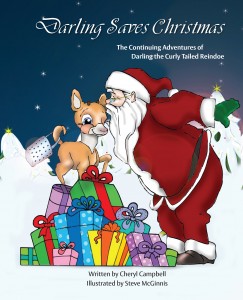 Written in rhyme, Campbell's story is cute and shares a good message to the readers: sometimes solutions to problems are right in front of us, that our hidden talents may enable us to help in unusual ways. This book is written on a fourth through sixth grade reading level; however, younger children will enjoy having this book read to them and will be able to understand the story. I read this book to my three-year-old daughter three times on the day I received it, and now she "reads" the book to herself. This is a great addition to our Christmas collection.

Loved this book! It is a great book for students. The rhyming makes the reading very enjoyable for young children. The illustration were really fantastic. The overall lesson of the story was very clear and good nature. I would read this with my children.
~Diana Silva for NetGalley

Christmas Eve is here and the sleigh is packed and the reindeer are ready to fly, but Santa is worried about all the planes in the night time sky. The Darling, the curly tailed reindeer come by with her shiny metal pail hanging from her tail. When the light catches the light it shine brightly. Santa decides to use Darling and her pail like a rear tail light to let the planes know they are there and keep them all safe.
Darling is such a young deer. Can she stay awake all night? Is she strong enough not to fall asleep and off the sleigh? Will the planes see the light and not hit the sleigh Read this very sweet story of yet another of Santa's special deers that are seldom spoken of. Find out if Darling is strong enough and has enough courage for her to do the job Santa needs her to do? You will love the colorful illustrations as will your young readers.
~DelAnne Frazee for NetGalley

What a cute little story! Just read it to my kids and they loved it!
The story was original and creative. Presents our all time favourite person – Santa with a modern day problem of avoiding planes while delivering presents during Christmas Night and introducing a new, and much younger friend of Rudolf's – Darling who saves the night.
It is written in stanzas and it rhymes. The kids liked the pictures as well. Definitely a fun story to read to kids to get them into Christmas spirit.
4 bucket-fulls of STARS.
~Lubomira S for NetGalley

This was a very cute and endearing story, albeit a Rudolph knock-off of sorts. Updated for the 20th century, Santa is concerned about planes not being able to see the dark sleigh, so Darling saves the day with her ability to hold a lantern in her curly tail. Being a young reindeer, Darling is scared to go, and gets sleepy part way through the night, but she knows her job is most important and sticks it through. I'd be glad to read this one to children around the holidays.
~Melissa D'Agostino for NetGalley

Five-Star Review by Joy H. for Readers Favorite
This is a new and fun Christmas story of a family excited about Santa visiting their home on Christmas Eve. The children are excited about the snow that is falling on this night, and that is when Billy Mouse makes his appearance. Billy makes his residence in the family home, and just like everyone else, he wants to celebrate this Christmas holiday with the family, and he especially wants to have a Christmas stocking just as the children. But Billy is a mouse, and you know what happens when people see a mouse in the house. What will happen to Billy? Will the family accept him on this Christmas morning, or will they chase him away? You can find out in this new and exciting book "Billy Mouse's Christmas Stocking" by author Cheryl Campbell.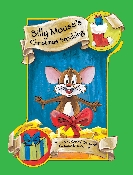 I love children's books and this is one of my new favorites. Cheryl Campbell is a new author for me, but I will be looking for her books in the future. I love the story of Billy Mouse and it will be a new Christmas classic in our home. The story is fun and exciting to read because the children are anticipating Santa Clause to come. The illustrations are awesome and fit the story so well. The vivid, yet soft colors give the story a homey feeling as you read it. The characters are sort of comic-like and so very adorable, and I really like the faces of the people and the mouse. I highly recommend this book for your reading enjoyment, and it will make an awesome read for children on Christmas Eve as everywhere they are waiting for Santa to arrive. And it will even give a whole new meaning to that mouse that may be in your house!

This is a cute little book about a Mouse named Billy. Apparently he loves Christmas and noticed that Santa's treat plate had cheese on it. He didn't take Santa's cheese and because of that he was rewarded for being good all year with a stocking of his own full of cheese. It is written in poetry form and the illustrations match the written content nicely. It's a really nice book to read with children on Christmas Eve or Christmas Day.
~Annie Wallace for NetGalley

 More Reviews for Cheryl's Books
Roxanne Armes wrote on LinkedIn: I purchased two of these adorable children's books for my grandchildren. We have read them several times together already. My two-year-old grandaughter loves looking at the pictures. She now looks through the book on her own and will tell the story page by page. Cheryl has done a wonderful job capturing the attention of the children and drawing their hearts into Darling.

Precious Story!
~Frank Gualtieri (Sugar Hill, GA USA)

While searching annually for something special for the little ones at Christmas time, this grandma was thrilled to locate the book titled Darling the Curly Tailed Reindoe. The story is one of encouragement and positive diversity for children. My grandchildren loved the books (yes, there are two in this series) and asked to read them again and again. I was touched by the sensitivity and the beautiful illustrations. Thanks to the authors for sharing this lovely story with us.

5.0 out of 5 stars AWESOME AWESOME AWESOME!
Such a great story – a must have for any child on Christmas!!! My son got this for Christmas last year and we have gotten Cheryl's other books for Christmas this year. He just loves them. They are sure to be a classic and yearly tradition in our family!
~Tara Knight F (Atlanta, GA)

5.0 out of 5 stars Amazing book that my children want to read over and over!!!!
In purchasing the signed copy from the author I was amazed at the story and the way the characters jumped off the page and into the hearts of the children. It is especially nice to have a good wholesome book that entertains and teaches the kids about diversity and that you can overcome all obstacles to become a loved and respected part of your community. This is a "do not miss" book that makes me want for more. I know it is the first in a series from the author and am purchasing her next two books immediately.
~Donald Campbell (Georgia, USA)

Great story with a different twist to Christmas.
I received this book as a gift for my little one and when I read it to him he loved it! The story was a great "twist" to a reindoe saving Christmas, and the illustrations where amazing! It will sit on my kids' bookshelf for years to come and will be a staple of the Christmas books we pull out every year and read!

It is cute, and teaches kids about self worth, overcoming differences, and I really think this is perfect for my niece for Christmas!
~Laura House for NetGalley

No one likes to be different unless they can be unique. This book not only teaches children that it's ok to be different but to embrace it. I adored this Christmas tale and so did my son. It was not too long and had just the right words to keep him interested and reading along with me. He really enjoy the pictures and tried guessing what would happen next. This book is just as enjoyable as Rudolph was to me as a child. I could see this book becoming a children's favorite during the holidays. – See more at: http://leanne109.blogspot.ca/2013/11/reviews-for-christmas-reads-to-get-you.html#sthash.my4aikWo.dpuf.
~Leanne Gagnon for NetGalley

Oh how I enjoyed this book so very much! The rhyming quality, the lesson on morality, the kindness shown between the family and their little friend, and the unexpected gift at the end were simply perfect. The illustrations were colorful and gay, inviting the reader right into the festivities. I would absolutely recommend this book. A copy of this book was provided via NetGalley in exchange for an honest review. The words I have expressed are my own.
~Kim Teamer for NetGalley

A wonderful Christmas story for children. My son is 7 and has autism. He really enjoyed this story because he has a soft spot for mouse books. This was an easy read, showed Santa doesn't forget anyone, and makes a great bedtime story.
~Angela Scott for NetGalley