This is a new and fun Christmas story of a family excited about Santa visiting their home on Christmas Eve. The children are excited about the snow that is falling on this night, and that is when Billy Mouse makes his appearance. Billy makes his residence in the family home, and just like everyone else, he wants to celebrate this Christmas holiday with the family, and he especially wants to have a Christmas stocking just as the children. But Billy is a mouse, and you know what happens when people see a mouse in the house. What will happen to Billy? Will the family accept him on this Christmas morning, or will they chase him away? You can find out in this new and exciting book "Billy Mouse's Christmas Stocking" by author Cheryl Campbell.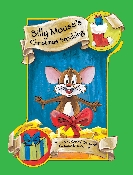 I love children's books and this is one of my new favorites. Cheryl Campbell is a new author for me, but I will be looking for her books in the future. I love the story of Billy Mouse and it will be a new Christmas classic in our home. The story is fun and exciting to read because the children are anticipating Santa Clause to come. The illustrations are awesome and fit the story so well. The vivid, yet soft colors give the story a homey feeling as you read it. The characters are sort of comic-like and so very adorable, and I really like the faces of the people and the mouse. I highly recommend this book for your reading enjoyment, and it will make an awesome read for children on Christmas Eve as everywhere they are waiting for Santa to arrive. And it will even give a whole new meaning to that mouse that may be in your house!
Five-Star Review by Joy H. for Readers Favorite
---
This is a cute little book about a Mouse named Billy. Apparently he loves Christmas and noticed that Santa's treat plate had cheese on it. He didn't take Santa's cheese and because of that he was rewarded for being good all year with a stocking of his own full of cheese. It is written in poetry form and the illustrations match the written content nicely. It's a really nice book to read with children on Christmas Eve or Christmas Day.
~Annie Wallace for NetGalley
---
5 stars. "Billy Mouse's Christmas Stocking by Cheryl Campbell is a wonderful Christmas story. I love collecting Christmas stories for my grandchildren to read. I love reading to them. I will read this story to them when we get together or on FaceTime. Beautiful illustrations."
~Dana Wright for NetGalley
---
 More Reviews for Cheryl's Books
Roxanne Armes wrote on LinkedIn: I purchased two of these adorable children's books for my grandchildren. We have read them several times together already. My two-year-old grandaughter loves looking at the pictures. She now looks through the book on her own and will tell the story page by page. Cheryl has done a wonderful job capturing the attention of the children and drawing their hearts into Darling.
---
While searching annually for something special for the little ones at Christmas time, this grandma was thrilled to locate the book titled Darling the Curly Tailed Reindoe. The story is one of encouragement and positive diversity for children. My grandchildren loved the books (yes, there are two in this series) and asked to read them again and again. I was touched by the sensitivity and the beautiful illustrations. Thanks to the authors for sharing this lovely story with us.
---
5.0 out of 5 stars AWESOME AWESOME AWESOME!
Such a great story – a must have for any child on Christmas!!! My son got this for Christmas last year and we have gotten Cheryl's other books for Christmas this year. He just loves them. They are sure to be a classic and yearly tradition in our family!
~Tara Knight F (Atlanta, GA)
---
5.0 out of 5 stars Amazing book that my children want to read over and over!!!!
In purchasing the signed copy from the author I was amazed at the story and the way the characters jumped off the page and into the hearts of the children. It is especially nice to have a good wholesome book that entertains and teaches the kids about diversity and that you can overcome all obstacles to become a loved and respected part of your community. This is a "do not miss" book that makes me want for more. I know it is the first in a series from the author and am purchasing her next two books immediately.
~Donald Campbell (Georgia, USA)
---
Great story with a different twist to Christmas.
I received this book as a gift for my little one and when I read it to him he loved it! The story was a great "twist" to a reindoe saving Christmas, and the illustrations where amazing! It will sit on my kids' bookshelf for years to come and will be a staple of the Christmas books we pull out every year and read!
---
It is cute, and teaches kids about self worth, overcoming differences, and I really think this is perfect for my niece for Christmas!
~Laura House for NetGalley
---
No one likes to be different unless they can be unique. This book not only teaches children that it's ok to be different but to embrace it. I adored this Christmas tale and so did my son. It was not too long and had just the right words to keep him interested and reading along with me. He really enjoy the pictures and tried guessing what would happen next. This book is just as enjoyable as Rudolph was to me as a child. I could see this book becoming a children's favorite during the holidays. – See more at: http://leanne109.blogspot.ca/2013/11/reviews-for-christmas-reads-to-get-you.html#sthash.my4aikWo.dpuf.
~Leanne Gagnon for NetGalley
---
Oh how I enjoyed this book so very much! The rhyming quality, the lesson on morality, the kindness shown between the family and their little friend, and the unexpected gift at the end were simply perfect. The illustrations were colorful and gay, inviting the reader right into the festivities. I would absolutely recommend this book. A copy of this book was provided via NetGalley in exchange for an honest review. The words I have expressed are my own.
~Kim Teamer for NetGalley
---
A wonderful Christmas story for children. My son is 7 and has autism. He really enjoyed this story because he has a soft spot for mouse books. This was an easy read, showed Santa doesn't forget anyone, and makes a great bedtime story.
~Angela Scott for NetGalley