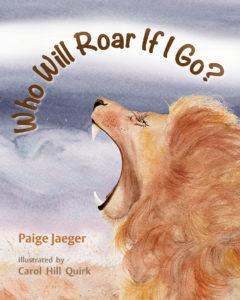 5 stars. "This book presents a scary, but real problem, about animals in our world. All of the animals mentioned in this book are endangered, on the edge of extinction. The author beautifully describes each animal in a rhyme, describing why the animal is extinct. The illustrations are beautiful and match the descriptions in the writing. I love the last page, where the reader has to guess what animals match each footprint. What a fun activity for kids! As an educator, I find this book appropriate for many grade levels. Preschool and kindergarten would enjoy this book, especially the illustrations. With grades 3-6, you can dig deeper into the topic and discuss extinction and how we can prevent it. As a fourth grade teacher currently teaching about ecosystems, I look forward to reading this book and discussing the topic with my students."
— Shari Nagy for NetGalley
---
5 stars. "Illustrated beautifully by artist Carol Hill Quirk, and written poetically by the author with the highly appropriate name of Paige Jaeger (Jaeger in German means 'hunter'! Page Hunter? Great name for a writer! LOL!), this book highlights some of the endangered animals on the planet, and we really need to start paying close attention.
We need to focus not just on the species charmingly depicted in this book, but to entire ecosystems that we are despoiling not only through hunting, poaching, and habitat destruction, but also through climate change, which notwithstanding our idiot president's delusional view of science, IS caused by humans, IS happening right now, and IS dangerously affecting the entire planet.
The lion is considered a 'vulnerable' species, which is only one step up from endangered. The gorilla is critically endangered, which is one step below 'merely' endangered. Well over a thousand rhinos were killed by poachers in 2015. Their population cannot remotely sustain such wanton murder. The western black rhino and the northern white rhino are already extinct along with a sub-species of the Javan rhino. We will never see their like again. The rest of the Javan, and also the Sumatran rhinos are critically endangered, and the Indian rhino is vulnerable.
In the mid-nineteen thirties – Ernest Hemingway's puffed-up 'Great' White Hunter era – there may have been as many five million elephants in Africa. Now there is far less than a million. The tiger is Asian, and it's endangered. There is much less than four thousand of them left in the wild. Most zebra species are endangered. One of them, the quagga, is already extinct.
The quetzal bird is much better off, being 'only' near-threatened, while the Chinese giant salamander is critically endangered because the idiot Chinese hunt it for food and medicine. The North American Karner blue butterfly – which I have to be honest and say the art in this case does not do justice to (sorry, Ms. Quirk!) – is vulnerable, and all eight species of the pangolin – which live across the southern hemisphere and which are utterly adorable – are threatened with extinction. Despite China doing the right thing (but perhaps only because it's a national treasure) the panda is still considered vulnerable.
This gorgeous picture book is the beginning of what I hope will be a successful and informative series because it has a lot of potential not only to do good, but to be inventive in how it informs readers. This first makes a colorful statement and a plaintive call for help.
There's a glossary of long words in the back. I would have liked to have seen a short section giving some details – for the grownups! – in the back along with some ways they could help – for example by means of listing URLs of conservation and wildlife protection organizations, but any enterprising adult ought to be able to find those for herself these days. Other than that I though this was a treasure and I commend it for its message and its presentation."
— Ian Wood, Ian Wood Novellum
---
"Paige Jaeger's Who Will Roar If I Go is a beautiful children's book about conservation and endangered species, told from the animals' points of view. I read this with my cubs, and we all enjoyed it. I loved that not only were well known, and 'lovable' animals like lions and tigers included, but so were lesser known or not particularly cuddly critters like snow leopards, quetzal birds, and the Chinese giant salamander. With rhyming poetry, and gorgeous watercolour illustrations, this is a must have for any children's' library. It would make a great teaching tool in classrooms as well. My only qualm is that sometimes the poetry felt off, either a bit cheesy, or longer than felt necessary, and I found myself tweaking the stanzas to flow better to my ear."
— J. Aislynn d'Merricksson, for NetGalley
---
5 stars. "This is a sadly necessary book, and it's a bittersweet experience to read.
Written in a rhyming, poetry style, Paige Jaeger introduces us to endangered species around the world.
Unfortunately, we live in a world where people kill animals for the fun of it, or because greedy rich people want to decorate their houses with dead animals. Who Will Roar If I Go? introduces children to an important topic in a way that works for their age."
— Sonya Heaney, for NetGalley
---
"This book has gorgeous artwork! The illustrations look as if they would be well suited for hanging on a wall. The story is one that needs to be told and the author did a nice job doing that. I especially loved the elephant….'no one needs my tusks but me, go make some in a factory'. We just lost the white rhino forever…..this book can help create a new generation of conservationists."
— Emily Bennett, Librarian
---
5 stars. "Right off the bat, children will be amazed at the artwork that brings the endangered animals to life. With bright colors and beautiful brushstrokes, the different animals are instantly recognizable. Each page is devoted to a singular animal, with a poem about both the animal and why they are endangered. Although the target audience is very young, parents will also be able to learn something from this book. Who Will Roar if I Go? is a very important children's book, as it brings to light how precious they are and how their disappearance from the world would be life changing."
— Sharon Berge for NetGalley