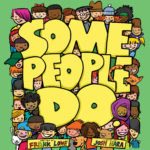 5 stars. "This book is about acceptance and understanding. Understanding that people are different. We all have different beliefs, likes and dislikes. Some people are rich, some are poor.Some people are trans or gay and even though that may be different than you it's okay. It shows kids how you can be different from someone and still be kind." — Stephanie Guerra (Educator), for NetGalley
---
"Some People Do has a wonderful message and great illustrations. I think educators and parents could use this text as a powerful conversation starter about diversity, differences, and respect. Unfortunately, educators should also be mindful of their audience. Some schools and families may not be ready for such a celebration of diversity. in the primary grades. Personally, I would love a finished copy on my professional bookshelf." — Deanna Shuler (Educator), for NetGalley
---
5 stars. "This beautifully illustrated children's educational book is perfect for young children, to help them understand and accept difference. It will help teachers and parents alike to explain this essential concept to very young children. A great find!" — Marie-Hélène Fasquel for NetGalley
---
5 stars. "This book is the perfect addition to any family or classroom library for those who want to help kids celebrate the many ways we, as human beings, are different. The illustrations are colorful and engaging and the rhyming, sing-song nature of the writing will draw kids right in.
There are many homeschooling parents looking for a way to introduce diversity to their kids, and this book would be the perfect way to do so. It would work for young children in early elementary school, but would be just as appropriate (with some more follow up conversation) for a much older child as well. It is wonderful to see a book with such a positive message being created. I will definitely be buying a printed copy for myself and recommending it far and wide!" — Katie Boczarski (Educator), for NetGalley
---
"This book has nice illustrations and a message that is important for kids to understand. As a homeschool mom, I believe it's important to teach my children that there are many people that make up our world and that they need to be able to show respect to everyone everywhere. The diversity covered in this book help facilitate discussions with my children and will help them establish their specific worldview while also being respectful of all people." — Angela Payne (Educator), for NetGalley
---
5 stars. "This picture book sets out on a mission to help parents educate their children about diversity and I feel that it has successfully achieved what it intended to do. I have never ever seen such beautiful illustrations on a picture book before. It was rich, colorful, vibrant and eye-popping. If it could appeal to a 22-year-old adult like me, I'm pretty sure that the kids of today would find it to be fascinating. From sexualities to the socio-economic status, this book covers a wide range of differences that exist between one another. Through beautiful sketches and crisp wordings, it conveys a very deep message to the readers that each and every person is different and that there is absolutely nothing wrong in it." — Bookish Devil, for NetGalley
---
5 stars. "A powerful, concise, emotional, lovely nonfiction text for early readers about appreciating and valuing the differences that color our world." — Rogene Carter (Educator), for NetGalley
---
5 stars. "What a wonderful story! It covers everyone on the planet and then some as it encourages acceptance of all of our differences. We are all more alike than different and need to get along as we all live on this plane Earth. Diversity makes things interesting! We'd be bored to death is everyone was totally alike. Nice story for all ages! Love the illustrations; I can't wait to see it in book form!" — Catherine Hankins, for NetGalley
---
"This is fairly long for a picture book, but it's well worth reading. Some People Do shows, in gentle rhyme, many of the differences children might encounter in those around them.
The rhythm of the text is nice and the illustrations complement the words perfectly. This is close to being a pretty perfect picture book about diversity… except for one thing. The book equates mental illness with simple sadness. On a page about disabilities and differences, we have the following text:
Some people are sick, or upset, or just sad.
This is accompanied by what appears to be a child with cancer (they're bald, wearing a hospital gown, and hooked up to an IV)… beside a healthy-looking–albeit upset–child being comforted by another. I do realize that the author was limited because of the rhyme scheme, but I really don't like how this minimizes mental illness such as severe depression. By putting the depressed child on the same page with the physically ill one, the illustration gets it right… but the text fails by referring to the child with mental illness as "just sad". (The inclusion of the word "upset" doesn't really work, either, for the same reason.)
Aside from that, though, I really liked seeing all of the different forms of diversity. From religion to preferring dogs or cats, there are plenty of topics covered here. The book may be long, but it's a quick read, and the catchy repeating refrain helps keep the whole thing light… even though it's dealing with a fairly serious topic." — The Ladybug Reads
---
5 stars. "Some People Do by Frank Lowe is exactly the kind of book I was hoping to find. As a multiracial couple that will hopefully start a family soon, we are looking for books that will be fun but also teach something to our children. The illustrations are cute and the message is wonderful. We will definitely be buying this book for our future children and foster children. I hope Lowe will come out with many more. I will be keeping my eyes out for him!" — Isabelle Wagner, for NetGalley
---
5 stars. "Some People Do by Frank Lowe is a perfect book for children and adults alike! Lowe presents our vast array of differences in a simple, amazing way that reminds us all, it's okay to not do everything the same way. I can't wait to share this with my own children and my classroom. It will be perfect as we learn about identity." — Amber Webb (Educator), for NetGalley
---
5 stars. "Frankly, I think Some People Do by Frank Lowe–illustrated by Josh Hara–should be on just about everyone's shelves. If you've followed my blog for any period of time, I'm sure at some point you've noticed that I'm always looking for new books on diversity that are written for young children. These books are immensely important as introducing this information to young children is one of the best things people can do. When kids are young, impressionable, and eager to learn is the best time to combat the disturbing nature of ignorant thought and its influence on inhibiting the opportunity a person has for growth throughout their life, from the moment they are born onward. And of all the books I've come across over the years, this has got to be one of the best I've ever read.
From race to gender, to sexuality, to disability, Some People Do is one of the most inclusive books I've ever come across. It's well illustrated, it's story and rhyme scheme is incredibly well done. In so many ways I see this children's book as one that will be immensely beneficial in setting a starting line for children to be aware of and to understand diversity. And yes, there will be a lot more for them to learn while on that path of education, but this is a great place for kids to begin.
And for that I can certainly see myself buying this book not only for a child I might have in the future but also for any child I do know now. And I have the greatest hopes that more books like these will be made and that they will reach more and more kids because I genuinely believe such stories turn children into better people and make the world a better place. And I guess the truth is that I'm feeling a bit hopeful tonight and it's really great to see books out there that give me hope." — Stephanie Pasciuti, Reader Fox
---
5 stars. "This book is perfect for young children to start to learn and appreciate diversity in general. Maybe schools should consider having a book such as this in their curriculum." — Kade Gulluscio, NetGalley
---
5 stars. "On the one hand, this is such a beautiful book to have around.♥
On the other, isn't it also really sad that we'd even need a book like this to remind young minds to be kind and respect differences?
I believe "Some People Do" is a very important book to add to every child's library. So that they are always reminded of the things they already know by instinct when the rest of the world tries to make them think and feel otherwise.
The words are easy to understand and have a very nice rhythm to them.
The illustrations are warm and colorful, too.♥
It's okay to be ignorant. But staying ignorant is a choice.
This book is here so kids (and the rest of us, really) can always choose better." — Nina Satomi for NetGalley
---
5 stars. "All people are special, all people are unique.
This is the central message of this vibrant children's book. The illustrations themselves are so bright and colorful that they appeal to me right away. The story itself is full of rhyme and repetition, emphasizing, "You may not know them, they may not be you, but some people are, and some people do." This book covers issues of diversity not often seen in children's books such as economic class, sexuality, gender-identification, religion, orphans, illness, and learning disabilities.
If I were to be super nit-picky and must find one fault with this book, it would be the line, 'All peeps like toys'. I didn't care for the slang term. But that's just my preference. That's the only complaint I could find with this otherwise beautiful book." — Melissa Blum (Educator) for NetGalley