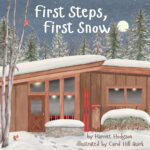 "The forest is always beautiful, but at night, in the snow, under the glow of the full moon, it is truly wondrous. From deer grazing with their fawns to foxes and raccoons hunting in the drifts and an owl gliding from branch to snowy branch, the forest is full of nighttime friends. To walk through the first snowfall of the year and hear it crunching under your boots as you walk through the "timeless trees" is the perfect way to celebrate winter—especially when, afterward, you get to curl up in a nice warm bed!
Filled with scenes that will be familiar to anyone who lives in and loves the woods, First Steps, First Snow uses both images and text to evoke the hush, mystery, and peace of a forest in winter at night. Simple, short snippets of text combine rhyme, poetic imagery, and sound words to encourage readers to imagine with all five senses, while beautiful, subdued ink and watercolor illustrations depict the forest and its inhabitants in loving detail. When read aloud (with the time taken to linger over each image), the text is restful and meditative—perfect for bedtime reading.
First Steps, First Snow is beautiful, timeless, and joyful."
– The Children's Book Review 
---
5 stars. "First Steps, First Snow is a really cute story about walking in fresh snow. I loved the illustrations, they certainly made me feel like I was in the snow! Easy to read text."
– Natalie Gossett, NetGalley

---
"First steps in fallen snow are the best. The illustrations are really good in this book. This is an enjoyable book about the first snow fall of the season."
– Sheila Treacy, NetGalley

---
5 stars. "Great children's book. The graphics were appealing and the overall storyline was well written. I recommend First Steps, First Snow to readers. It was fun and I can't wait to see more from this author."
– Ily Renfroe (Media/Journalist), NetGalley
---
"This took me right back to the winters of my childhood. A simple but beautiful story with exquisite illustrations. I want a copy for my library and for myself."
– Leanne M (Librarian), NetGalley
---
"This is a story about first steps in the snow. The illustrations are beautiful and I think this would be a great book for calming down or before bed, also a nice way to introduce going outside for walks or to play in the winter! This book caters to young children, and could be used in a home or education setting. "
– EV, NetGalley
---
"Superb, I love a snow walk and I enjoyed following the kids on their walk. I also liked the thoughtful questions at the end. The illustrations were cheerful and cozy."
– Kirsten Norlock, NetGalley

---
"Such a simple and sweet book about exploring the snow! Specifically this book focuses on the excitement of making those first footprints in fresh snow. Exploring the woods and finding animal prints in the snow. A good book for younger kids, it's short and simple! "
– Elizabeth Pepe (Educator), NetGalley

---
5 stars. "First Steps, First Snow by Harriet Hodgson is a very cute book about a walk in the snow seeing many different animals. The illustrator does a wonderful job of matching the authors words about what they see on their journey outdoors walking in the snow makes me remember things I saw on my first trek on cross country skis."
– Dana Wright, NetGalley  
---
5 stars. "I LOVED this. I loved its simplicity, but the depth it gave to those feelings. I loved the connection to nature. I thought the illustrations were STUNNING."
– Megan Mann (Librarian), NetGalley 
---
5 stars. "With simple rhyming a tale of walking through the woods on a snowy day and being the first to make footprints is told by a lover of winter in Wisconsin. I enjoyed the animals and the children who looked for them. Well suited for reading WITH someone of any age. I really want to get one for my local public library (in Wisconsin!)!
The illustrations by Carol Hill Quirk are delightful, colorful, muted, and imaginative."
– Jan Tangen, NetGalley
---
5 stars. "A very attractive volume, this illustrates a rhymed verse that's perfectly accessible by all ages, concerning a night-time walk through a forest under virgin, undisturbed snow. The rhyme is fine, but for me the winner here is the craft in the visuals, which are simply stunning. I'd go as far as to say they make this a rarity – a book you wanted to be longer. It does have the saccharine, "one more animal? Go on then!!" attitude those animated Christmas e-cards from Jacquie Lawson and the likes have, but be on board with that and this is a minor marvel."
– John Lloyd, NetGalley
---
"Life is filled with quaint moments like the ones the two siblings come across when a fresh layer of snow covers the earth. This story explores the joys that we can associate with the aspects of this life that feel, at a glance, simple in nature but bring us memories we can cherish for all the years to come.
The illustrations by Carol Hill Quirk remind me of many little books I had on my shelves growing up. The colour scheme is warm with a hint of cool that allows the reader's mind to engage with the imagery without necessitating the linguistic ability to follow the stanzas. I have an image in my mind of the ideal reader & perhaps, I might venture to say, so did Hodgson when writing the kindly poem that saunters across a backdrop of woodland forest, a cottage home, young siblings wrapped snuggly in snowsuits & the animals who come out to start their day with a fresh blanket of crisp white snow. This book would do well to be read by those who adore the season; perhaps a story to accompany some hot chocolate or a snuggle in a favourite blanket. There is not any conflict or climax to this story, it simply exists to present a tender moment & I think there is something wonderful to appreciate in that."
– Chantel Boulanger, NetGalley
---
5 stars. "This is the coziest, cutest little children's book I have ever read! Snow angels, friendly and furry critters, the glow of the moonlight and more – this one recreates the magic and ethereal nature of not only being a child and going on adventures, but also the magic of a first snow. This one is perfect to read to the little ones when the cold weather begins to creep in, and the best part is that it rhymes so it will keep their attention."
– Katie McEntyre (Educator), NetGalley
---
5 stars. "This sweet children's book about waling in the snow has a simple message about enjoying the beauty of the world that surrounds us. With large, simple text this book is short and easy to read. The illustrations are beautiful and intriguing. I would recommend this book to parents and teachers of children in the age 3-7 range."
– Angie Kuhnle (Educator), NetGalley
---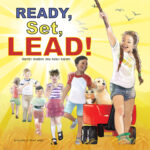 "If you have a child in your life that you care about and want to see them succeed, then you must read this book with them. Leadership is a learnable skill and this book has keys that will help set any child on the path to being a leader and set them up for success no matter which path they choose to follow."
– Chris Robinson, Maxwell Entrepreneurial Solutions