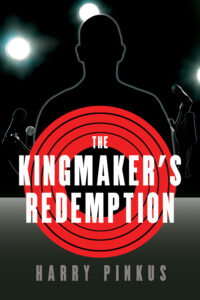 The Kingmaker's Redemption is recommended reading for political intrigue readers seeking high-octane action, and provides a story of winners, losers, and subterfuge steeped in the power, money, and processes of the American political system.
Departing from the status quo and prior precedents comes with its problems, as Jack McKay discovers when he decides to support a candidate he really believes in rather than the party he's usually led to victory. His business is winning elections, but it's about to become the center of a whirlwind of controversy when Jack lends his considerable influence to a campaign for an Opposition candidate against the Party.
Liberty Party leader Randall Davies knows what McKay's decision means to his chances. Forces that operate behind the scenes contrive to implicate McKay in a crime that will sully his reputation and limit his ability to be a political influencer.
As the conspiracy gains momentum in the courts, McKay and his team are drawn away from their original objective and into a trial that leaves him fighting for more than his reputation, even as he learns new things about the process and the people behind it: "Jack was getting a real insight into what the prosecution was likely planning to present. He might have actually enjoyed the education had his life not hung in the balance."
Harry Pinkus crafts the perfect intersection between legal and political thriller, cementing action with strong characters that operate on both sides of the election process, with special interests and influencers on all sides.
The personal challenges McKay faces as his choices affect family relationships and career are as much on the line as the question of who will win the election.
More than just a story of innocence and guilt, Pinkus calls into question motivation, political and legal processes, and fluctuating relationships changed by new realizations.
The Kingmaker's Redemption is as much a story of survival, enlightenment, and changing interpersonal connections as it is a political legal thriller. Audiences who enjoy investigative mysteries operating at high levels of political circles will relish a story that winds through drama and action, adding a dash of romance as icing on the cake of intrigue.
— The Midwest Book Review
---
5 stars. "When a PR guru, Jack, spurns one candidate for another, a criminal setup is put in place to frame him and hurt his candidate's chances. A number of personal relationships come into play as well as his wife files for divorce, and his mentor fights guilt, estrangement from his daughter, and bad health. The author works all together into a very good tale that has potential for a sequel or even more…"
— Doug Yonce (Educator), NetGalley