"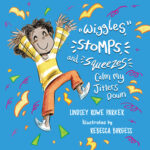 Parker's lively debut follows a neurodiverse child with heightened sensory experiences as she navigates her day. While eating breakfast, getting dressed, and playing at the park, the young protagonist explores her need to wiggle, tap, squeeze, stomp, and run, while her supportive mother works to help calm her. Before zipping around the kitchen, the unnamed narrator declares, "I get jitters down deep inside and it makes me want to run!" As the girl acclimates to the world around her, she discovers new techniques to relieve her jitters, including humming and running water. But when a sticky sandbox leads to sensory overload, she finds herself tested.
This is a lean, fast-paced, urgent tale with quick-moving prose. Rebecca Burgess's illustrations are electric, complementing the high-speed storyline and finding a visual depiction of the sensations that accompany a heightened sensory experience. Sometimes, particularly in the sandbox scene, these images can become frightening–these portrayals of sensory overload may be scary for younger children. Most pages offer a lot of action, with some images achieving a balance between interesting and overwhelming, and others edging toward cluttered. For the most part, though, the illustrations are eye-catching, fresh, and emotionally engaging as they suggest the child's experience. Squiggles, triangles, motion lines — she lives with a sensory cavalcade.
For a children's book, Parker's ideas are remarkably mature. None of the concepts are inappropriate for young audiences, but the lessons and values are as much for kids as for their parents. The sympathetic representation of the mother — who understands, encourages, and helps her daughter even through the most difficult of her urges — is a good reminder to parents who are raising neurodiverse children of the virtues of patience, calm, and sensitivity. Some of the story's impact may be lost on toddler-age fans, but parents will find the message invaluable.
Takeaway: This fast-paced picture book is perfect for those looking to learn more about the daily experience of sensory differences.
Great for fans of: Jenn Bailey's A Friend for Henry, Alicia Ortego's Kindness is my Superpower.
Production grades
Cover: A
Design and typography: A
Illustrations: A-
Editing: A-
Marketing copy: A-"
---
5 stars. "This is a cute book and it's good for kids who may feel a little overwhelmed sometimes. It's nice for them to know that they aren't alone and maybe they can find a strategy that helps them too. The illustrations were adorable and the rhyming was fun!"
– Anne Edester, NetGalley
---
5 stars. "This book provides great perspective into the mind of someone who has different sensory needs. I loved the explanations that are given in language kids can understand and the excellent illustration that is paired with the text."
– Emilee Meeks, NetGalley
---
5 stars. "Wiggles, Stomps, and Squeezes Calm My Jitters Down by Lindsey Rowe Parker is the cutest picture book for children. I have a grandchild with autism he is 12. This book would be very helpful for any child children move quickly. The illustrations are great and colorful."
– Dana Wright, NetGalley
---
5 stars. "I love this book about the way this child processes sensory information and his need to wiggle, stomp, and receive hugs to calm down. It's a great way to help children with processing disorders be seen and to teach others about what it feels like. The illustrations are also fun!"
– Brittany McRay, NetGalley
---
5 stars. "Wonderful book about a child dealing with sensory disorders! The illustrations are so cute. The illustrator is an autistic artist. I think this would be a wonderful addition to any library."
– Joni Owens, NetGalley
---
5 stars. "My heart is glowing with excitement for the VOICE this book gives to children and families familiar with sensory learning differences! Vivid colors and interesting and dynamic illustrations help readers understand better what life may feel like through the eyes of another. I can't wait to share, read, and discuss this with my library community."
– Erica Leu (Librarian), NetGalley
---
5 stars. "I love this children's nonfiction book because it tells us from a child's perspective how they process their senses and what sensory perception means to them. Sensory perception means something different to everyone. This book helps explain some unique ways that children process their senses. And I think that everyone can benefit from this information."
– Kate Alexander, NetGalley
---
5 stars. "I wasn't sure if Wiggles, Stomps, and Squeezes Calm My Jitters Down, by Lindsey Rowe Parker was more appropriate for me as an adult, children, or those who display this behavior set. Honestly, I suspect this book is good for all those groups, and probably more.
Forgive me if I mangle this terminology. This review is coming from a non-teacher, non-health professional.
Wiggles, Stomps, and Squeezes Calm My Jitters Down portrays a child-sized definition of what it is like to be inside a body with sensory differences.
Though jitters are common in folks of all ages, having an extreme case of the jitters and the compulsion to run, tap, touch, twist, and squeeze, like this boy, can sometimes be misunderstood.
But through the eyes and voice of this small child, and his mother, readers can explore what that particular behavior set is like for some people, why it is important for those with his mindset to feel the of dipping their feet into the cool water, the process of tapping three times on a surface, or running out that jittery feeling when necessary. It is all a part of how they interact with the world.
In this book, Mom is a person who understands the special needs of her son. Sometimes, he needs to run. Other times he needs to tap. And other times he needs to remove his shoes. He doesn't know why he needs to do these things. He is just compelled to do them.
This character also experiences extreme distress at his inability to wash his hands clean of the soil that rests on his skin. He responds with an upset, exaggerated, and severe reaction to a simple problem other people would solve with more soap. But this sensory-challenged boy cannot process his dirty hands in a way commonly acceptable. So mom, who is trained to identify and assist in these situations, takes over and helps her special son find peace and calm once more.
Another aspect of this book I found illustrative of what it feels like to be sensory-hyper aware was that its text is run together, most words in a sentence are missing a word space, and some word letters overlap with the letters in place before it. When I first opened this book, I thought I was experiencing a software glitch. Then I realized the text was presented in that manner purposely to show readers how a child with special needs might see the same world.
All in all, this was a very moving five or ten minutes of reading that introduced me to a new way to understand and tolerate behavior and actions I do not fully understand.
Wiggles, Stomps, and Jitters is a title that belongs in libraries and classrooms. Teachers, at some age, might do very well to introduce mainstream students to what it feels like to approach life in a way different from their own.
I give this BQB title a thumbs up, a winner's circle blue ribbon, a bronze statuette of the thinking man pondering why he was unaware of what was behind the seemingly bad behavior of certain children. And I deem this title an 'I' for an 'important' read for all ages. Wiggles, Stomps, and Squeezes will make a difference to everyone who reads it pages."
– Michelle Lovato, NetGalley
---
5 stars. "Really great book, i've never read anything like it and this would have been such a great book to have as a child!"
– Bella Haver, NetGalley
---
5 stars. "The vibration in her feet when she runs, the tap-tap-tap of her fork on the table at mealtime, the trickle of cool water running over her hands–these are the things that calm her jitters down.
The collaborative project of author/storyteller Lindsey Rowe Parker and artist/illustrator Rebecca Burgess, "Wiggles, Stomps, and Squeezes Calm My Jitters Down" is a picture book for children ages 5-7 about Sensory Differences and will prove to be a welcome and entertaining read for every child who has ever felt the need for a wiggle, stomp, or squeeze!
Original, charming, joyful, and certain to be an immediate and enduringly welcome addition to family, daycare center, preschool, elementary school, and community library collections, it should be noted for personal reading lists that "Wiggles, Stomps, and Squeezes Calm My Jitters Down" is also readily available in a digital book format."
---
"There are books that bring tears to your eyes – not because they are tear-jerkers but by making you feel instantly seen and understood. Wiggles, Stomps and Squeezes is exactly such a book. I'd been impatiently waiting for it to reach UK stores ever since I came across a video of its author – Lindsey Rowe Parker – reading it on YouTube.
Built around the unique experience of children with heightened sensory perception, the story follows a simple day of routine activities – eating, dressing, going to the playground – and depicts in sound, image and emotion the events and impressions that can make or break the child's day; the food squishes, the label itches, the sand crunches … the need to wiggle, zoom, run, 'touching every wall.'
Sentences like 'everything is loud, my tears are loud too' capture an emotional-sensory meltdown with rare and moving accuracy. However, the book is not a lament but a celebration of sensory sensation: 'I need to swing – I need to fly,' 'my shoes sparkle as they speed towards the sky', 'I smile and stomp stomp stomp'. The pages are bursting
with the joy of searching and finding sensory stimulation – that right feeling.
It is a far cry from other children's books that try to offer a glimpse into the so-called 'autistic world'. Rowe Parker, a mother of an autistic child and herself diagnosed with ADHD, has created a story that makes us empathise without pity, and promotes understanding without being condescending. It's hard to believe that this is her debut book,
and hopefully more will follow.
Autistic illustrator Rebecca Burgess's pictures complement the text with depth, freedom and originality words fail to describe, but I'll try: the size of various objects is determined by their momentary presence and weight in the child's
subjective experience, thus the sand pebbles in the sandpit are wonderfully gigantic, while at dinnertime, the oppressive smell of the mush gathers into a green jagged frame enclosing the child's head. Moving objects
and characters are drawn several times on the page to convey their quick motion, so we literally see the whooshing, tapping and hopping in every detail.
Another major plus point: the protagonist Burgess has drawn is delightfully and effortlessly gender-neutral. Although the blurb on the back refers to 'a young girl,' nothing in the illustrations prevented my two sons from assuming it was a boy and referring to 'him'. This, along with the relatable experiences in the story, helped to naturally facilitate a conversation between me and them about why one of them needs more wiggles, stomps and squeezes than the other, and that calmed everybody's jitters down."
– Eleanor Cantor, Sheffield Parent Carer Forum
---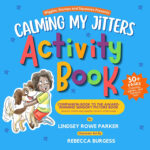 "This is a great sensory activity book! I like that it introduces all 8 senses and does so in a kid-friendly way even with big words like proprioception. The illustrations are fun and light. There are QR codes for further resources. There are also questions for before, during, and after you read the book. I would use this in my classroom, but is also a great at home resource."
– Katrisa Bischoff (Educator), NetGalley

---
5 stars. "A lovely book of activities a parent can do with their child at home. Not only that, there are plenty of ideas here for a special education teacher to use. The ideas are simply presented in an easy-to-read manner so children can easily access them independently. Teachers, parents and children would enjoy these activities and it's a book that I will definitely be dipping into as a resource in my special education classroom."
– Inishowen Cailin, NetGalley

---
"This activity book has activities to start conversations with kids about their anxiety. This provides an outlet for them to draw and be focused on something else without realizing he or she is talking about their anxiety with a therapist or parent. A good tool to use in therapy with kids."
– Jennifer Ellenson, NetGalley