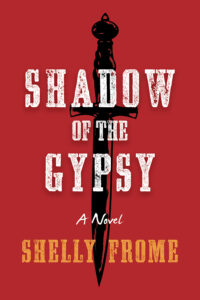 "Written in the traditional style of crime fiction, the novel slowly reveals the story behind Josh's past, which he thought he had left behind when he changed his name and began working at a small town newspaper in the Blue Ridge mountains. But normal life escapes Josh when a gypsy from his past shows up to demand a favor, or else….
The action is paced in this crime fiction, with some suspense but a more relaxing read than a thriller. Zharko, the gypsy in question, is unusual, perhaps a bit stereotypical, even though the author describes him as a rogue gypsy. His character as described and developed fits well into the role of villain.
An enjoyable crime novel."
— Harvee Lau, Book Dilettante
---
"'Shadow of the Gypsy' by Shelly Frome is an amusingly entertaining crime mystery following the main character Sonny Korda, a.k.a. Josh Barlett, as he tries to elude Zarko, an Eastern European mafia figure from his past.
On the run for his life, Sonny Korda has disassociated himself from anything that resembles his past life. He changed his name to Josh Barlett and moved to a small town in the middle of the Blue Ridge Mountains. The only people that know of Josh's whereabouts are his mother and childhood sweetheart, Molly, yet somehow, his nightmare has returned. Despite all his efforts, his past has caught up with him. With memories of a traumatic event Josh witnessed as a child haunting his every thought, he must face his fears and protect the women he loves. The only way to ensure their safety is to go to work for Russian mobsters and pay off some debts.
'Shadow of the Gypsy' is a fast-paced Mafia-themed crime mystery with enough twists and turns to keep your head spinning. Thugs enforcing dirty deals and perilous events are a constant. A foreboding sense of gloom runs rampant as the reader digs deep into Josh's childhood. Zharko is a villain you will love to hate. His menacing behavior taunts the reader, asking them to look deeper for the true evil in the story. The Mafia bad guy leaves an impression from page one, foreshadowing dread as the boundaries of good and evil become blurred. Both Josh and Zharko will keep readers on the edge of their seats as they navigate the labyrinth full of endless dangers the characters face.
Shelly Frome's writing style has the innate ability to lead the reader in one direction and then create a whirlwind of unexpected events, shifting the focus to turn once more. "Shadow of the Gypsy" is an incredible read that had me guessing wrong constantly. The world-building is ominous and creepy enough to keep me up all night wanting more. The characters are well-developed with realistic traits and personalities. Some I adored; some I could not stand.
'Shadow of the Gypsy' has all the best traits of a dark mystery with a true crime vibe. If you enjoy books full of intrigue and suspense, this will not disappoint. I highly recommend this book to anyone that likes thrillers that will keep you guessing till the very end."
---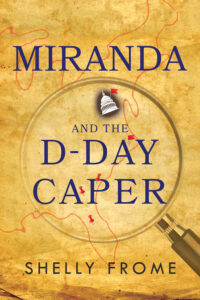 5 stars. "Miranda Davis just can't seem to catch a break. Or, rather, she keeps catching breaks, and that's exactly the problem.
After closing a super tense case in the previous book in the series, Miranda is intent on taking things easy and slow. After all, she's not really a detective but a real estate agent. So when her cousin Skip, comes to town and tells her that he wants to meet with her, she assumes that her old childhood friend just wants to catch up.
Boy, is she ever wrong.
It turns out that Skip has gotten mixed up in some very big, very bad criminal dealings. In a panic, he flees from his home with his cat, Duffy and crosses the country to request the help of his cousin. At first, Miranda is reluctant to help at all, deciding that the best course of action is to help Skip find the cat he recently lost and move on. But soon she finds herself knee-deep in a case unlike any she has faced before. One where she must crack a conspiracy from World War II and protect the nation itself.
I have to say, even as a lifelong mystery reader, I did not guess how this one was going to turn out. I found myself happily surprised by the ending, a feat that I can't say too many other books I've read lately have accomplished.
I believe this is the second book in this Miranda Davis series but you don't need to have read the first book to enjoy this one. Shelly Frome does an excellent job of keeping the reader apprised of any relevant information as you go along.
This was intriguing, highly-entertaining and overall just fun. I had a great time reading it and I'm sure you will too."
— Bookgirl's Reviews
---
"I had such a delightful time reading Shelly Frome's latest cozy mystery titled Miranda and the D-Day Caper! It did take me until chapter 3 to really get into it, so I would tell you to give it a chance. This may have been more about the current state of our nation than anything to do with the book though – so take that for what it's worth. I found the characters to be likeable and enjoyable and the plot had plenty of twists and turns that kept me on my toes. There was lots of dialogue which helped draw me into the story. I felt the story was filled with just the right amount of drama and intrigue and I think we all have a 'Skip' in our life – so his whimsy often made me smile. Reading this book was enjoyable and I'd absolutely recommend it to a friend!"
— Cristal J. Casavant
---
"Frome's novel is a timely one, highlighting a right wing militant group preparing to cause harm to incite political action. I like the heroine, Miranda. She is a quirky but tenacious woman. It takes her a long time to gather the information she needs. Even though her cousin comes to her with a problem he wants her to work on, it takes what seems like ages for him to actually articulate the issue.
The plot is revealed slowly. In fact, it wasn't until nearly half way through the book that I finally understood what was going on. Part of the reason is Frome's writing style. His writing does not convey ideas to me as clearly as most authors. Another issue I had was the dialogue. The characters are so quirky that their conversations are not as clear and revealing as I'd like.
This is a novel for readers who like a complex and slowly evolving plot. You'll enjoy the quirky characters who ultimately make the novel enjoyable."
— Joan's Reviews
---
5 stars. "Whoo-boy, what a read! I have read a couple of Shelly Frome's books before, so I knew I was in for a whirlwind when I started this one and I was not disappointed. Frome's style of story telling is exactly the type of thing that I enjoy– fast-paced, quick, witty dialog and smart characters who can actually manage to get themselves out of their own predicaments. I absolutely adored the other books of his that I read and this one was no exception.
I've read the previous Miranda Davis book before this one, but it was a while ago and I was worried that I wouldn't be able to remember the character or the setting very well. Of course, I should never have doubted, Frome's writing brought it all back instantly.
In this book, Miranda starts out trying to enjoy a simpler life after the end of her last tense case. Unfortunately for her, while she is shopping at the farmer's market she's approached by her cousin who turns out to be embroiled in a case of his own. This one involves World War II code breaking, a massive conspiracy and a stolen cat. Miranda agrees to take the case initially to try and help her cousin find his cat, but ends up getting pulled into something much bigger and much more international than one simple purloined feline.
As a mystery, this was pitch-perfect. It kept me guessing the whole way through and at the end of the book, when everything started working itself out, I had one of those beautiful "Ah-ha!" moments that we mystery readers love so much. I highly recommend this book to anyone. It's a fun ride and one that I won't be forgetting. I can't wait to read what Shelly Frome cooks up for his next story!"
— Teddy Rose Reviews
---
5 stars. "When Skip, an old playmate of Miranda Davis, contacts her and wants to meet under mysterious circumstances, Miranda is baffled. She agrees to meet him at a local tailgate marketplace. It seems that Skip is on the run after accidentally intercepting some coded messages that he thought was all in fun. But when his tabby cat, Duffy, is kidnapped and he is threatened to keep quiet, he remembers that Miranda had some luck in the past solving another case. When Miranda reluctantly looks into the matter, her actions put both Skip and herself in the middle of a conspiracy regarding a crucial senatorial vote on homeland security. Additionally, a celebration in a nearby town comes under fire. Will Miranda solve this mystery and recover Duffy? What will happen at the celebration? Read on to find out how Miranda could be the hero again!
What will you like? Interesting, with tons of excitement, mystery, deep intrigue and an underline mystery to keep track of. Very unique characters and of course, an awesome tabby cat to worry about! An exciting storyline that gets involved with political undertones. All this excitement in an easy to read manner that is spiked with lots of details and description to keep you in the mix of the excitement. You definitely can feel the tension and hear the cats meow. Excellent read, another one in my growing library."
— Donnadee's Corner
---
5 stars. "I have previously read and enjoyed books by Shelly Frome in the past and Miranda and the D-Day Caper is no different. I loved catching up with Miranda whom I had met in an earlier book. It had twists and turns that I did not expect. I love reading a mystery that is not predictable and this fits right into that. I thought it was a fun, great, and entertaining read.
I am giving Miranda and the D-Day Caper five plus stars. I highly recommend it for mystery lovers. I am looking forward to more by this author in the future."
— Amybooksy, Locks, Hooks and Books
---
5 stars. "'Miranda and the D-Day Caper' was an action-packed, fun, and fast-paced novel that will leave you on the edge of your seat with excitement. I absolutely loved the writing school of Shelly Frome, and the manner to which this novel has such an 'old school' vibe with a trendy underlying plotline, you will find yourself not wanting to be torn away from 'Miranda and the D-Day Caper'. If you are ready for the fun adventure that will take you on a historical, and exciting adventure, be sure to not miss out on this one! I am most certainly looking forward to more from this very talented author."
— Amy Koller, Amazon.com
---
5 stars. "Miranda and the D-Day Caper by Shelly Frome is a sleuthing mystery story. Miranda Davis is a realtor. Her cousin Skip has turned up in town and she needs to deal with him. Babbling about conspiracy theories, Skip is on the run, his beloved cat has been abducted and he has nowhere else to go. Miranda doesn't quite believe what Skip is telling her at first but her initial impressions prove to be wrong. Miranda gets onboard and together they try to figure out the conspiracy threatening the USA, even though the powers-that-be are intent on shutting them down. Skip and Miranda are heading straight into danger – can they save the day before their worst fears come true?
Miranda and the D-Day Caper by Shelly Frome is a sleuthing mystery set against a political backdrop of conspiracy theories and a plot to destroy the country. It has everything – good-old-fashioned mystery, a political thriller, humor, and plenty of suspense. It's descriptive and well-written, with a smooth flowing plot and some great characters that are well-developed and relatable. It is an intricate story, and there is plenty going on with lots of twists and turns. At first, there seem to be lots of threads but believe me when I say that they all tie together very neatly. You won't fail to be hooked by this story that seems more than just fiction, a story that draws you into its web and keeps you there until the end. If you love mystery stories and political intrigue, then you will love this story."
— Anne-Marie Reynolds for Readers' Favorite
---
"This novel shines in its depiction of life in the mountains of North Carolina. Readers familiar with the area around Asheville will love the realistic descriptions of the city and its environs, including cameos by local institutions ranging from the Biltmore Estate to Black Mountain's Blue Ridge Biscuit Company. Miranda is a spunky, no-nonsense protagonist who audiences will root for as she takes decisive action to make sure Skip's job—and her small town—remain safe.
Takeaway: This mystery combines modern political intrigue and Blue Ridge Mountain life with WWII nostalgia.
Great for fans of: Rita Mae Brown's Mrs. Murphy series, Maddie Day's Country Store Mysteries series."
— BookLife
---
5 stars. "An exciting and thrilling mystery! Keeps you on the edge of your seat.
As a small-town realtor unravels the mystery of violent plots and conspiracies, she navigates the complexities of today's politics using codes of World War II strategies, all to protect her cousin.  Shelly Frome's book 'Miranda and the D-Day Caper' is a thrilling mystery that takes unexpected twists and turns as the truth is uncovered and the race is on to prevent a tragic event with national implications. A fantastic modern tale with a nostalgic feel."
— Jana Zinser, author of The Children's Train and Fly Like a Bird

---
"In Frome's suspenseful sequel to 2018's Moon Games, North Carolina real estate agent Miranda Davis receives a surprise visit from Skip, her cousin from New York, weeks after he sent her an email stating that he'd run across a press report about Miranda having cracked a cold case. Skip is feeling anxious about developments following a stint as a fill-in radio host. While making fun of right-wing pundit Russ Matthews, he jokingly suggested he knew about a plot based in Hoboken, N.J., a lie modeled on Matthews's fearmongering. To Skip's shock, that bit elicited hostile calls threatening him if he revealed more, which has led him to believe he accidentally stumbled on a terrorist plot. That belief is strengthened when his beloved cat is snatched. Miranda, though skeptical that something serious is going on, agrees to help. The plot takes numerous satisfying twists. Fans of spunky female leads will look forward to seeing more of Miranda."
— Publishers Weekly
---
5 stars. "I'm glad I didn't know that Shelly Frome is male before I read this book. I have sort of a prejudice against male writers trying to get inside female heads and making the character believable. Female writers trying to get inside male heads gives me almost the same shudders, but not quite.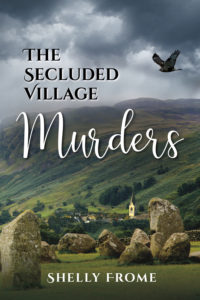 Therefore, I was surprised when I went to review this book and there's a photo of the author! A professor no less. While there wasn't quite the kind of female introspection in this story as in stories written by females, I thought it was the stiff-upper-lip type of British through processing. I like that writing style so didn't think much of it. That's the only difference I can tell.
If you don't like British style humor, or British style mysteries, then you won't like this book. The humor comes from the characters, and they are quirky, and they are wonderfully developed. I've met people just like these, and it was clear from the outset that Frome understands elderly people very well. After seeing his photo, I now know why. There is a great small town flavor about this story with all the small town secrets and busybodiness, too. It is a wonderful combination.
The story drags in a few places, but don't skip them because you'll miss some important clues. One thing I like about this book is the reader is given all the clues necessary to solve the mystery. Another thing I liked is that I figured it out, but not too early.
A most satisfying read."
— Gina Burgess, Upon Reflection blog
---
5 stars. "I really enjoyed this British cozy with the twist of having a young American as the amateur sleuth. The characters were well written, the setting sounded divine and the story had plenty of twists and turns."
—Mary Nickell for NetGalley
---
"In The Secluded Village Murders, author Shelly Frome weaves an intriguing cozy mystery that follows the amateur sleuth adventures of tour guide Emily Ryder as she tries to solve the murder of Chris Cooper, her beloved mentor / father figure.
Emily is making final preparations for a guided tour to the United Kingdom with the eccentric elderly Curtis siblings Harriet, Silas, and Prudence that includes a "twinning" fete between their hometown of Lydfield, Connecticut and it's sister village Lydfield-in-the-Moor, United Kingdom. But a few days before she departs for the UK, Emily witnesses Chris Cooper's fatal fall from a slate roof during a rainstorm. Chris owned a roofing business and was the head of Lydfield's Planning Commission, and he was being pressured to approve the development of a piece of land next door to Emily's mom's B&B and the Curtis' property by the Gordon Development Corporation. The developers want to buy Emily's mom's B&B and the Curtis property, but there is resistance, so the developers result to using pressure tactics. When Emily tells State Trooper Dave Roberts that she thinks Chris' death is the result of murder instead of a fall accident, he doesn't buy it, so Emily enlists the help of Babs Maroon, a features reporter for the County Times, and Will Farrow, the B&B handyman to investigate the murder while she is in the United Kingdom. Can Emily and friends solve the murder mystery and get justice for her beloved mentor while she's across the pond?
The Secluded Village Murders is an entertaining story that has enough quirky characters, intrigue, suspense, humor, and drama that easily draws the reader into Emily's amateur sleuth adventure. This cozy mystery is full of devious plot twists and turns that will easily keep you guessing. Emily tries to juggle her responsibility to provide the guided tour for her clients while dealing with the murder mystery back at home, but she finds herself being challenged and pulled in a lot of directions, and being thwarted by some dangerous people who want to stop her from revealing the truth at any cost. The author provides the reader with many clues along the way, but you have to stay on your toes, or you will find yourself a bit confused with all the twists and turns until Emily's determination to expose the truth behind the murder mystery is finally revealed and solved.
The Secluded Village Murders is an intriguing whodunit tale that cozy mystery fans will want to add to their reading list."
—Kathleen Anderson, Jersey Girl Book Reviews
---
"This book is about Emily Ryder, a guided tour guide. She takes a group to England, Lydfield-in-the-Moor to do what is called twinning, with Lydfield, CT and attend a fete that celebrates the two villages. While trying to get the next trip organized with elderly siblings, a mentor of hers, Chris, is badly injured and later dies, after falling off the roof of a house that had just had some work done on it.
A shady developer is trying to get her to get her mother to sell property and issues threats because Emily refuses. She is 'working' with Will and his dog Oliver, there is a state trooper who doesn't believe that her mentor died under suspicious circumstances, but handyman Will agrees with her t hat something is not right. Her friend Babs who is a sassy reporter who keeps pushing Emily for a story. Then there is Emily's mom who is trying to keep her B&B afloat.
With all of the characters in the book, I got a kick out of the arguing siblings. The trip to England was a bit more exciting to the story, as there was another murder and then when Emily's life is in danger it becomes a page turner. All in all I enjoyed this book, reminded me more of a British mystery than just a mystery that takes place in America.
I think that I would love to see a sequel or ongoing series with Emily Ryder and her adventures as a guided tour guide. Maybe it is in the works? If you love a good mystery, I think you would enjoy this one."
—Kathleen Kelly for NetGalley
---
"This is a classic British mystery in the great tradition of British mysteries. Emily owns and runs a village Bed and breakfast with her Mom. in a small English village that is charming. Emily does not want to sell the bed and breakfast her family owns but developers want it sold and they want the land it is on. Then Emily's best friend falls from a house he re-roofed. He sadly passes away. Emily thinks he was murdered and she begins to look into his death and possible suspects within the development company.
Soon after when on a tour with her community members one person ends up dead on the tour. The local police do not seem concerned and do not think its murder. Emily does not agree. Now she knows both deaths were probably murder.
As she grows closer to the truth through her own investigation, she is in danger and the true motive behind these heinous crimes will be reveled.
This had a very lovely setting, nice characters and a good plot. I enjoyed this new mystery and look forward to further work by this author."
—Cozy Cat Reviews
---
"I love a good mystery and this certainly fit the bill! This book pulled me in right from the start and didn't let go all the way through. I even shoved some work aside so I could finish it today but it was worth it. The story is about a woman named Emily Ryder, a tour guide who witnesses her friend fall to his death off of a roof one rainy morning. Emily urges the police to investigate the death as a murder because of the suspicious circumstances surrounding the fall but they don't want to listen and want to close the case and label it an accident.
I really appreciated Emily as a character and her intelligence, intuitiveness and determination made me root for her throughout the novel. I loved that she trusted her instincts about the case and was willing to fight for what she believed in. The mystery was also very compelling. Unlike some mysteries I have read in the past, I really felt like the author put a lot of forethought into not only the motive and means of the killing but little clues that could be left along the way for the reader to potentially pick up on. I appreciate a mystery author that trusts the reader's intelligence and ability to work things out on their own.
Not many books these days seem to leave me in a state of awe but this one has me not only wanting to re-read it again, but chomping a the bit for more by the same author! I'm very happy to see that this seems to be the beginning of a series. I'd highly recommend reading this book. If you love suspense, intrigue, great writing and a good mystery, then this is the book for you!"
---
"It is a British Mystery about Emily Ryder, a tour guide, who witnesses the suspicious death of her friend. Too bad I don't have more time to read a good book quicker."
— Adriana B for NetGalley
---
5 stars. "Although written by an American Professor Emeritus, THE SECLUDED VILLAGE MURDERS reminds me so much of the delightful British village cosies popularized by the Grande Dame Agatha Christie, and still continued by a variety of subsequent authors. Emily lives in Lychfield, Connecticut, and runs a travel business which involves ferrying American tourists to the British Isles for exploration and adventure, including to Lychfield's English "Twin City," Lychfield-on-the-Moors. Just before she leaves, her oldest friend falls from the roof of an empty house, which she observes, and is convinced that was not an accident, but purposefully caused. No one, including the local state trooper, believes her. Everyone in the community seems enrapt with the potential new subdivision development, which will effectively destroy a wonderful scenic area untampered since colonial times.Emily goes on to England, but she never gives up, no matter what obstacles fall into (or are tossed into) her path."
— Mallory Haws for NetGalley
---
"The Secluded Village Murders by Shelly Frome was a unique take on an old fashioned mystery. Crossing the Atlantic between two "twin" villages, it follows Emily the tour guide as she is trying to figure out who killed her beloved mentor and friend while also trying to keep her tourers safe and on track. Add in Doc, who seems to be following her and an English police officer who is more interested in his tea than his job as well as an American officer with a crush on Emily that won't let him do his job correctly. All in all, a zany cast of characters. I enjoyed it. Read it while recovering from a procedure and it was fun."
— Tina Klag for NetGalley