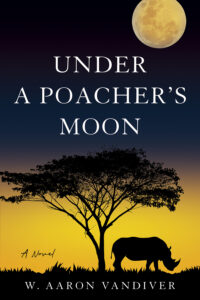 5 stars. "An American woman looks for adventure on safari and instead finds a passion for a cause in Vandiver's debut novel.
Anna Whitney saw her marriage fall apart after an unspeakable tragedy that she can't bear to think about. Since then, she's made increasingly dangerous and reckless decisions, leading up to her current trip on a remote safari in South Africa. She finds herself drawn to the handsome guide, Chris, who has his own sad secrets. On safari, Anna witnesses great beauty in the form of elephants, rhinos, hyenas, black mambas, and others; throughout, Vandiver offers gorgeous descriptions of the African landscape, showcasing wildlife as worthy of respect and awe. Along the way, Anna learns about nefarious poachers who are causing great harm to local animal species. One night, Anna and Chris hear the horrible cries of an animal in distress, and they run out to find that poachers have attacked a rhinoceros mother and calf for their horns. Anna is filled with fury and a desire for revenge, so she and Chris head into the wild on a journey more dangerous than either could imagine. However, it turns out that not all is as it appears, and Anna will soon discover that assumptions can prove deadly. Vandiver has carefully and cleverly crafted a tale with an endearing and relatable protagonist. Over the course of the tale, the author not only draws on his experience and knowledge of the story's landscape—he's an attorney and conservationist—but also shows a great ability to delve into a varied range of human experience. He treats all his characters with notable empathy, effectively showing how one's perspective is shaped by one's choices and circumstances. This is not a straightforward good-versus-evil story, but it is a complex and engaging one.
An exciting and thought-provoking work that will stay with readers."
---
"Vandiver's brief, tense debut novel concerns Anna Whitney, a New Yorker who goes on safari in South Africa to escape her own demons, but comes face-to-face with the demons that thrive in the seemingly idyllic wildlife preserve: poachers. One night, Anna hears the frightened cries of an injured rhinoceros, and with her safari guide, Chris attempts to save the rhino and its baby from poachers, despite her own doubts: "What the hell was I, an American woman with no knowledge of the bush, doing out here?" The poachers, desperate men unafraid of violence, pursue, and both Anna and Chris are forced to face their painful pasts head on in order to survive the night.
Under a Poacher's Moon is a compelling, character-driven thriller that digs into Africa's beauty and poverty. The novel is less than 200 pages, and Vandiver's intense, compressed plot takes place over one night, but it's alive with vivid descriptions of the African landscape and animals ("this terribly gorgeous specimen of muscle, sinew, teeth, claw, mane") plus memorable characters. Vandiver, an attorney and conservationist, allows his cast a full range of humanity: Anna is complicated, touched by deep grief, and not always likable. Her relationship with Chris—a charmer who calls her a "rhino gal"—is believable and warm, growing naturally as they face life-threatening obstacles together. 
While the story picks up once Anna finds the injured rhino, the opening pages get off to a slow start. As a white woman in Africa looking for an "escape," Anna projects her own issues on the country, telling us, in her narration, that she wants Africa to remain "a refuge against all the ugliness and greed…that afflicted the rest of the world." She envisions it as a place where she can recover from her trauma, instead of an actual place in its own right, which will be hard for some readers to stomach. Still, Vandiver's complex story about the coexistence of animals and people will please animal and adventure lovers."
Takeaway: A woman and her tour guide take on poachers in a vivid story of conservation in South Africa.
Great for fans of: Pamela Beason's Endangered, Mike Bond's The Last Savanna.
Production grades
Cover: A Design and typography: A Illustrations: N/A Editing: B Marketing copy: A
– BookLife
---
"A rich female New York banker, struggling with a recent divorce and longtime grief, goes on African safari and finds herself battling a ring of deadly poachers … and falling in love.
UNDER A POACHER'S MOON has no right to be so captivating. It's a simple story, told with simple language and familiar characters. But author W. Aaron Vandiver's descriptions of Africa's lush natural wonders weave a magical web that's hard to escape. The novel kicks off like many romance novels. Our hero, Anna Whitney is a wealthy financial analyst from NYC on vacation in Africa. She is divorced, middle-aged, and still reeling from the lost of an infant daughter several years earlier. In fact, despite her professional success, Anna is a mess, on the verge of becoming an alcoholic and or pill head. This African safari is a chance for Anna to either redeem herself or go full tilt wasteoid. Unsurprisingly, Anna meets a hunky safari guide named Chris and a jungle romance quickly blooms. But Anna and Chris experience "rhino interruptus" when a team of poachers kill a mother rhino and calf, spoiling their night of romance and kicking off a race to catch the horn-stealing villains.
Anna begins as an unlikeable hero; a wealthy white savior with a mind to rescue adorable jungle animals from poachers while on vacation. But she soon learns the world of illegal poaching is far more complex — and corrupt — than she ever could have imagined. Anna's trip to the Dark Continent takes her on an evolving moral journey, leaving her a changed woman. She emerges a warrior, with a renewed purpose. If Anna can change herself, maybe she really can change the world. And while there are elements of big-screen movies such as "Out Of Africa" and "The African Queen" at work here, as well as overtones of "Bridges of Madison County" and "Naked and Afraid", where the ruggedly handsome, mysterious older man sweeps the fiery female hero off her feet with confidence, leadership, and toned forearms, what distinguishes UNDER A POACHER'S MOON from other mid-life romance novels are Vandiver's lyrical descriptions of the natural splendor of South Africa's Kruger Nation Park. The exotic wildlife and lush landscape evoke a sense of primal passion, which Vandiver captures perfectly in prose. While the story and characters initially appear thin, Vandiver's plucky pacing and increasingly philosophical tone keep the story interesting.
UNDER A POACHER'S MOON is an action-romance that's implausible yet captivating, set against the majesty of the African wild."
---
"In the novel Under a Poacher's Moon, a woman facing an uncertain future undertakes an exciting adventure in the African bush.
In W. Aaron Vandiver's thought-provoking novel Under a Poacher's Moon, a divorced woman in her middle years has life-changing encounters with the people, animals, and violent contradictions of Africa.
The novel starts in the midst of a dramatic confrontation, and then rewinds back to Anna's arrival in Africa. Anna narrates, introducing herself and other guests at the safari lodge in turn. At first she comes off as a bit of a snob, mocking other guests for being "pasty" or overweight. However, as the story continues, and more is revealed about her and the losses that brought her to Africa, she becomes more sympathetic. Themes of environmental and personal redemption arise.
Anna also finds herself as intrigued by her leathery, cynical safari guide Chris as she is by the native wildlife. Chris at first seems like a fantasy figure—a rough, handsome outdoorsman with piercing blue eyes, a rugged tan, and devil-may-care swagger. But as the story progresses, it becomes apparent that there is more to him than it at first appears; poignant elements of his own story arise.
The phrase "This place will devour you" is repeated several times in the book, each time with slightly different meanings. Anna finds herself devoured by the maternal nature that she previously denied in herself, recognizing how "all the mothers of Africa were everywhere protecting and defending their young." She finds herself devoured by her desire for Chris: she mentions wanting to drop her "newly purchased cargo pants" for him. She finds herself devoured by the beautiful scenery and the eternal rhythms of the world running on a scale that dwarfs humanity, too. But the novel only truly takes off when Anna and Chris plunge into the bush, chasing after a band of poachers who committed a heartbreaking atrocity. Their pursuit is suspenseful and unpredictable.
The setting is established in a layered manner, as a place where "God and the Devil are one." The landscape is captured in beautiful prose, and is juxtaposed with details about the brutality of poaching, and of how a rhinoceros's horn is worth "more than gold" on the black market. Outrage is generated over the cruelty of slaughtering animals just to steal a small piece of their anatomy. Yet the book also addresses the human poverty that drives poachers to exploit animals: "I'll let you in on a secret Africans have known for a long time: sometimes there is no answer." The book's conclusion, though unexpected, is fitting and satisfying.
In the novel Under a Poacher's Moon, a woman facing an uncertain future undertakes an exciting adventure in the African bush."
– Matt Benzig for Foreword Reviews
---
"A stunning, heartrending adventure story.
W. Aaron Vandiver's impressive debut novel transports the reader to the bushveld of Africa. "There is no place like Africa," Anna Whitney is told by her guide as she embarks on an impulsive safari to the Mzansi Reserve.
Anna, a fortysomething professional woman, is a lost soul, trying to run from her life. When she and her safari guide, the stoic and mysterious Chris, discover a rhino mother and baby slaughtered for their tusks, Anna finds a purpose, but also discovers the meaning of the warning whispered on the wind, "This place will devour you."
Vandiver delivers a gut-wrenching story about the scourge of poaching. Message novels can be heavy handed, polemic. This is not. It is a nuanced, even compassionate tale about evil and heartbreak.
Highly recommended."
– Len Joy, author of Everyone Dies Famous and Dry Heat

---
"I loved this book! I have followed WildEarth Live for years. That made this book very interesting to me. The only thing that I didn't like, somehow I missed out on the fact that this is a series. That said, I will be picking up the next book. I can't wait for it to be finished. The writer did his homework. I could see the landscape where everything took place."
– Jean Brewer, NetGalley