"Spunky senior Grace with her sidekicks, nearly sixty years of age Gus and her friend from college, overweight Hazel, climb a ladder to do a 1960's style siege of the historic McClellan building in Pine Cross, North Carolina. The yellow brick structure is due to be demolished that day, but Grace, Gus and Hazel save the McClellan building with their sit-in, paint balls and the arrival of the media to cover this news event.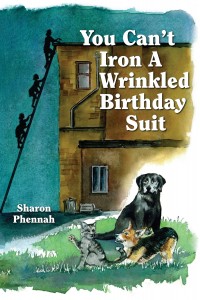 Then the worst happens. Hazel's longtime love and better half, Bruce, who works with the local historic society which is behind saving the McClellan building, is accused of molestation by Hazel's teenage next door neighbor who is also related to the Lewis family, the intended demolishers of the McClellan building. Can Grace, Gus, Hazel, their younger friend Marigold and their pets, Gus's Corgi Butterbean and cat Grizzella, or Hazel's Pomeranians Art and Gwen save the day? Read "You Can't Iron a Wrinkled Birthday Suit" and find out.
"You Can't Iron a Wrinkled Birthday Suit" is a delightful reading romp featuring senior citizens but its plot's direction needs work. The general theme of three women trying to save an historic building from the wreckers is an excellent one, especially with their pets adding to the story. But the storyline bogs down with sidebars that should be eliminated such as Irene and the sex toy business. Marigold and her troubled love life and Gus's mother's sad death are sub themes that should be woven more closely into the main plot of saving an old building and Bruce's reputation. "You Can't Iron a Wrinkled Birthday Suit" is a book with tremendous potential."
—Four-Star Review by Alice D. for Readers' Favorite
---
"If we are not supposed to judge a book by its cover, is it allowable to make our reading choices based upon titles? Because that's what prompted me to request this book written by *Sharon Phennah* from NetGalley.com, and why I was so pleased to be approved to read it in exchange for my honest review. Creative titles usually get my attention, and for the most part, it works for me. But in this case, it was like striking gold! In spite of the fact that I do not usually read books with or about animals (way too contrived for my taste), in this book, the dogs were a very entertaining part of the story as well as a useful device for getting more information to the reader than the humans were collecting. By the time I finished the book, I was halfway convinced that there is a network of communicating dogs out there who may quite possibly be smarter and funnier than their owners.
The humans, however, do dominate the story, and what a spunky, unique group of women they are. They not only support each other, they unconditionally like each other enough to get involved in situations that could be against each one's better judgment. For example, the beginning of the book concerns a caper wherein three of the women – Grace, Hazel, and Gus (Augusta) – have agreed to support the local Historical Preservation Authority by climbing to the roof of the McClellan building thereby preventing it from being demolished before the group can get a court ruling stopping demolition completely. The McClellan building was formerly the local 5&10 Cent store, and many of the town's citizens believe it should be restored as a historical site. Those who disagree with this position are the ones who stand to make money on the land deal when the building is gone, and that includes what Lewis & Son Devoted Demolition Crew will earn for completing the job in one day. All the Historical Preservation Authority want is to get a court ruling on their petition to save the building. The decision is expected by noon, which will be too late for the building since Lewis & Son shows up at the crack of dawn. So Grace and Hazel are the first two to climb the ladder to the roof. Gus, who is supposed to be keeping the ladder steady, is also throwing up in a Forsythia Bush.
First the fire department is called to remove the women from the premises, but they refuse to come to the site because they say if there's an alarm given for a fire during that time, no one would be available to cover it. Next the police are brought in, but the women have arranged the situation in such a way that it's nearly impossible to get them off the premises. The cliff hanger is whether the women can hold up long enough for the court decision to be useful to the cause — if in fact, the ruling is found in favor of the historical group.
No one could have foreseen the repercussions this would have on the members of the little group of friends, particularly upon Hazel's significant other, Bruce Winston. What happens to him could very well ruin the rest of his life and intrude drastically on the future he and Hazel have envisioned for themselves.
Hazel, Grace, Gus, and Marigold form the base of this group of friends, but each one has her own place in the novel along with her dog. A fifth hanger-on of the group is Irene, friend to Gus, who occasionally is called upon to help when Gus needs to include her. Not everyone takes to Irene mainly because she runs a shop called Such Happenis Adult Toys. Together these women share adventures as well as personal tragedy. While the McClellan caper was called "Operation Wonder Woman", the group are all women who deal with life's challenges knowing someone will always have their backs should they need it. In other words, they are average women with all the problems that go with aging. Phennah explores Alzheimer's, illnesses, and other issues that have an affect on us all.
And then there is that group of dogs. Their visits to Shear Charisma Grooming Shop are often funny, occasionally sad, and always entertaining. My favorite dog was Butterbean Gus' dog, and also the one who keeps most of the gossip straight. Butterbean is a Corgi, and if I ever were to own a dog (highly unlikely) Butterbean would be the one I'd want.
I highly recommend YCIAWBS to mystery lovers, and also those who're looking for a good book with humor but also a lot of heart. That's what I look for in reading material, and this book has 5 Stars going for it. My thanks to Net Galley for allowing me to read and review this book."
—Gabby Hayze for NetGalley
---
"When I get old, I hope to have friends as awesome as these. This is an absolutely feel good novel. Naturally, our intrepid characters, wattles and all, undergo all sorts of trials, but it's the compassion and generosity they exhibit that endears the reader. There's also the sense of humor one acquires when nearing the edge of death, only it's not macabre but an open acceptance of an essential, inevitable part of the human experience. A dose of extra lovely is the friendship of their little critters who like to gossip about their owners every time they gather, like old biddies…"
—Sam Sanders for NetGalley
---
"Hysterical lovely a group of women senior citizens the friends surrounding them the adventures they get involved in..A feel good laugh till I cry book. Highly recommend."
—Abby Siverman for NetGalley
---
"This title caught my eye when I saw it. It's unfortunately true. Aging brings wrinkles and the best you can do is try to hide them. This story offers more truths about aging and it's very realistic if a bit sad in places. One lady's mother has cancer and is dying. One lady's boyfriend has been accused of molesting the boy next door. Getting older doesn't make life easier…
Boutique of Quality Books and Net Galley let me read this book for review (thank you). It has been published and you can get a copy now.
Imagine a group of older women climbing a ladder to get on the roof of an old building to save it from being demolished. Now imagine them coming down with the press present and journalists taking pictures. One of them gets a real good "bad" picture…
The women friends meet for lunch, have cocktail hours, and work together through personal issues as well as worldly issues.
The fun thing for me was that their dogs talk to each other and they try to tell the humans things. One lady is always picking the wrong men so her dog decides to take care of this one. She succeeds. You'll need to read it to see what she does.
Despite all the problems, the women keep a stiff upper lift and things turn out happily at the end. This story shows you that while things change in life as you grow older, you don't have to give up. You just make adjustments."
---
"Okay, I admit it! When I first saw the photo, I loved it. It was the photo and the title that got me sold. I select it to read right away.
Oh, the cover, I'm trying to fine words for the that wonderful enchanting painting of three active elderly women who don't give a hoot dancing in the rain. If that was a snapshat of my friends and me, I'd frame it! There's something whimisical and endearing about this cover.
This book was hilarous. It made me think of The Golden Girls. I love all the characters! I sure hope to have a life like those friends who are loyal and true to each each depsite of their flaws.
I have never laughed so hard in a long time with a book. This book was for a light and feel good reading. The only problem I had was towards the last 1/4 part of the book. It seemed to drag on, less humour and I was NOT happy with the ending.
As for the rest of the book, it was easy to follow along and be part of the friends. LOVE the bantering between the friends.
I love how the author was able to convey that the older we get, we're still spunky, likely to get into trouble, have a life at that age. Life gets much interesting when we get older.
Oh! Oh! How could I forget? As a pet lover myself, there are pets involved, so be sure to tuned into your secret animal language when you read the book!"
—Quirky Kat from the Quirky Bookworm Blog
---
"This book is hilarious and made me laugh loud. It's well written, entertaining and a great read. The next thing could be: read it if you are in the mood for some serious fun. Highly recommended!"
—Anna Maria Giacomasso for NetGalley
---
"Four older women engage in a series of humorous escapades. They are much bolder than younger women and throw caution to the wind. In the beginning, you find them climbing a ladder to get to the top of the old five and dime to save the building from demolition before a hearing about the destruction concludes. You will smile from the beginning and a few giggles may escape, as well. I really enjoyed reading this light-hearted book. You will too."
—Terrie Case for Case Reviews
---
"This is a story of good friends who stick together through everything life throws at them. The characters were fun and daring, they had some humorous escapades. I love that these women all have different relatable struggles but are always there for each other." — Amanda Cunningham, for NetGalley