New Release — Adult Fiction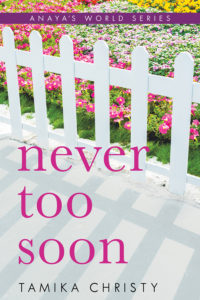 Forbidden love, haunting pasts, redemption, and forgiveness outline this tender and humorous tale of family and friendship that has been likened to Terry McMillian's Mama. You will laugh out loud at Anaya's precocious friends, become frustrated with her unambitious sister, and fall in love with the love she shares with her best friends. In the end, you will applaud wise decisions and appreciate the value of family.
ISBN 978-1-945448-43-0 (Paperback)
Adult Fiction
6 x 9, 320 pages
Publication date: September 1, 2019
~~~~~
Award-winning author and speaker, Tamika Christy, is a Bay Area native who writes stories about real-life issues. Tamika's books offer a message of redemption and hope despite difficult circumstances and uncertainty. Tamika's stories are relatable and thought-provoking. Each story challenges readers to revisit life choices in pursuit of love and personal growth.
When Tamika isn't writing, she enjoys running, traveling, and helping new writers begin their writing journey.