New Release — Adult Fiction
The ghost of Ambrose Bierce, American writer and civil war Union soldier, has been displaced from the home he had been haunting.
Enlisting the aid of a "haunting agent," he finds a new residence that has the requisite dark history and terrible secret that makes it appropriate for haunting. Here he meets new spirits who reside in this version of the afterlife, a middle place between life and the ultimate destination.
Against his intentions, Bierce becomes caught up in the unsolved mystery of his new haunt. In partnership with an old friend, a Buddhist priest named "Sid" who has inhabited the spirit world for 25 centuries, he reluctantly involves himself in the matters of still living people. Bierce and his friend also become aware of the presence of mysterious "others" who are spirits who never held human form.
Bierce, Sid, and other new spirit friends ultimately find themselves as part of a quest to save a human life, rescue another spirit from oblivious, and discover the identity of the "others."
ISBN 978-1952782442 (Paperback)
Adult Fiction
6 x 9, 240 pages
Publication date: January 11, 2022
This book is available in paperback and eBook format:
~~~~~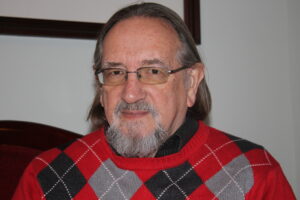 Drew Bridges is a retired psychiatrist who has restored himself to his default identity of English major. He grew up in rural North Carolina among box turtles, ticks, blackberry patches and more cousins than can be counted, all of whom lived within walking distance.
Beginning his schooling at Gardner Webb Jr. College, he ended up in medical school at UNC-Chapel Hill, abandoning for the moment his author ambitions, having lost confidence in earning a living as an English major.
After 40 years in psychiatric practice, most in rural mental health centers, he realized that along the way he had gathered stories galore, and began a new career as storyteller and writer.
He lives now in Wake Forest, NC with his wife Lauren who is a psychotherapist. His only child, Suzanna is a musician earning a living in NYC, and with her husband Andy, raising her own daughter Penny.
Please follow and like us: