Five-Star Review by Paul J. for Readers Favorite
FBI agent Tyler Bannister has a problem: actually he has a couple of problems. When his good friend Caleb Williamson, a career officer with the CIA, disappears officials are trying to decide if he is some type of spy who may have defected or whether he was a victim of a crime. Although Bannister is concerned for his old friend, his main focus is on catching an extortionist who has threatened to unleash a biological weapon if a 5-million dollar demand is not met. After catching a break, Bannister's team is quickly able to catch the would-be terrorist. But, when Williamson turns up dead alongside the corpses of two women near a northern Virginia highway, Bannister is assigned to a task force to identify what appears to be the work of a serial killer. Bannister and the task force are obsessed with finding the murderer before he strikes again, but unfortunately a fourth body is discovered. Can Bannister and the team end this reign of death, or will the killer continue leaving bodies by the roadside?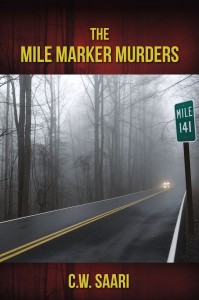 "The Mile Marker Murders" is a well-thought out, well-written novel. The characters are defined and realistic. The plot moves along at a quick pace and the police procedures are sound. The start of the story is actually three plotlines and could have been a tad confusing but the author is able to nicely tie them all together. The end is very good, leaving the reader with the expectation of things to come in the life of FBI Agent Ty Bannister. Very nicely done.

This review is from: The Mile Marker Murders (Paperback)
The cover of this debut novel caught my eye and the title intrigued me. I also found the settings, which shift from Atlanta to Washington, DC, to be refreshing.We follow agent Ty Bannister of the FBI as he investigates a major blackmailing of a bottled water company and then as he becomes part of a task force trying to solve serial murders, including that of his best friend. As a character, Bannister is conscientious, hard working, and likable.The author's obvious experience and keen insight into the FBI keeps the action moving and credible. His descriptions place the reader in the middle of every scene. At the beginning, I wondered about the dual themed plot; however, it works well and comes together at the end. The action throughout is quick paced, suspenseful, and well written. I liked this book and am hoping for a sequel.
~C. S. Seifert (Cleveland, OH, USA)

5.0 out of 5 stars: This is great novel for anyone who enjoys a good FBI/CIA espionage and criminal thriller. Several plots are skillfully connected. The descriptive details makes you believe you are following FBI Agent Bannister through the streets of Atlanta and Washington, DC. A very enjoyable book that accurately captures the inner workings of an FBI investigation.
~Courtland C. Jones (Herndon, Va USA)

5.0 out of 5 stars Exciting book that kept my attention.
I am not usually into murder mysteries, but this book held my attention and was easy enough to follow without giving away the ending. Nice plot development and interesting characters. I had trouble putting it down once I started reading it.
~DSH


5.0 out of 5 stars: I loved this book, couldn't put it down and can't wait to read the next one. Ty Bannister is our new hero.

5.0 out of 5 stars: I couldn't put this book down! I don't normally read mysteries or police thrillers. However, after reading what the book was about, I decided to take a chance and can honestly say I was not disappointed. It had a fast moving and believable plot with plenty of action. Every character came alive through the author's descriptions and carried you right into each scene. Even the backgrounds of the murder victims were well crafted and made you feel saddened at their deaths. The characters and plot were tightly woven. Unlike other books, this one did not leave any loose threads. This book is good and is a fast read. It would make a great movie.
~M. Spangler (Lexington, SC)


When CIA op Caleb Williamson disappears, opinion is divided between a defection and a foul play. Caleb's best friend Tyler Bannister is an FBI agent too busy on a case of his own to spend much time worrying about his friend. But when Williamson and two women turn up dead, Bannister is assigned the case. It appears that a serial killer is at work. Bannister is obsessed with finding his friends killer and another dead body only ratchets up the tension. Now the killer has a new target, a woman at the FBI academy…. and Bannister's girlfriend. An exciting police procedural that stands head and shoulders over the plethora of serial killer mysteries flooding the market.
~Rosemary Smith for NetGalley

This was a really good book with a lot of twists and turns. You really don't find out who the murder is until closer to the end of the story. The suspense towards the end makes it that much better. The main character is an FBI agent but he is not over the top like in some books I have read. Really most of the characters in this story seem real and just people from all walks of life. I think that is one reason why I liked this story so much. Secondly the author has two different main story lines going on, so that keeps you going. Once you think you got one figured out he takes you back to the other story so now your mind is away from those characters to some other ones. Very good writing but I did not think about what he was doing until after I had finished the book. I very good book!
~Pat Lorelli for NetGalley

Riveting, intense, suspenseful, well-written, intriguing: this amazing thriller begins with a bang, then ratchets the tension higher with each new page. American and also international in scope, the plot is delectably convoluted, and descriptions of the settings are enticing.
~Mallory Anne-Marie Haws for NetGalley