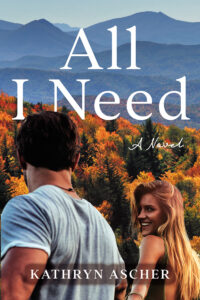 5 stars. "GREAT book. Absolutely terrific! I recommend it to everyone Who want s a good love story, keep handkerchief close while you read, you'll need it."
—Lucrezia Di iasi, NetGalley
---
"This was better than I expected. And I honestly enjoyed reading this one. This book is truly amazing. I seriously had a hard time puttering this book down I stayed up late one night just to finish reading it. I really enjoyed the characters, The storyline flowed amazingly and kept you turning the pages. Now I'm making it my mission to read the other three in this great little set!"
—Rubie Clark, NetGalley
---
5 stars. "I loved the storyline and how the MCs,' their problems and their world was presented. And I loved how the story takes it's time to build and develop making you feel feel all the feelings right along with these two!!"
—Meghna S., NetGalley
---
5 stars. "This book is exactly as the summary states, a perfect summary that makes you want to read the book without telling you any of the jaw dropping moments of the story. I recommend reading this book if you are a love story fan. If this was a movie I would be the first to watch it. I have never read or watched a book/movie with this kind of story line so I sped read through it just so I could know what would happen next. It was definitely such a good book. For me it is a 4.75 because I am not a big fan of the very descriptive love scenes, the reason I didn't make it a 4 or 4.5 is because I don't recall there being a single curse word in the book which brought my opinion of the book higher. The book was definitely a super fun read and would recommend only to anyone who likes spicy scenes (there was only one major spicy scene; MAJOR). Author Kathryn Ascher really did an outstanding job at describing every scene and character as the words played like a movie in my head. The best part, the book ended just how I wanted it to."
—Maria McManus, NetGalley
---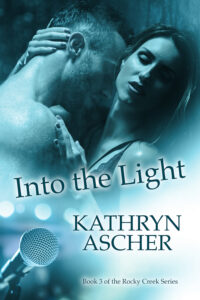 5 stars. "The author Katherine Ascher has written 3 books and a novella featuring characters from Rocky Creek. I havenot read the novella but I have read all three full lenth novels in this series.
Here is the list:
Book 1: What It Takes (features two movie stars, one from Rocky Creek, Kelsey and her co-star, Patrick)
Book 2: On the Line (features Kelsey, Patrick and Kelsey's sister, Janelle and her ex Nathan Harris)
Book 3: Into the Light (featuring Jackson Harris, Nathans brother and his best friends sister, Kerrigan)
I had the pleasure on reading this authors first book when it was first featured on Netgallery and it blew me away. It was absolutely wonderful and I even re-read it a few times. So when book 2 came out I ran to read it but it was pretty bad, I really hated it. Largely my dislike of it was Janelle was such a tough character to like. She did some good things but she also did horrible things and it was tough for me to read. Book 1 and book 2 did not stand alone. However what it did do was introduce Nathan and his brothers which is where book 3 comes in.
This book easily stands alone and it ends in a super sweet and romantic way. This is about a girl named Kerrigan/Kerri whose parents die and her brother takes care of her. She fell in deep love with her brothers best friend, Jackson Harris (Nathan's brother) when she was 14. When she was 18 Jackson fell in love back, but he was in college and leading a wild life, so when he asked the brother, Charlie if he could date her he said clean up your act, get out of her life while you do that and then come back and he demanded he wait two years.
Meanwhile Kerri felt Jackson dumped her and it hurt her immensely so much so she avoided home and ran tp Paris during college. There she was attacked two days before Jackson came for her. So when he came she refused to see him. He never tried again and she never contacted him again.
Now its 4 years later and Kerri comes home for a wedding and decides to not hang around Rocky Creek incase she sees Jackson, and instead get hired to manage a band. The band is unfortunately Jacksons band and thats where the story takes off.
I truly LOVED this story. I think it surpassed Book 1. It was an incredible journey of love and forgiveness. Lots of mistakes happened on all sides between Charlie, Kerrigan, Jackson. There were repercussions for all the mistakes but they became a team and fought for each other and thats what makes this book so great.
I loved every moment of this story. Kerrigan has such pain inside her and the author wrote her story so well that it brought tears to my ears. Jackson, is an amazing man. His love for Kerri knew no bounds. In this story he is a very sticky situation and I loved how he came out fighting for Kerri every single time. And I loved how Nathan and Mason ( a Harris brother too) joined the fun.
I totally got who the bad guy was in this story every early on. In fact I think he did some other dastardly deeds as well. But I still loved it and I couldn't wait until Kerri saw the light and figured it out too. This book was a lot of fun and I really enjoyed it."
~Sharon Moritz (Librarian) for NetGalley
---
"Kerri has been in love with her brother's best friend, Jackson since she was a teen. Several years ago, he dropped out of her life which really hurt her. When she accepts a job as a tour manager for a band, she is surprised to find out that Jackson is the lead guitarist. Now she is trying to figure out how to interact with him while combating her feelings for him. This was a really fun book to read and I would recommend it."
~Jennifer Yaggi for NetGalley
---
5 stars. "Into the Light by Kathryn Ascher is the 4th volume in her Rocky Creek series. The previous volumes are What it, On the Line and the novella In too Deep that I haven't read. Much as the first two volumes should be read in the order, Into the Light can certainly be read alone.
The story features Jackson Harris, brother of Nathan, the hero in On the Line, and Kerrigan Dodd. Jackson and Kerrigan have known each other since childhood, they were best friends then fell in love. That's when things got complicated, and due to the intervention of heroine's brother they broke all ties. In this novel our heroes meet again after eight years apart.
I discovered with surprise that the novel is set in the rock universe. For me, it's quite a shady universe where stand alongside drug, groupies, and nights of debauchery. Fortunately here Kathryn Ascher prefers focusing on a less used aspect in this kind of novels: all about financial aspect, concerts, marketing, and the troubles and pressures to which under contract bands are subjected.
I liked but also hated the reunion scene. LOL. Yes I know it's contradictory. But I can't say too much. Let's say the opening scene is typical of the scenes I hate in romance novels, all the while being close to what I expect in this kind of romance novels. On the other side, I loved the heroine's reaction.
The rest of the story is quite logical after the beginning. We understand Kerrigan's distrust toward Jackson. We salute the latter's determination to win her again. We know it will be hard. And we also discover what happened to them during their time apart. Some flashbacks also show us the relationship between both heroes before their separation.
The heroine's brother is a character I'd have loved to hate, because his intervention in Jackson/ Kerrigan couple had terrible consequences for our heroes. But on the other side, I understood why he acted like this.
The other secondary characters, especially the three other members of the hero's rock band have very important roles. I liked some and hated others.
The author surprises us in the end of the novel with a sudden development unexpected by everyone but which explains a lot of malfunctions for the band.
The love scenes aren't very numerous and happen quite late in the novel. For me, I wouldn't have wanted it to be different. The attraction is very present between our heroes all the same.
To conclude, a very good opus I had a lot of pleasure reading, full of emotion. Kathryn Ascher has a very good style so we read her novel in one go. We also believe in the couple's HEA."
~Fabiola Chenet for Les Romantiques
---
"My Initial Thoughts:
After reading the first few pages and being introduced to Ms Kerrigan Dodd, I felt for her immediately when Jack finally made his grand entrance and she recognized him as the boy from her past and had her heart in her throat. It was a what the hell have I gotten myself into kinda moment.
"…Jack Hart? That was Jackson Harris.
Kerrigan's chest felt heavy as she braved another glimpse. Those were most definitely Jackson's full lips, the ones she'd dreamt about kissing since she was a teenager. Those were his high cheekbones and scruffy, square jaw, his straight nose, his cute little dimples. Those were Jackson's strong arms, the ones that had held her the morning of her parent's funeral, now wrapped around two busy, tall blondes. Kerrigan stood frozen, staring unfocused into the room, suddenly wishing she'd listened to her brother's advice…"
Enter Jack…who I, from first impression didn't really like, his man-whore of a persona and all. But first impressions are just that, eventually when his facade drops and the real man shoes his true colors we warm up to each other quite nicely.
What You Can Expect:
What starts out as Kerrigan keeping business and personal separate turned into two friends rekindling and exploring what once could have been, what might be and finally may possibly find the happily ever after that they had always wanted and now deserve to enjoy.
This was a sweet little romance that can be read as a stand alone book from the first two in the series; What It Takes and On the Line. It wasn't until near the end that characters from the previous novels made a brief appearance.
Overall I didn't see the end coming despite the feeling certain characters were slimy and untrustworthy and was completely shocked by the turn of events. But I still really enjoyed it!
The novel had a lot of plot twists and kept my interest piqued that I had little interest and much trouble putting it down. I can't wait to see if there is going to be another addition to the series and to see where the characters end up. Out of the three books so far, Into the Light has been by far my favorite, with On the Line coming in at a close second and What It Takes taking up the rear."
~Katherine Shaw for Crazy Antics Reviews
---
5 stars. "This the third book in the Rocky Creek Series. Like books #1 and #2, I couldn't put this one down. I finished it in a day and a half. Amazing writing, very animated and descriptive. This is Jackson Harris's story (Nathan's youngest brother from book #2) and Kerrigan Dodd.
Jackson and Kerrigan have known each other since she was 2 and he was 5 years old. He was her brother, Charlie's, first friend when they moved to Rocky Creek and best friend for over 19 years. Jackson and Kerri form their own friendship, he NEVER treats her as Charlie's little sister. As she gets older, they spend more time together, just talking about everything and anything. When Kerri and Charlie's parents die in a fatal car accident, Jackson is the one to bring her out of her depression, that is until he has to go back to school. She was only 16 years old at the time it happened, so, Charlie, just 19, drops out of college and raises her.
Jackson, is back at school, partying hard, drinking, drugs, girls. Living it up. When he spends the summer at the Dodd's beach house, he comes to the realization that he's in love with Kerri. When he asks for Charlie's permission, because of a pact they made along with another friend, Pete, when they were younger–to NEVER let a girl come between their friendship. But Charlie turns him down because of his reputation–said he wasn't good enough for her, he's shocked and a bit embarrassed. He didn't think that anyone back home would hear about his behavior up at school. Boy was he wrong!! He was told to clean up his act, he had 2 years to do so. And he had to cut off all communication with Kerri. No email, no texts, no phone calls. Jackson didn't like it, but he knew it was for the best. He would be worthy of her by then.
Kerri comes back from the beach to find Jackson gone without saying goodbye. Hurt that he left like that, she tries to find out from her brother what happened, only to get a vague reply that they had a fight and he left. When her phone calls go unanswered, and her email is blocked, she gives up. A few months later, she's accepted into an abroad program in Paris and leaves.
When the 2 year mark comes, Jackson shows up at Charlie's front door a clean and sober man, only to find out that she's not there. With no help from Charlie, he goes to search for her in Paris. Kerri is recovering from a traumatic experience in Paris when Jackson shows up at her apartment. She doesn't know why he's there to begin with. She hasn't seen nor heard from him in over 2 years, so she figures that it can't be good news. When Jackson ends up getting arrested for causing a scene, she comes to the police station, but refuses to see him in her battered condition. He can't believe that he flew all that way and she's rejecting him. He vows NEVER to let anyone to hurt him again.
When Jackson gets home, he drowns his sorrows in booze, women, and his new band. He becomes Jack Hart. He never wants to be Jackson Harris again.
Kerri, is now Kerrigan, all buttoned up, a bun tight on her head, glasses on her nose, ALWAYS a distance between herself and any male she's speaking with. And NO body contact at ALL. She becomes very successful managing other people's money. Living in London, then in Zurich.
Six years later, she's offered a job managing a band because they have gone through 4 managers in less than a year, she accepts the challenge. Yet, when she walks into the room the last person she ever thought she would see again, has twins on each arm. When he sees her, he shocked. He NEVER thought he'd see her again. He purposely missed their friend, Pete's wedding, because he knew that she would be there. But knowing that she just saw him with the twins, he never wanted her to see that side of him.
Can Kerrigan work with this highly immature band?? Especially Jack?? Will Jack get through her solidly built walls that have been up for the past 6 years? One of the band members is supposed to run her off, will he succeeded?? And at what cost? Who will get hurt the most at the end of the tour?
Read on!!"
~Kimberly Klevens for NetGalley
---
5 stars. "Great characters and great storyline. I've read loads of rock band books but I like Kerrigan's character as a smart successful woman. I suspected she was set up to fail with how many managers there had been before her for this job and they met with failure.
I felt strongly against Jack and for half the book did not see him mature enough for Kerri. Sebastian was very immature. Kerri used her brains and whatever resources to pull the band forward despite these obstacles. I really loved her character. There is a HEA that is mildly good but for me the book was about the character and integrity of Kerrigan….which reminded me of Elizabeth Bennett…another book character with similar attributes.
Thanks for opportunity to read!! "
~Karen Ruedisueli for NetGalley
---
5 stars. "Kerrigan Dodd has a new job managing a rock band. She does not know that Jackson Harris, the man she loved and lost six years ago is in this band, until he shows up to their first band meeting with a girl on each arm. Since she is between jobs and because she has wicked organizational skills, she is the perfect candidate to help get the band in the black, before their label drops them. It is their last chance. She does not know that on this mission of mercy she will be slapped in the face with her devastating past.
Jackson Harris broke Kerrigan's heart six years ago when he walked away from her and their relationship. She has just recently put her life back together and put the past in her review mirror. Now, here she is face to face with Jackson. Will she be able to hold it all together and face the past that she has spent six years running from? How is she supposed to deal with this? Why should she have to?
First, let me say that I LOVE THIS BOOK! I am a sucker for second chance romance. I love the angst that goes with past misunderstandings and righting the wrongs from bygone days – especially when the protagonists are older and wiser. That is the case with INTO THE LIGHT. Kerrigan has enough going on in her life right now. She should not have re-open old wounds that have hardly healed. She is moving on with her life – AND without Jackson Harris…or is she?
The story of Jackson Harris and Kerrigan Dodd is heart wrenching and poignant. After finishing this book days ago, I'm still thinking about the story. I loved the opportunity to meet the secondary characters. They are so much fun. They make the reader feel like you are there, hanging out with them.
Kerrigan and Jackson both have very real issues that make it hard for them to pursue a relationship. The chemistry between them is strong, but the obstacles seem to be stronger. Kerrigan is a very engaging heroine.
Kathryn Ascher's writing style is powerful. She pulls you into the story, and doesn't let go until the last word…actually, not even then. You will still be feeling it days after the story ends. INTO THE LIGHT is a heartwarming story of a second chance at love. It was a sweet narrative of love and loss and loving again. I LOVED it – and recommend!"
~Sandra Galley (Educator) for NetGalley
---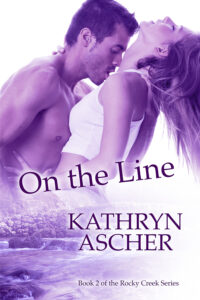 "Fantastic book. I loved all of the relationships and how everything wasn't easy and they all had things about their relationships and themselves they needed to work on…truly wonderful, and I would love to read more books by Kathryn Ascher."
~Alice Laybourne for NetGalley
---
5 stars. "Kathryn Ascher presents an intriguing, well-written story of two women, Janelle and her sister actress Kelsey Morgan… The characters are multi -faceted and realistic — the author writes a great villain and a nasty mother–and the plot had enough intrigue and twists to keep me invested in the story."
---
5 stars. "I really enjoyed this book even though it hit on some really heavy topics. All were written really well though…The story while a little deep was a great read that was very realistic. I definitely enjoyed it!"
~Toni James for NetGalley
---
"A very realistic story with characters that one can relate to. There is just the right amount of drama, romance and suspense. There was a lot of thought put into developing all the supporting characters as well and it made the book very enjoyable."
~Sumina Kapoor for NetGalley
---
"There is so much to love about this book. The story was so thick with twist and turns that you didn't want to put it down until you learned what the heck was going on. It was well written and had no editing issues. The story flowed perfectly…If your looking for a great story with an amazing plot and good characters this is your book."
~Shiree Gilbert for NetGalley
---
5 stars. "An emotional read that will break your heart but in the end it will bring a smile to your face…I truly recommend this read to other readers!"
~Monica Cardoza for NetGalley
---
"I love a good book that will play on all emotions like this one. This book grabs you and draws you in – you find yourself turning the pages just to see what happens."
~Sarah Ortiz for NetGalley
---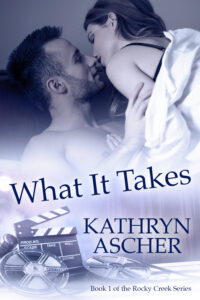 Sometimes I wonder if by the way Kelsey acts that maybe she's jealous of the girls with Patrick, "so concerned he went back to dancing with those girls," she argued." Patrick sometimes just has to set the record straight, "wait just a second." He grabbed her arm. "I don't know if I should find your assumptions funny, or be insulted by them." He yanked her closer and onto the floor beside him. She landed with a small 'oomph' and he bit back an apology. "I've never been disrespectful, I've never been rude. But you seem to take every one of my actions as an attempt to seduce you. You either think too little of me or too much of yourself." Sometimes when they're acting I feel like it's actually real for them, "her free arm slip up to his shoulder. He responded by pulling her tighter and kissing her a little harder. Her lips parted as his tongue brushed them lightly." And when it's real it's only hotter, "hmm," he hummed against her neck and his fingertips slid to the hem of her skirt, then under. "I think it's more about what kind of state I'd like you to be in when we get there." I enjoyed reading Patrick and Kelsey's story a lot and I'm hoping Kelsey's sister will get one of her own.
~Heather Andrews for NetGalley
---
I was hooked from the beginning. I couldn't put the book down. I loved the romance, the finding themselves and of course the small amount of action towards the end. Wonderful book.
~Jennifer Block for NetGalley
---
I read a copy from Net Gallery and I fell in love. I cannot believe its a debut novel, it was so fantastic. I loved our hero Patrick and heroince, Kelsey, both wonderful characters and very well developed by the author. I loved watching Kelsey as she hesitated about getting to know Patrick and how she eventually started trusting him and getting to know him. I loved Greyson her BFF and hope he gets a story someday. I loved her sister Janelle and her dad, not so much her mother and exBIL. The author really did a great job creating some really lovable characters.
The story follows Kelsey who is the love interest of Patrick in this movie they are making. They have to kiss and do a love scene in the movie, they are both very successful hollywood stars but for Kelsey this is her first major motion picture. She is very countryish and has a home in Virginia and she is afraid Patrick who she is very attracted to is a player because she has heard many stories about him. Eventually he gets her to let her walls down and become his friend.
For a majority of the book they do not have sex. Patrick is firmly in the kissing zone and friend zone. Kelsey has no idea what to do about Patrick because she is attracted to him but is afraid he will dump her for his next co-star.
What I really liked about this book is that it continued over a large space in time. Kelsey and Patrick really had time to get to know each other. At first when they were making the movie, then when she goes home and they just emailed and text, and when Patrick visits her, then thru the holidays of xmas and new years and then the following January which is when the movie has its premiere.
You can see how much they love each other, Patrick is like your dream guy. Handsome, studly and who only has eyes for Kelsey. Kelsey, on the other hand has secrets and eventually learns to trust Patrick completely and that was just beautiful to watch.
The book was wonderful I loved falling in love with Patrick and Kelsey and I could not put the book down for a single second.
There was only one thing that I wished had been different about the book and as I had a review copy, I don't know if the actual book ends the same way. But I felt the book ended too abruptly. I wanted to see the characters after. I wanted to hear how happy they were down the road. I really hope the author does a book 2 or sequel so we find out what happens after the last scene.
A totally wonderful book, hard to believe this is a debut book as it was absolutely fantastic.
~Sharon Rosenthal for NetGalley
---
Amazing novel, I can't believe "What It Takes" is the author's debut novel! I love Kelsey and Patrick, I feel like the author did an amazing job of developing these characters. I could truly feel the chemistry between these two. It was amazing watching (or reading about) them fall in love and break down the walls they had each built. I know it was more difficult for Kelsey to actually begin to trust someone again after the pain and heartbreak she had experienced from her first and only love, Tim.
Kelsey also tries so hard to stay out of the gossip rags. She loves her life at home and doesn't want her family's private life to be jeopardized. This will be difficult if she decides to become involved with Patrick Lyons. Patrick is a tabloid favorite and has a reputation of being a ladies man going from one casual fling to the next.
My only complaint about the book is that there was no epilogue or hint that there would be a sequel or continuation of the characters' story. It just ended too abruptly! The abrupt ending would have been ok if there was something like: "stay tuned for What It Takes Book 2," so that I can look forward to seeing what happens to the characters in the future.
If there is not going to be a book 2, where we get to see more about Kelsey and Patrick, then I feel like an epilogue needs to be added. I personally like to see more of what happens to the characters in the future. I guess I am one of those people that want a "Happily Ever After" and I feel like these two characters deserve one!
But I honestly hope that the author is working on "What It Takes Book 2." I would personally love to read more about Kelsey and Patrick.
~Melissa Garwood
---
This is the first book I have ready by Ascher. It was amazing!! It was a beautifully intense story of love and trust. I also enjoyed the plot twists. This book kept me thinking and guessing up until the end. I look forward to reading more books by Ascher.
~Beth Colquitt for NetGalley
---
What It Takes by Kathryn Ascher is a story about an up-and-coming actress, Kelsey, who is filming a movie with an established actor, Patrick, who is known for his womanizing ways. She tries to stay away from him, as she values her privacy and to protect her family.
The famous actor trope falling for someone "normal," or in this case slightly normal, grabbed me right from the start and I couldn't wait to read it. And I am so glad that I did! This is the debut novel of said author, and what a surprise it was! It was a wonderfully sweet read! There was the perfect amount of build up and everyone's background was established perfectly. It was all well-timed and I applaud the author for not rushing things. It was quite believable how the H and h got together. There's just one way to describe the love between Patrick and Kelsey, it felt like a genuine love. This is the kind of book that you want to read on a rainy day and just grab a blanket and get lost in the story. I loved spending my time with the characters.
The only complaint I have is that it ended too abruptly! I was so surprised in the end as I was trying to turn the page on my reader and it wouldn't give me any more pages. Now I wonder, is there going to be a next book? Was the ending rushed? The story did not have a cliffhanger ending, which I hate by the way, but it felt like it could have used an epilogue. Things were resolved but needed elaboration.
So, hopefully, there is something more from this author in the future. Maybe Janelle and Nathan??? And I hope to see more of Kelsey and Patrick there because I need to know what happened to them!
Four stars for Kathryn Ascher's What It Takes…even if she left me wanting more in the end.
~Charisma Cassidy for NetGalley
---
I really enjoyed this story. It moved at a good pace. The author does a good job with the progression of their relationship. She builds the chemistry and romance between protagonists in what feels like a realistic way. I would def consider other books by the author. One issue I had was with the ending. It feels very abrupt. It makes it feel like there will be a second book. Which I hope is actually the case or it will change my impression a little. After building up Patrick and Kelsey's relationship I feel like that isn't a satisfactory conclusion.
~Catherine Reale for NetGalley
---
I absolutely loved this book!! I hope there is a follow up book very soon. I would love to find out what the future has in store for Patrick & Kelsey! Great writing & great story.
~Jessica Lopez for NetGalley
---
First off I would like to say this was an amazing story. I am surprised this is Ascher's debut novel, her words were so smooth and telling. The characters Patrick and Kelsey were a perfect couple who were made for eachother. The storyline of a college graduate who wants to make it in Hollywood was a unique story, lots of detail and brought me as a reader in the actual scene. Great job Ascher!
~Raquel Corona for NetGalley
---
I loved this book. It had great writing and while there were sex scenes they were tastefully written. So many authors want to get graphic and many of us "get it" and don't need all the girl parts described. Patrick was great. He didn't seem as torn up to leave behind all the other girls when he'd realized his affections were turning to love. There was plenty of side characters and some bad ones. The bad people were really bad. Nicely written.
~Karen Ruedisueli for NetGalley
---
The glamour of Hollywood and the like home feel of a small town in the south makes for a perfect combination of friendship, heartache, love and even triumph in Kathryn Ascher's "What It Takes." After a heartbreak during her college years, Kelsey Morgan moves forward with her dream of being an actress. She has her big break when she co-stars with Hollywood's sexy playboy, Patrick Lyons. The attraction between the two cannot be denied, but Kelsey has been hurt before and judging by Patrick's reputation he's a "love 'em and leave 'em" type. Exactly what she doesn't need, or is he? Kelsey soon must face the consequences and reality of a secret she thought she had his a long time ago. Will Patrick be there to support her, or will he another one to turn the other cheek when trouble arrives? A definite must read! You'll laugh until you cry and cry your heart out too. Perfect!
~Ashley Patterson for NetGalley
---
Patrick and Kelsey's love story, and chemistry alone earn FIVE stars. BUT…WHAT IT TAKES is so much more than just a H/h falling in love. Ms. Ascher does a beautiful job of taking us on a journey of overcoming social issues, such as abandonment, alcoholism and abuse. There is more than one story here – which amps up the angst and drama, keeping those pages turning! Ms. Ascher's voice works really well for contemporary romance. I think she could become one of my "go to" authors. I'm looking forward to the next book in this series.
~Sandra Galley for NetGalley
---
What It Takes tackles the harsh reality of keeping secrets within a family. Eventually they will come back to bite you. This author has written a gripping story about such an event coming true. Considering that it took Kelsey's six years is amazing in itself since it is obvious it had been building up since Zach's birth.
I did thoroughly enjoyed this story when I don't usually read anything concerning Hollywood. My biggest problem was not with this well-written story until the very end. It left me with unanswered questions so I would have like to have one more chapter or an epilogue. Did Richard really tell Zach? How was Zach coping with what had happened? Did George stay with Mary, who was such a mean-spirited woman? What happened to Janelle and the children? Is there another book coming out that will pick up where this story ends?
~PSusan Wall for NetGalley
---
I expected What It Takes to be the typical new adult novel featuring movie stars. Meaning I expected less on content and character and more heat and chemistry. Instead I got a story that had great content, great characters, and the chemistry I was looking for. It just goes to show once again, I shouldn't be making assumptions…
I found it hard to put this book down… I am astonished this is Kathryn's debut novel. It's written so well… All in all, I'm really looking forward to the next book in this series.
~Chanpreet Singh for NetGalley
---
I can't say enough good things about Kathryn Ascher's debut novel What It Takes!
What it Takes has all of the elements in a classic romance novel which appeal to me; believable main characters,  a great storyline and a well- crafted villain.
I was drawn to the book's heroine Kelsey Morgan. Her work ethic, honesty and family values resonated with me.  Kelsey has pursued her dreams of becoming an actress and  is working on her first movie. Her co star is Patrick Lyons  a well known, handsome actor. His photos appear weekly on the covers of  the tabloid newspapers. Although Kelsey is attracted to Patrick, she keeps her distance from him as she craves her privacy.
I enjoyed reading the scenes when Kelsey joined her co-stars Grayson, Veronica and Patrick for a night out dancing. Kelsey was at ease with all of her co stars except for Patrick.  She wouldn't dance with Patrick and she was jealous when he danced with other woman. Grayson is a great supporting character in the novel. He is Kelsey's friend and confident and she trusts and  listens to him. Grayson sets Kesley straight about Patrick  and reminds her that Patrick and Kelsey have love scenes to shoot. He advises Kelsey to ignore what's she has read or heard about Patrick and get to know him herself. This is a turning point in the  novel as Kelsey needs to overcome her trust issues.
The relationship between Patrick and Kelsey was well paced and believable. I liked that the romance took time to develop and that both Kelsey and Patrick chose to move forward with their relationship. The last few chapters of the book were excellent and the ending was well- crafted.
Congratulations to Kathryn Ascher for an excellent debut novel! I am looking forward to reading the next book in the Rocky Creek series.
~Susan Gorman for Lady Celeste Reads Romance
---
What It Takes is a sweet story of finding love when you least expect it.
~Christina Mock for NetGalley
---
"This is one of the best books I've read in a long time. Great character development and awesome story."
~Mary Jo for Wicked Reads
---
"This is a lovely story, and a most impressive debut novel. That it is the first in a series makes me very happy, as I cannot wait to read more about this group of wonderful characters. My sincere compliments to Ms. Ascher.
It pulled me in from the very beginning, and I am still thinking about the plot, the characters and the romance, which together have created a very special story. The author has seamlessly drawn together two different worlds and made it difficult not to care about the protagonists. There is humor, drama, and sizzling attraction.
I highly recommend this book to you."
~Ruthie for Wicked Reads
---
"This was the author's debut novel and book 1 of the Rocky Creek series- our MC Kelsey has just left her small town of Virginia to make it into the big leagues as a celebrity, so to speak. Just when her career is finally taking off, something happens and she and her co-star (whom she had been avoiding like the plague) came together and chaos ensues.
I liked the FMC Kelsey, she was relatable and loyal to her family- two things that resonated well with me. I liked how the author fleshed out the character development between Kelsey and Patrick and it isn't just a wham-bam-thank-you- ma'am; we can see the growth. Overall a fun read!"
~Maritelle Lirio for NetGalley
---
"I really enjoyed the storyline and seeing the characters change throughout the story was a great character development. The plot was great and kept my attention. I'm glad I got the chance to read this and will be on the lookout for more in the future!"
~Jeraca Fite (Librarian) for NetGalley