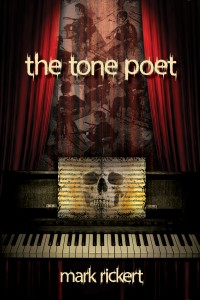 The car accident left 6 year old Cameron Black clinically dead. During that brief period he heard music so beautiful, it would forever effect him. Revived and now an adult, Cameron is a famous composer who is feeling dejected and lost. When he meets Leonin Bloom, he thinks he has found a way to get past his depression. He accepts Bloom's offer to help the maestro create music that will stir the soul. He travels to Bloom's private music hall, hoping he may at last have a chance to recreate the heavenly music he heard as a child. But what Cameron encounters is a town full of strange people, a missing woman and something far from heavenly.
I knew I wanted to read this book when I read a synopsis, I knew I had to read it when I read Rickert's introduction. I am so glad that you chose to write, Mark. Anything else would have denied the rest of us the chance to read your remarkable work. Here's to many more books!
~Rosemary Smith for NetGalley
---
"I have to admit I am baffled at how this book has not become a hit by now.
When I read Overture, the book's prologue, I was immediately enthralled, particularly by the way the author weaved the story into embarrassment which turned to anger which turned to utter disgust and panic.
When he introduces us to Cameron, and then to Holloway, things slow down a bit, but there is this constant eerie feeling following our main character. I was captured by what happened to him and by his duality in wanting to do something but fearing it was wrong, never actually knowing it or at least believing it was worth it.
At the same time we meet other characters, each with their own voices, fears and desires, who all play into the story, insignificant as they may sound at first.
Rickert was masterful in the way he infused a feeling of normality into a place where obviously very wrong things were happening.
It is not a perfect book. I would say it is definitely strongest in the first few chapters.
Some things were a bit repetitive, others fairly predictable and I did struggle with the pace. I think that opening chapter was so damn good it would be nearly impossible for the rest of the book to follow through in the same standard of quality because it really had everything.
Also, I struggled with some of our main character's decision that didn't really make sense to me. (view spoiler)
Bottom line is there are many authors out there who are inspired by Stephen King but few are able to produce something even remotely close to my favourite author's stories. Even if some references were a tad too obvious (Carrie, The Shining and 'Salem's Lot all come to mind, for example), the fact is I for one have not come across anything that came as close as The Tone Poet.
Highly recommended."
~Ana Silva for Ana's Lair
---
Cameron- the Tone Poet
Bloom- the Maestro
Kalek, Charlie, Hob, Madison, Carrie….
All amazing characters. I think, if I have to choose my favorite, it has to be Cameron. He goes through many struggles in his life, they seem to begin when his parents are lost in an accident. He does not realize how important he is. He does not realize how special his gift is. He soon finds out.
My favorite part of the book is the end. Not because I was ready to be finished, but the culmination of events. Every scene, every sentence was leading nowhere but the final performance. The book did not end the way I hoped, but was inevitable. It would not have been complete if I had my way. The world is not a happy place with happily ever after.
I would definitely give this book 5 stars. I was hooked from the first page, the opening concert was amazing, so vivid. I could see the scene when Bloom was "born". I wasn't sure where the story would go from such an awe inspiring opening, but it continued to keep me enthralled.
I am recommending Tone Poet to anyone who likes mystery, suspense, supernatural, or great fiction. It is over 400 pages, it was over way too quickly. I would definitely read a sequel, although I'm not sure if a sequel could match the artistry of the Tone Poet.
~Selena Hicks for NetGalley
---
"Readers who prefer not to suspend their disbelief, beware; others, prepare for a fantastic, twisted update on Southern Gothic horror… The overall atmosphere of Rickert's novel is impressive, as is its often shocking plot. The author's skill is most evident in his depiction of his characters, who seem instantly recognizable, even in brief appearances… When events take on epic, heaven-and-hell proportions, none of the characters are safe—but that same sense of consequence also results in an excellent work. An ambitious, disquieting and majestic debut."
~Kirkus Review
---
5 out of 5 stars. "This was such a well written story – descriptive to allow me to picture just what Mark Rickert wanted me to! I would like to see this as a movie. To me, it was the way Stephen King so wonderfully explains his visions that you can imagine exactly what he is conveying.
The way the Archetypes (instruments in the orchestra), the Echoes (the creepy musicians), the Calliope (the antiquated music hall)are all so dark and grotesque – set against the little pleasant town of Holloway, with churches, specialty shops, ice cream in the park while sitting on a bench on a sunny day.
Maestro Bloom was such a nightmarish figure, searching for his Tone Poet to write the Astral music that would free himself and the Echoes – frightening!!!
The horror and gory details revealed (which isn't my favorite to read about anymore) was really done in such a way that I was not grossed out, I was totally engrossed by what could happen next.
The different parts of the story blend as people meet and interact was smooth, and the emotions so believable.
I really liked the ending, the Epilog with Hob was a beautiful way to finish this tale."
~Linda Barrett for NetGalley
---
5 out of 5 stars. "This is an excellent first novel, one that makes you think.  The characters are well developed and the flow is easy.  I am really looking forward to more from this author."
~Paula Limbaugh for Horror Novel Reviews
---
4 out of 5 stars. "The kind of suspenseful story where you can already see the ending is in sight, but you can't look away even as you head towards it. Add in some interesting things to say on the subject of religion and spirituality and a healthy dose of music, and you've got an excellent debut and an excellent story in its own right."
~Dan Ruffolo for the Speculative Post
---
"Now when it comes to books I have to be intrigued within the first 2-3 pages of it or I'm not going to read it and The Tone Poet by Mark Rickert  has definitely done the job of keeping my attention, seriously! It's one of those books can't wait to see what's going to go on with the next chapter and that you don't want to put down.
…I truly enjoyed the way this story been written and can't wait to read the sequels to it. Mark Rickert has done a phenomenal job at keeping me entertained as a reader and definitely left gripping my book until the end."
---
5 out of 5 stars. "I loved this book. I thought it was very imaginative with the right amount of creepiness. I thought the author did a great job painting a vivid picture of the events and I truly sympathized with the characters and their struggles. I even loved Maestro Bloom. He was a great example of a character that you 'love to hate.'"
~Jessica Williams (Librarian) for NetGalley
---
"This book was really well written. I do not know a whole lot about music, but I was able to keep up with everything that was going on. The story was compelling and flowed pretty well and at a nice pace. Great horror story that had a really great ending."
~Cherie Nichols for NetGalley