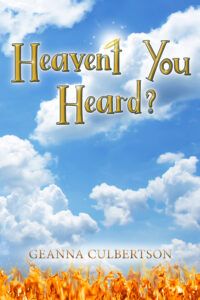 "This was a really fun and interesting read!
The characters are very diverse and hilarious as the story takes them on a fun journey very reminiscent of The Good Place. The author has created such a fun spin on Guardian Angels and a very creative and fascinating take on the afterlife. Geanna really knows how to create a wonderful, layered, vibrant world in any book she writes.
Mixed in with everything taking place there is such a heart-warming layer of hope and humanity which really feels needed today, and reading about it was like being given a warm hug and the promises of potential."
– Jacqui Eden for NetGalley

---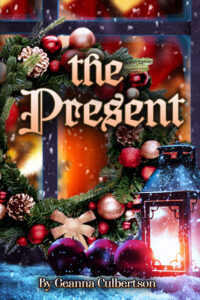 5 stars. "'Now go out there and scare the pants off some people then shove their hearts full of Christmas Spirit. Happy Holiday Haunting, everyone!…'
It's Frost Mason's 100th year at the CCD (Christmas Carol Department) and retirement is on the horizon. Every year in December, the ghosts of Christmas Past, Present and Future work in teams to save their assigned Scrooge (a crotchety, Bah Humbug, can't be bothered human) and attempt to show them the error of their ways and reinstill the Christmas Spirit.
'YASS – You Are So Scrooged'
This season, Frost and her team have their work cut out for them as their target Scrooge (Jay Nichols) isn't the normal grump. As Christmas draws nearer and Jay's future continually looks bleak, Frost has to take some drastic measures. Will jumping way off the board, ignoring the rules, and going rogue be enough to save Jay? Or will the consequences of a failed Scrooged start a spiral from which Frost, and her team, won't be able to return?
Where my Scrooge fans at!!?? Hi! Hello! Yes, you…I see you! Attention please! You listening? OK. If you've ever read or watched the many, many adaptations of A Christmas Carol and loved them … then The Present is for you.
This isn't just a regular retelling. This is D-Day (Dickens Day) where ghosts don't just take one night and try to change the outcome of their Scrooge's life. They research, infiltrate, plan, and work their magic. When not working…they party hard with hot chocolate, sweets, BYOB (bring your own bells) bashes and just have fun.
Of course, you will be hit with the emotional moments, maybe tear up a little (or just cry … crying is ok), and have your heart fill with the joy of Christmas. If you're looking for a holiday read to kick off your seasonal reading…this is it."
– Angel White, BookBub
---
"This is a modern telling of a Scrooge-like story that includes realistic aspects (more applicable than Dickens' setting). The story is well-told and includes some interesting characters. I stayed engaged and enjoyed this one a lot. Recommended."
– Paul V. for NetGalley
---
5 stars. "Oh my goodness, in the midst of so many Christmas romances, this was a bright spot in what can start to feel monotonous and predictable in Christmas reading. I was so excited about this book as soon as I read the premise, do not be scared by the page length, it's worth the time!
I loved all the nods to A Christmas Carol, all the Christmas-themed things, and just how it gives you all the Christmas feels!
If you're looking for something aside from the norm, definitely pick this up and have your heart warmed!"
– Megan Ireland for NetGalley
---
"Prepare to have your imagination charmed and your holiday enchanted by a book about change, hope, and goodwill toward humankind. This magical and fun Christmas story will warm your heart like the best hot cocoa.
A mystical agency exists that is responsible for creating 'Christmas Carol' scenarios with preselected targets every December. Ghostly employees of the agency work in either the Past, Present, or Future department and each year they are assigned humans on Earth in need of being 'Scrooged' so those people can reform and embrace the potential for goodness, love, and humanity they have in their hearts. Frost Mason has worked in the Present department for almost a century saving souls headed down the wrong path. The problem— over the years Frost's belief in the miracle of Christmas and what her agency does has started to fade because while many people commit to reforming after the 'life-changing' experience of being Scrooged, human beings rarely change permanently. Frost must find a way to reawaken hope for humanity and the Spirit of Christmas in her own spectral heart, while working with her team to save her 100th soul by midnight on Christmas Eve."
– Ann Klausing (Bookseller) for NetGalley
---
"This was a nice twist on the 'Christmas Carol'. The Present refers to the ghost of Christmas Present, Frost Mason, who returns to Earth to save her 100th soul, Jay Nichols. Well written, good character development. Thank you, Net Galley and BQB Publishing, for the opportunity to read this ARC in exchange for an honest review."
– Angie Garza for NetGalley
---
5 stars. "Wow. Wow wow wow. I mean COME ON NOW. Dickenss 'A Christmas Carol' is untouchable as far as Christmas reads go. Nothing can compare, or, I thought, even come close. But this booK, this wonderful book, it's close. Really close. It takes all the despair, hopelessness, and greed of Ebenezer and transforms it for the modern COVID world. Culbertson includes all the joyous, whimsical, frivolity that was everyone's childhood experience of Christmas, and mixes it with the downtrodden, rejected, and tired but redeemable humanity of It's a Wonderful Life, All somehow woven within the framework of Dickens' masterpiece. This book made me cry ugly, made me laugh (sometimes at the most unexpected moments), and full disclosure, pulled me out of being the Scrooge I was fully feeling this December. I got frustrated with the characters, only because I empathized with them, and like Frost wanted to do to Jay, give them a really good shake. The world of magic, ghosts, and politics never hit so hard, so meaningfully, or inspired so much Christmas Spirit, since the very first time I read 'A Christmas Carol' when I was 12. I recommend this book for everyone, no matter where you are, no matter what is happening in your life, and no matter how Scroogy you are feeling."
– Jen Babcock for NetGalley
---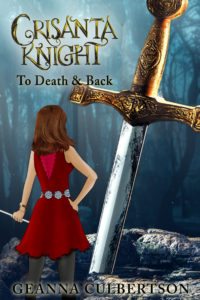 5 stars. "Love this series! Awesome characters and unexpected plot twists.
The book has adventure, action and mystery like all its previous books. It is amazing and very much intriguing. I love this book."
– Riddhi Padwal for NetGalley
---
5 stars. "This is the 5th book out of an expected 8th series story. The story is about Crisanta Knight the protagonist who comes from a world called "Book". This magical world has a mysterious prophet and each book starts with a prologue prophecy. This is an easy enjoyable book to read. It definitely encompasses adventure and mystery. What happens to Alex, Arian, and Mauvrey in the end? Does The Lady of the Lake send Daniel, Jason, and Crisanta back? What about the Four Waters of Paradise? You have to read the book to find out, but I highly recommend it. Some questions get answered while others leaving hanging, knowing they will probably be revealed in the next book. Can't wait for the next installment."
– Ily Renfroe for NetGalley
---
"This is the fifth book in the series and I seriously cannot wait for the next installment. It is an easy read and I'd definitely recommend it for younger readers as I really think it will appeal to them."
— Arin B. for NetGalley
---
"This was the first book in this series I have read. Crisanmta Knight is on a mission to save Book. The action and adventure kept me on the edge of my seat. I will be buying all the rest of the books in this series!"
— Torie Inman, NetGalley
---
"Continuing Crisanta Knight's quest to save Book and the other realms from the evil magic hunters and antagonists.
Crisa's magic is growing ever stronger and so is her desire to keep the balance and ensure the Pure Magic doesn't take her over and turn her evil. But with so much on the line she needs all her strength and power. Full of mysterious prophecies and dreams of the future, the book keeps you guessing as to what will actually happen.
So much has happened since we met Crisanta as a young school girl with just the usual expectations on her. Now she's fighting the world and growing stronger all the time.
– Sabrina Accalai, Bookseller
---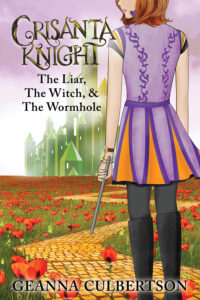 5 stars. "This book is the amazing one in the series. It was very emotional because the twists and turns were completely unexpected. The characters are relatable and awesome in their own ways. The adventures,fairy tales and the entire story is captivating. I cannot wait to read the next one in the series."
– Riddhi Padwal for NetGalley
---
"Wow. That was the only word I could think after I finished the last word of this book and put it down. This book completely blew my socks off (not literally, as I was lounging barefoot in a reclinable chair in Greece, thank you very much indeed).
This series has without a doubt become one of my favorite series of all time and has never ceased to disappoint me. Geanna has constructed a fantasy world so intricate, magical, and yet also so relatable that I can't imagine how anyone wouldn't get sucked into the fabulous adventures of Crisanta Knight & Co…"
---
"Crisanta Knight: Inherent Fate is a stunning piece of literature that enthralled, entertained, and enchanted me from the very first page! Everything about this book captivated me just as the previous two novels in the series did! That is why I am so excited to be sharing another book from this incredible series to you lovely readers as it should not be missed! Each book I have read in the Crisanta Knight series has been exciting as well as moving and all the characters the reader will meet will fascinate you and this is just a few of the reasons why this book should not be missed as well as the previous two!
Crisanta Knight: Inherent Fate is a piece of fiction that will captivate readers from all genres thanks to the many themes that are interwoven between the pages, and the book can only be described as a read that should not be missed! If you are looking to read a book that will grasp your attention from the first page and hold it throughout then already I would implore you lovely readers to read this book as well as the previous two in the series because it is utterly brilliant!
Crisanta Knight: Inherent Fate is book three in the Crisanta series and so I do not want to spoil the plot! However here is a snippet from my first review Crisanta Knight: Protagonist Bound, which sets up the story for you!
"Protagonist Bound is an incredibly unique novel that puts a twist on the fairytale/fantasy genre and whisks its readers away to a place like no other. The reader in Protagonist Bound will learn of Book, a place where princesses, protagonists, princes, and so on live. It is here that they are trained in the ways of fainting, singing, and all things fairytale! They are waiting for the author of Book to write their prologue so they finally know what their story is going to be.
In Protagonist Bound, the reader will follow Crisanta, Crisanta's mom is Cinderella and so she is determined to be a protagonist, however, Crisanta does not know if she is to be a great protagonist or even if she wants to be one! And thus the reader follows her on her journey in Book and this book lovers is the premise of the incredibly unique but brilliant Protagonist Bound!"
Crisanta Knight: Protagonist Bound was a thrilling book that hooked me on this series and Crisanta Knight: Inherent Fate is just as great as the first! That is because this book is incredibly dynamic as well as unique that took my breath away on more than one occasion. The pacing of this story too was wonderfully written and plotted so that I did not get bored at any given time! Never once did I find myself referring to the page number and that is a sure sign that this incredible book is a compelling piece of work that draws the reader in and captivates them to read it quickly and to reach the end of the book very fast!
The excellent author of this novel, Geanna Culbertson effortlessly takes the reader on a captivating journey; Culberton's words managed to keep me intrigued as well as entertained as I raced through this book. It is the kind of book that is impossible to put down, and when I had to I longed for it! I wanted to be reunited with the story I had grown to love and the characters I had become invested in.
Geanna Culbertson is a talented and well-accomplished author who has written an unforgettable novel and series that features heavily on its characters and themes. Culbertson's characters are superb, and I think every reader will be able to find an attribute they like in them! They are believable, and their narratives jump right off the page and into the reader's minds.
To conclude my thoughts on the captivating novel that is Crisanta Knight: Inherent Fate; I would say if you are a reader who is tired of reading the same old books that are lackluster and forgettable then take a chance with this one because I promise you now that you will not be disappointed! Crisanta Knight: Inherent Fate gets five stars from me book lovers so be sure to have a read of the preview below, you won't regret it!"
– Aimee Ann, Red Headed Book Lover

---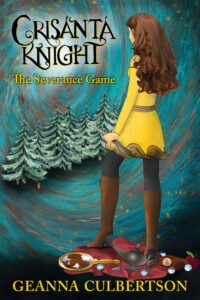 "I absolutely loved this newest installment of Crisa's adventure. The writing transports you to another world where magic and heroes are just another part of normal life. It's great to find out the backstory to how Crisa became friends with Jason, SJ and Blue. The only thing is that I found it difficult to believe Crisa would be quite so stubborn in believing that it's ok to accept help from her friends! There's plenty of action and soul searching and Crisa learns just how strong she really is. I'm already looking forward to the next in the series."
– Sabrina Accalai for NetGalley
---
"I love this story; it brings out the inner princess in me. The main character reminds me of Merida from Brave due to her personality (I also have my fingers crossed that at some point she makes a guest appearance). I enjoy that whilst the characters are true to their own stories whilst still being able to adventure and surprise you, including some dark humour – one of the three little pigs burning himself creating the smell of bacon.
The stand out part for me is that there's a bunch of teenagers, trying to save the world, and themselves but the story line doesn't allude to finding their One True Love, it's the characters and their desire to be in control of their own destiny which is a positive change from a lot of the current books in the genre right now."
– Mia Whittemore for NetGalley
---
I want to read book 1 in the Crisanta Knight series so I can pick up a little of the nuisances. The prologue of this book gives a very good summery of book 1, Protagonist bound. This is a great magical series for young teen and adult readers. The characters are all related to famous fairy tale characters, the hero, Crisanta is Cinderella's daughter. She is attending Lady Agnue's School for Princesses & Other Female Protagonists along with her friends. They need to meet the AUTHOR to change how their lives will turn out and need to find 3 magical items to enter the author's realm. Good adventure and quest tale. Book three is already published.
– Ann Klausing (Bookseller)
---
5 stars. "This book is completely mesmerizing.Crisa braved all those troubles in her way.The obscure characters from various other fairy tales were surprising.The book was filled with adventures and a lot of struggles.I absolutely loved it."
– Riddhi Padwal for NetGalley
---
"An excellent continuation to a very creative series the characters were believable and the story a very original twist on the standard fairytale. But as a warning this one really only continues the story so if you haven't read the first one you will be pretty lost."
– Kristin Carfi for NetGalley
---
"This book was precisely my cup of tea and exactly what I needed after a long days hard college work and a burning need to be motivated and cheered up.
I would like to start off by saying that I will never get tired of Crisanta's on-point, fierce, sarcastic and humorous narrative that really just livens all of these books up.
Not only that, but I really appreciated Geanna delving into some deeper topics with this sequel. Trust, self-discovery and friendship were definitely the defining factors of this novel, with a great emphasis on trust. It really showed the readers the dire consequences of withholding important information from the people who are closest to you, and how that can greatly (and negatively) impact friendships that were made to last forever. It was truly heartbreaking to see the ties between both Crisa and SJ and her and Blue get severed due to Crisanta's somewhat foolish decisions.
What also really fascinated me was the self-searching that Crisanta does in this novel. You can tell that she is clearly torn between two expectations that are pressing down on her which then in turn makes her go to extreme lengths in order to preserve her 'anti-Damsel-in-Distress' image.
Crisanta is far from being perfect and is an extremely flawed character, having at some times made me want to reach into the book to shake some sense into her. But that was precisely what made this book so refreshing and that much more interesting to read. It's because of those flaws that her amazing character development can shine through and teach all of us readers how we can apply these important life lessons to our own (very un-fairytale) lives. Crisanta is far from being the person that she is satisfied to be, but the she has definitely reached some important milestones!
Definitely recommended to everyone!"
– Leandra Zayer for NetGalley
---
5 stars. "This series really is amazing.
The adventure, danger, and mystery of the first book remains in its sequel. I still enjoy all of the characters, and Crisa is wonderfully realistic. She has flaws, she has her struggles, but you love her for it and it makes her believable and sympathetic.
The author teases you a lot. She will mention something, just enough to set you wondering about what it means, or why it happened, or what the solution to the mystery is. You can go for half the book without its being mentioned again and you forget about it, but then it is brought up once more, and all of your curiosity returns. The answer is right in front of you, if you just read a little bit further you'll find out – but then a new character walks in and ruins the conversion. Its so frustrating and it kills you, because you need to know the answer, but it keeps you reading, it keeps you fully engaged in this novel. Whenever I picked it up I didn't want to put it down until I finished it.
There was also something revealed in the last chapter that I didn't see coming. Apparently everything that I had guessed about Daniel was incorrect.
This series is incredibly well written, with an engaging, exciting plot, and plenty of little mysteries and plot twists to keep you reading and wondering.
I recommend this to all lovers of YA lit, fantasy, fairy tales, and magic.
– Hannah Miles for NetGalley
---
5 Stars. "Crisanta Knight is back! 🙂
Imagine a world of Book, where a mysterious author decides whether you'll be a protagonist, an antagonist, a hero, a princess. Crisanta Knight, the daughter of Cinderella and Prince Charming doesn't want to be just a damsel in distress and decides to re-write her story. In order to do that, she embarks on a dangerous journey with four of her friends.
The second book picks up right where the first one ended, and we still read about our characters trying to fight against their prophecy, but this time the author also touched upon the theme of trust – trusting oneself and trusting other people. Once again, Crisanta is a strong and ambitious character, who would do anything to change her destiny and have control over her life but also, her character became more complex as she fought with her inner instincts and uncertainty whether she can trust everyone around her. She's determined to prove everyone that despite what people think about her and the archetype she should conform to, she's capable of so much more and I admire her for it. I also really enjoyed seeing her character development, as Crisa had to understand what she really feels and allow other people in. It was good to see that other characters went through some growth as well.
As in the first book, the worldbuilding continues to be amazing. In this installment we see a lot more of the fairytale lands and I also felt like there was more action. We visited more magical realms, the magic train, our "human" world, where we met a lot of fantastic creatures and generally learned more about the worlds created by the author. I especially loved the little nod to the mystery of the Bermuda Triangle. I feel like the pace was much faster, our characters had more fun adventures and the story was really enjoyable and easy to follow. I began to get used to Crisa's long inner monologues and accepted it as her character trait, and the flashbacks/visions introduced to the story made everything even more interesting. I liked it that some of the storylines from previous book were tied up, and we got new questions that are waiting for answers.
Overall, I think that Crisanta Knight series is a really original and fun series for all those who love fairytales and would want an interesting, fresh retelling. The Severance Game was a truly good, engaging continuation of the story and I can't wait to see what happens next! 🙂 "
– Izabella Flasińska for NetGalley
---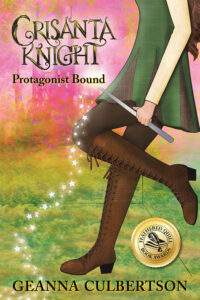 5 stars. "One word, delightful. Crisanta Knight: Protagonist Bound is sort of a fairytale descendant version of Harry Potter, but unlike Harry, Crisanta isn't a chosen one or unfamiliar with her lot in life. She knows exactly what's expected of her, but she doesn't plan to succumb to that fate easily. Her friends Blue and SJ are in the same situation, mostly, but Crisanta is the leader among them.
So what did I like? First off the tone and conversational first person perspective, youthful, but not corny. Crisanta was a fun narrator, not too angsty, not too irreverent, but just right. I felt the connection, cared what happened to her and her friends, and cared about what might happen in the next book.
I also thought the story was intriguing. The suspense builds up a little at first, and then bam, excitement and adventure as Crisanta actually does something to change her fate, all in the novel, fairytale realm of Book, where fairy godmothers, prince charmings, and happily ever after aren't all they're cracked up to be.
What I didn't like so much was just how literal the literary terms are taken in the story. I guess it was just kind of an ejection from fantasy to have the world called Book and the fates of the inhabitants determined by Author. Still, the story manages it well, I just wasn't quite sold on it.
Anyhow, I loved this book, mainly because it was so much fun, but also because it was well written, richly developed, and exciting. Fans of reading and fantasy, particularly those with a fondness in their hearts for fairy tale princesses, will likely enjoy this book. The youthful tone will likely appeal to both young adults and the young at heart."
– Patricia Hamill for NetGalley
---
5 stars. "A great beginning for a new series Crisanta Knight: Protagonist Bound is an outstanding book the writing, pace and premise are very well done the story keeps you turning the page in anticipation of what will happen next. While the book is a little long, not a page of it is wasted so you don't mind the length and it can be enjoyed by all ages.
I can't wait for the next one in the series."
– Kristin Carfi for Books In Brogan
---
"There's some kind of addictive/hypnotic quality to the writing that caused me to want to keep reading, to continue following along as the story unfolded."
– Lexxi Kitty for Lexxi is Reading
---
"This is a great story. Crisanta, SJ and Blue have an amazing friendship. You can see that their children and their children's children will be brought up knowing the stories behind their friendship, knowing each other as family, even though they're not blood. And there's plenty of teenage angst and intrigue to keep you turning the page. Your always rooting for them to change their destinies, to colour outside the lines and make their stories their own. I will without a doubt be recommending this book to all my family and friends. And I will definitely be following Crisanta's fate to its very end..!!"
– Belinda Knight for Goodreads
---
"I loved the different worlds. A great paced story. I enjoyed it from the first page to the last. I don't believe in spoiling the story because everyone should read this series. I can't wait to see what's next in the series."
– Renee Gaskill for Goodreads
"This was a great young adult fantasy fairy tale read. The plot somewhat reminded me of the television show Once Upon a Time when they were trying to find the author to change their stories but this went a few steps further giving a lot more life to the whole idea. Their land is known as "Book" where everyone is waiting for their book to be written whether they will be a protagonist, antagonist or just a minor character.
The characters in this story are all the next generation of offspring from the tales we all know and love. Crisa is Cinderella's daughter so of course her mother is correcting her behavior and she's expected to become a Princess in her own tale. Crisa however is stubborn and far from princess material. This generation does not want to sit around and let someone else tell them how to live their lives and take matters into their own hands to try to change things.
A great read that quite often had me laughing and enjoying what was going on. There's plenty of action and great characters. Definitely one I'd recommend checking out if you enjoy fairy tales to meet this next generation and root them on in their journey!"
– Carrie Glover for Carries Book Reviews

---
5 stars. "I really enjoyed reading this book. The author does a great job of creating relatable and fun characters that have interesting personalities. From page one I was hooked and did not stop reading until I was finished. The author does a great job of keeping the reader interested throughout the entire story. I loved that by the end of the book there were still some subplots that were not addressed, and will no doubt be brought up in future books. By doing that it leaves the reader curious and wanting more. My only complaint is that there is some repetitive words and phrases that the author uses too much that becomes a little annoying. Otherwise I thought the book was fantastic and I cannot wait to read the next installment."
– Sabrina Luck, Librarian
---
5 stars. "This book is different and awesome.The story is amazing.The way Crisanta wants to change her life is remarkable. I look forward to reading the next book."
– Riddhi Padwal for NetGalley
---
"A cute YA fantasy book that actually has a female protagonist that young readers can look up to. A relatively easy read, even for the target grades, but would probably be a good find for reluctant readers."
– Jenna Greig (bookseller) for NetGalley
---
"Let me begin by saying, there is nothing that quite compares to a good fairytale, nothing except adaptations of fairytales with a modern spin on them. I get so excited when I see new fairytale adventure books, in particular youth or young adult fiction, that allow for the reader to experience the magic and timelessness of fairytales and magic while also getting to veer off the stereotypical norm of some of these stories. Crisanta Knight: Protagonist Bound by Geanna Culbertson certainly did not disappoint. The story follows the life of, as the title suggests, Crisanta Knight, who is Cinderella's daughter and unfortunately predestined to be both a protagonist and princess based only on who her parents are. Now, you would think a young girl would be absolutely thrilled to have this future painted for her…but that's just it, Crisanta doesn't want a future mapped out for her, she wants to create her own future. Without giving anything away I will say that she certainly treads off the beaten path. The author does a good job at weaving together the story with grace, curiosity and plenty of humor. This story is full of magic, adventure, friendship and, the determination of one girl to find who she is and what she is made of. I will be anxiously awaiting the next book in this series and recommend it for all ages! I received this book from NetGalley for this honest review."
– Carly Hennegan for Unabridged Bookworm
---
5 stars. "This book was really good and I would definitely recommend it to anyone who loves a good fairytale. It has an awesome princess/badass heroine protagonist, a fairytale mixup and a great moral backstory. What more do you want? Crisanta Knight is Cinderella's daughter, destined to become a new princess, who should be completely complacent, submissive and above all, extremely princess-like. This is what she gets taught at her fairytale-finishing school Lady Agnue, and she absolutely despises it, because she believes she is more than just a proper royal. This story definitely had a lot of character, and teaches a wonderful lesson to us women: we can be princesses and kick ass, and still look absolutely gorgeous (especially seeing as there is a charm for that! – but I won't reveal too much, shhh…) With her combat boots and her magical wand, Cristanta ventures out to change her destiny which the mystical Author has picked out for her and shows that women should take charge of their own lives with a passion, feistiness and a burning fire that is untamable. Not only that, she also manages to show a more vulnerable and open side – especially in regards towards a certain boy who sees right through her. I also loved the fact that the author wrote this book in a way that made it feel like Crisanta was speaking directly to the reader through her thoughts – it made her sassy comments just that much funnier. The only two, tiny issue I had with this book was that firstly I would have liked to see a bit more of Lady Agnue's fairytale stereotypical day (maybe getting to meet more the protagonist and see more of their classroom interactions) and I also thought that – although I loved the ending – it felt like it didn't resolve any of the plot points that I had wanted to know about. Nevertheless, I think that the fact that this is only the first book in a series sounds extremely promising, and I am excited to get my hands on the second one (which is also why plot points getting resolved is only a small issue)."
– Leandra Zayer for The Unicorn Reader
---
"Crisanta Knight: Protagonist Bound by Geanna Culbertson is an interesting take on fairytale lore and a fun adventure story that will appeal to all fairytale or fantasy lovers. As a daughter of the famous Cinderella and Prince Charming, Crisanta Knight is predestined to become a protagonist in her own story, a beautiful princess waiting for her handsome prince to come and save her. But she isn't like other people her age, who attend Lady Agnue's School for Princesses & Other Female Protagonists and prepare to follow their prophecy. Instead of letting the Author decide her fate, Crisanta decides to take her life in her own hands and write her own story. The premise of this book caught my attention immediately. The idea of a world where fairytale characters are actual living people and The Author decides their fate by writing their story and assigning each of them a role sounded amazing, and world building was my favourite thing about this book. It felt like a look "behind the scenes" of fairytale stories. The whole world of Book is extremely detailed, well thought-out and very creative. It's one of those books that would translate to the big screen beautifully. The story was a bit slow at the beginning but it picked up in the second part and kept me engaged. Aside from the main plot, there was some mystery going on and I'm curious how it's going to work out in the next books. I adored Crisanta as a character and her friendship with SJ and Blue. Crisa was strong-minded, courageous and ambitious, with a fun sense of humour and unafraid to go against the grain. I also love the main theme of the book – that everyone should be allowed to decide of their own fate. One thing I wasn't a particular fan of was how the beginning of the book felt like this cliche teenage drama. It felt just too stereotypical and I was happy once the main plot picked up. Another thing that I have to point out is the writing style, which was a bit inconsistent, in my opinion. The overall tone of the book and the way the characters speak most of the time is rather serious, the way it was in the past, but from time to time Crisanta would switch to a very modern way of speaking and it threw me off. There was also a lot of inner monologue, since the book is written in first person pov, but very often they felt too long and distracted me from what was really going on at that time. Overall, Crisanta Knight is a great debut and a start of a very promising series! It's a story full of fantastic, magical adventures and friendship, with inspiring characters and a fresh and interesting take on the fairytale universe. If, like me, you love fairytale retellings, you should give a it a try and I'm looking forward to the second book! To end my review with on of my favourite quotes 🙂 : 'You think I'm irritating. Well, isn't that the pretzel calling the cracker crunchy.'"
– Izabella Flasińska for NetGalley
---
5 stars. "I liked the idea of a land called Book where all the fairytale characters live and that their offsprings have to be special "trained" to one day become the maincharacter of their own book. Crisanta Knight is the daughter of Cinderella and goes to school with her friends Snow White Jr and Blue, the sister of Red Riding Hood. All three are determined that their future not depends from a story written by an author and they do all they can to change their stories. Cinderella, Crisantas mother, tries hard to correct her daughters behavier and to calm her down, make her more like a princess. I had to laugh a few times and enjoyed joining Crisa and her friends on their journey. I recommend this book to all fairytale lovers and everyone who enjoys reading a fun and adventurous book. A five stars read!"
– Alex K for NetGalley
---
5 stars. "Book is a land of fairytales; princesses, heroes and heroines… plus the other people that stay on the sidelines and make up the world that the protagonists live in. All sounds perfectly magical until you're hit by your prologue prophecy and you find out what the authors have in store for you. WARNING – this is book 1 of a series, which I didn't realise until about 5 pages to the end so I've been left hanging until the next is released!"
– Sabrina Accalai (bookseller) for NetGalley
---
"Crisanta Knight is a funny and magical book about the children of our favorite fairy tales."
– Marie Labradore for Beyond Opinions
---
"There seem to be a lot of books that have come out recently that have that 'I am princess, hear me roar' thing going on, and it is getting a little played out, but… Crisanta Knight is not your average feminist fairytale remake. There is a lot of originality with the characters, setting, and the storyline in general. We're talking daughters of famous princesses, and other protagonist relations! So cool! Culbertson's writing is fresh and fun, and she has a way of adding enough sass to her girls without making them annoying, enough humor without it being silly, and enough description without it becoming a bore. Crisanta Knight is a fairly long book worth the time."
– Steph Laymon for NetGalley
---
4.5 stars. "This book was well written, and I enjoyed the first person POV. I saw that a lot of people thought that the main character was in her head a lot, but as this was written from a first person perspective, it was a good way to develop the character.
There were multiple subplots that kept you reading, wondering what was going to happen in regard to them. And while you find out a few details about each, the mysteries still remain at the end of the book, ready to be continued in the rest of the series.
That is something else that I wanted to mention. I really wish that all 8 books in this series were already published; I am eager to read more. I must know what happens with the main character's prologue.
That is how things work in this fairy-tale realm. Some of the people who are born in this place are 'protagonists', people who will have their stories and destinies decided and written by the 'Author'.
Crisanta, a girl who wants to write her own story, be a hero, gets the least exciting, most princess-y prologue of all. A prologue is an overcap of your destiny.
I'm curious as to what the author (of this novel, not the one in the book) is going to do with the prologues received by two of the main characters. Are they going to be able to change them? Or are they simply going to follow their prologues prophecies despite their best efforts to avoid doing so?
Lastly, I want to talk about the characters.
I enjoyed all of them. Some of the characters are the children of fairy tale characters such as Cinderella, Sleeping Beauty (It kills me to call her that; I prefer Briar Rose), Snow White, etc. Unlike in many books, these characters don't necessarily take after their parents, and are not named for something in their parent's tale.
I loved all of the main characters. Crisanta (Crisa) and her two best friends (Blue and SJ) are all very different personalities. Blue is the sister of Red Riding Hood, and resents what happened to her sister in regards to being eaten by a wolf. To assure that no such thing happens to her, she has essentially become the master of every weapon and every fighting style imagineable. Blue is spunky, knows what she wants, and isn't afraid to break rules. SJ, however, is a model student and princess. Even so, she will use her potion making talent to help Blue and Crisa in any of their risky missions.
These three are very different, but somehow fit together perfectly, united in their goal to change their destinies.
The supporting and secondary characters I found to be just as enjoyable as these three. I enjoyed the mutually irritated relationship of Crisa and Daniel, as it led to some amusing conversations between the two.
I found myself trying to keep from laughing out loud multiple times while reading.
This was good fairy tale fun, with enough subplots, action, and suspense to give it some substance. I recommend this if you're looking for an engaging fairy tale."
– Hannah Miles for NetGalley
---
"I enjoy reading books about fairy tale characters we all grew up loving, and this was a nice twist to those stories. Reading about the children was a pleasant change.
Crisanta Knight is not your average feminist fairytale remake. There is a lot of originality with the characters, setting, and the storyline in general. We're talking daughters of famous princesses, and other protagonist relations.
Culbertson's writing is fresh and fun, and she has a way of adding enough sass to her girls without making them annoying, enough humor without it being silly, and enough description without it becoming a bore."
– Ann Wilson for NetGalley
---
"Crisanta Knight is not your average feminist fairytale remake. There is a lot of originality with the characters, setting, and the storyline in general. We're talking daughters of famous princesses, and other protagonist relations! So cool!
Culbertson's writing is fresh and fun, and she has a way of adding enough sass to her girls. I really enjoyed this one and definitely can't wait for more in this wonderful and adventurous series."
– Cassie James for NetGalley
---
"A new take on a new trend (a la Disney's 'Descendants,'), Crisanta Knight is a likable, headstrong, independent teen. She has strong, positive relationships, as well as a few antagonistic ones. Though I'm not a magic fan, it's a cute tale sure to draw in fans of the genre, filled with humor, action and typical teen woes (self-esteem, angst re: the future, etc.). My only criticism is the overuse of the word "anyways." I get trying to sound like a teen with its use, but adults use it too, and given the "rule" at school to use formal language, it's highly unlikely an adult would use the phrase. My 14yo daughter also read and enjoyed the book. Overall, not a bad attempt for the debut book in a new series."
– Marie Stroughter for NetGalley
---
"Crisanta Knight is not your typical princess. In Geanna Culbertson's novel Crisanta Knight Protagonist Bound, Crisanta is in fact the daughter of Cinderella and Prince Charming, not that anyone could tell. Unlike her best friend SJ "Snow Jr" Kaplan, as in Snow White's daughter. SJ was everything a fairytale princess was expected to be, fair and graceful with a lovely singing voice that charmed all the animals. Crisanta, or as she prefers Crisa, is more inclined to weapons training than singing and absolutely refuses to believe that her life is to be dictated by a book and she has no say in the matter. Because of course that is how all the fairytales are created, the mysterious Author is the one who is in charge of creating the stories and once they start writing your life is no longer your own.
Follow Crisa on a quest to take back her life and find out what it means to truly be yourself. It won't be easy though when there are Fairy Godmothers trying to stop you and the occasional stalker prince, but a true princess doesn't quit.
– Heather Adams for NetGalley
---
This was a super fun read that has me gripped until the every end. It was a tab short for my liking but this would be a perfect quick story for mom and child.
This book just makes you feel happy, it was a good mix of good feels and action. I was impressed with how this book balanced the two out, but still be quirky at the same time.
I highly recommend this book, it's a fun fast read that will have you wanting more.
– E.A. Walsh for NetGalley
---
5 stars. "This was a really fun book and a nice addition to all the twisted fairy tales out there. Crisanta is an engaging, strong character and the daughter of Cinderella. Only she finds she's not like the typical princess with her nightmares, but she's good at handling the unexpected."
– Kimberly B. (Bookseller) for NetGalley
---
5 stars. "This book was everything I expected it to be. Its enchanting, its hilarious and I love that it plays off of other beloved fairy tales. Once you start reading you'll find it difficult to put down, heck you wont Want to put it down. Highly recommend this book."
– Erika Quinonez for NetGalley
Want more?
Why not read reviews of other BQB Publishing authors?