New Release — Military Thriller
Fans of "A Few Good Men" and "Saving Private Ryan" will be drawn to this powerful story of courage, integrity, and valor in uniform.
Alex Kramer, a prior-enlisted marine and a midshipman at the U.S. Naval Academy, saved three gravely-wounded brothers during combat and was decorated for extraordinary valor. Now conflict confronts him after he takes unauthorized leave to prevent a suicide by a Marine whose life he had rescued under fire. Navy Lieutenant Tara Marcellus, an Academy graduate and submarine junior officer, has returned to Annapolis as a company officer. She meets the fearless midshipman who petitions Tara's sense of moral courage when senior officers recommend punishing Alex with the harshest sanction: separation.
Alex's case triggers heated arguments at the Naval Academy's highest levels. He fiercely defends the code of honor he swore, and bled, to uphold; never leave a sailor or Marine behind. Tara deals with a major test of character: either take Alex's side with risks to her role, or do nothing and regret her silence. Together, the two young service members will stand up for a greater duty—for integrity—because it is honorable, despite any consequences that lie ahead for them.
ISBN 978-1-952782-59-6 (Paperback)
ISBN 978-1-952782-60-2 (eBook)
Military Thriller
6 x 9, 280 pages
Publication date: June 7, 2022
This book is available in paperback and eBook format:
~~~~~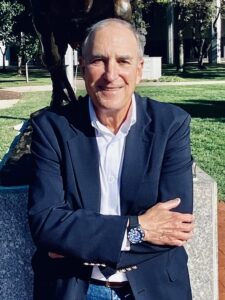 Robert Stewart is the author of four nonfiction books. Two of them – The Brigade in Review, A Year at the U.S. Naval Academy (1993) and The Corps of Cadets, A Year at West Point (1996), presented in words and photographic illustrations the unique four-year experiences for midshipmen at the Naval Academy, and cadets at the U.S. Military Academy at West Point. Rowing, The Experience (1988), a work on the sport of competitive rowing, earned reviewer's praise from Sports Illustrated: "The book provides an intimate view … of a sport that is so fraught with tradition, symmetry, grace, brawn and amber hues, it seems to have been created specifically to be photographed." In 2020 he co-wrote An Athletic Director's Story and the Future of College Sports in America, the memoir-autobiography of a distinguished former NCAA Division I athletic director at Rutgers, The State University of New Jersey.
No Greater Duty is his debut novel.
Please follow and like us: