Jana Zinser hopes the people who read her book will see how injustice affects us all.
About the Author
As Jana tells it, the remarkable story of the Kindertransport children in Nazi Germany touched her heart and would not let go: "Since the moment I heard their incredible, historic tale, they have not left my mind. The Kindertransport children came to live in my conscience and would not leave until I told their story." Jana hopes readers will find the courage to stand up to the injustices that affect us all.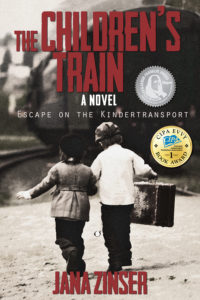 Jana Zinser is a graduate of the University of New Hampshire School of Law and received her masters in Journalism from the University of Iowa. Her past work in politics, public policy, and the media, coupled with her determined focus on children and social justice, have uniquely placed her to tell this story. It's a story as timeless and essential as ever, a story that will capture the hearts of the world.
Jana lives in Colorado with her children.
Connect with the Author
You can visit Jana's website at TheChildrensTrain.com. You can also follow her on Facebook and Twitter.
About the Book
Check out the reviews for this book.
The Children's Train is available for order in the BQB online store. All versions (print and eBook) are available  through the following retailers, as well as all other major book and eBook retailers: