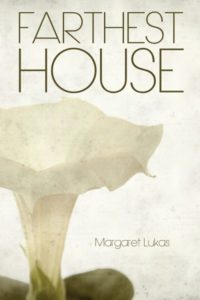 "Margaret Lukas has written a page-turner of a novel. Farthest House, boldly narrated by an unsettled spirit, is part-ghost story and a full-out love story of a family coming to terms with its mysterious past, much of it lived in an ancestral home set within a gorgeously rendered Nebraska landscape. Above all, Farthest House is the story of Willow, a bewildered little girl who grows into a passionate painter. I can't remember the last time I rooted so enthusiastically for a heroine."
~Anna Monardo, author of Falling in Love with Natassia, and The Courtyard of Dreams
---
"Haunting and eerily beautiful, Margaret Lukas' Farthest House is like the family treasure chest one finds in the attic. It may seem inviting at first, but open at your own risk. An ode to both what we should and should never know about the generations that precede us, Farthest House is an unsettling, unforgettable book."
~Holiday Reinhorn, author of Big Cats: Stories
---
"I almost don't know what to say about this book. I LOVE when I read a book and I feel like I don't have adequate words to wrap around everything that I want to say about it.
This book is spellbinding, and I don't use that word lightly. It's a thick spiderweb of story bouncing between past and present, told from the Point of View of Amelie-Anaïs, Willow's great aunt, buried on the land that surrounds the family owned home they call Farthest House. This story is one of a little girl, once bruised, deformed and ashamed and how she became the strongest person in the entire family.
It's hard to surprise me, but I admit to being shocked by a twist in the last fourth of the book. Not even sure that I was really surprised, but more that I knew the answer but didn't know why. One character turned out to be the opposite of who she was presented to be all along and that threw me for a loop. I greatly enjoyed the twist and the heart pounding encounters between Willow and those who would come against her.
I started this book one day and almost put it down. I'm so glad I didn't. Around 25% in, life started getting INTERESTING for Willow. If you like a mystery that winds through generations, Farthest House is a great read…"
~Dominique White, NetGalley reviewer.
---
"There are times in life when you read an unforgettable book – in fact to such an extent that the narrative sits like a movie script in your mind. Beautifully realistic and touching. The story is narrated by Amerlie-Anais, Willow's long dead great aunt who is 'keeper of the family secrets.' The opening lines, when she mutters the word 'murder' chill the reader to the bone and questions keep on tumbling out. Only her aunt knows the secrets of the past and the cycle which Willow will inherit. There is so much packed into this book that you never fail to be surprised from the beginning to the end. It is like sorting out a giant puzzle with so much suspense and fear packed within the pages. This is a novel brimming over with dysfunction, with a touch of something sinister, dark and hidden. Farthest House is an epic, spanning four generations of women. Secrets are revealed layer by layer and by the end of the novel, the reader has a deep understanding of the women who lived in Farthest House.
This novel deserves 5 stars.
Excellent for a Book Club Read + discussion."
~Felicity Gibson, Educator and NetGalley reviewer.
---
5 out of 5 stars. "I can NOT believe this is a debut novel. It is such an interesting and intriguing read! The author has a way of connecting with her audience. The characters are written in a way that you feel they are all friends of yours. Even though this is a lengthy book – it is one that once it is over, you want to know more. Can't wait to read more from this author in the future."
~Melissa Pollard for NetGalley.
---
"Epic! I read this book over the weekend and told everyone who would listen to read this book! Thank you for the opportunity to read this book."
~Missie Sexton for NetGalley.
---
"What a marvelous story narrated by a ghost. Willow is born minutes before her mother dies and no one, other than Amelie-Anaïs, our narrator , knows it was murder. This book grabbed me and I think it was a remarkable story following Willow and 4 generations of her family. Well written and longer than some novels, this is one to keep on your shelf to re-read several times."
~Ann Klausing (Bookseller) for NetGalley.