New Release — Historical Fiction / Native American
A gripping account of survival in America's earliest settlement, Jamestown, Virginia.
Virginia, 1622. Powhatan warriors prepare war plant from the sacred juice of the bloodroot plant, but Nehiegh, The English son-in-law of Chief Ochawintan has sworn never to kill again. He must leave before the massacre.
England 1609. Matthew did not trust his friend, Richard's stories of Paradise in the Jamestown settlement, but nothing could have equipped him for the violence and privation that awaited him in this savage land.
Once ashore in the fledging settlement, Matthew experiences the unimaginable beauty of this pristine land and learns the meaning of hope, but it all turns into a nightmare as gold mania infests the community and Indians become an increasing threat. The nightmare only gets worse as the harsh winter brings on "the starting time" and all the grizzly horrors of a desperate and dying community that come with it.
Driven to the depths of despair by the guilt of his sins against Richard and his lust for that man's wife, Matthew seeks death.
In that moment of crisis, when he chooses death over a life of depravity, he unexpectedly finds new life among his sworn enemy, the Powhatan Indians.
ISBN 978-1952782046 (Paperback)
Historical Fiction, Native American
6 x 9, 376 pages
Publication date: August 1, 2021
This book is available in paperback and eBook format:
~~~~~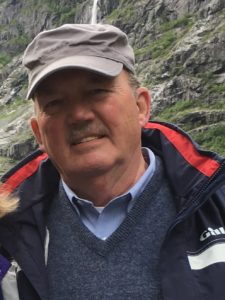 Daniel Meier graduated from UNCW (University of North Carolina, Wilmington) with a major in History. He served in the United States Navy and later studied American Literature at The University of Maryland Graduate School and began writing.
Meanwhile, he taught English and History at a private high school for a couple of years, worked as a flight instructor and a pilot examiner for the FAA (Federal Aviation Administration).
In 1980, Leisure Books published a mystery/ thriller that he wrote under the 'nom de plume' Vince Daniels. In addition, he published a short story in a college literary magazine and worked, briefly, for the Washington Business Journal as a journalist. He was also a contributing editor to several aviation magazines and worked as a technical writer/editor for a U.S. government contractor.
For the past two decades he has served the FAA as an Aviation Safety Inspector for flight operations working mostly out of the Washington D.C. headquarters. He is now retired and therefore has had an opportunity to return to his writing.
He and his wife live in Owings Maryland, about 20 miles south of Annapolis, and spend summers sailing their Bayfield 36 on the Chesapeake Bay.
Please follow and like us: