"I'd never met Sean Coleman until John Daly's gripping new thriller. Now I know him, and I know this: I want him on my side."
— Tom Nichols, author of Our Own Worst Enemy
---
"Sean Coleman is back with another action packed adventure. You'll wish you could read faster just to keep up with and stay in the action."
— Lance Storm, former WWE Superstar
---
"Restitution offers hard-hitting action spearheaded by a badass protagonist who talks the talk and walks the walk in a brutal story of surviving an unforgiving territory… Written in the vein of old-school stories of revenge, familial bonds, and relentless action, Restitution is a definite must-read."
— Kashif Hussain, Best Thriller Books
---
"For a self-described 'rent-a-cop security guard,' Sean Coleman is a particularly human and relatable hero – plenty of flaws and rough around the edges, but heroic for the way he carries on, despite all the baggage of his mistakes and hard lessons learned. I think what impresses me the most about John Daly as a writer is his range. Restitution brings Sean Coleman fans the series' traditional strong sense of setting and mood, and clipped, realistic dialogue, and adds a refreshing, subtle sense of heart and hope amidst all the Vegas grit and Western landscapes of the Nevada desert."
— Jim Geraghty, senior political correspondent of National Review and author of the Dangerous Clique thriller series
---
"Restitution by John A. Daly opens with a scene so intense and heart-wrenching that I could not stop reading… Everything I read made me love this story even more."
— Rabia Tanveer, Readers' Favorite
---
"I started reading Restitution on my flight from Phoenix to O'Hare. I read without stopping for three hours and I wouldn't have minded if the plane circled the airport a few times… Riveting, with a great cast of flawed good guys and nasty, but believable bad guys, this was nonstop action from beginning to end. Highly recommended."
— Len Joy, author of Everyone Dies Famous and Dry Heat
---
"John A. Daly crafts a suspenseful thriller… Replete against the developing plot is a moral and ethical interplay of emotions that juxtaposes fast-paced action with serious character development and changing perspectives. Restitution may be the fifth book in the series, but its solid attention to detail and action makes it a powerful read on levels that move beyond suspense alone, providing an especially satisfying story for those who like their thrillers multifaceted, operating in arenas of personal assessment as well as physical struggles for survival."
— D. Donovan, Senior Reviewer, Midwest Book Review
---
"Great book, by an author I will read more of! Thrilling plot, great writing and brilliant characters. Highly recommend to others."
— Erinne Carey, NetGalley
---
"This, the fifth book in the series makes me want to go back and learn more about what makes Sean. Coleman "tick". A very intriguing character finds himself in Vegas for a buddy's bachelor celebration when he re-connects with an old flame. Then things head south as he has to survive a confrontation with some really bad guys."
— Doug Yonce (Educator), NetGalley
---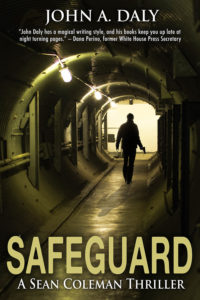 "Safeguard is a fast, fun page-turner whose twists and turns kept me reading well into the night. John Daly delivers his mix of wry humor with pulse pounding action that keeps you guessing til the very end. An entertaining, engaging read."
— Megyn Kelly, journalist and #1 New York Times bestselling author
---
"Daly truly has the thriller's gift. Safeguard is a staggering tale. I couldn't put it down."
— A.B. Stoddard, national political columnist & commentator
---
"Safeguard isn't what we've come to expect from the Sean Coleman series, but that turns out to be a wonderful treat. Bold, imaginative and relentlessly taut."
— Christian Toto, entertainment journalist; HollywoodInToto.com
---
"A solid page-turner an experienced author. I haven't read any of others in the series so I guess I have to circle back. He writes a compelling plot with interesting characters and good dialog. Recommended for mystery fans."
— Paul V, for NetGalley
---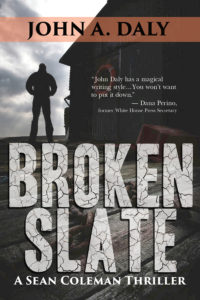 "John Daly has a magical writing style, and his books keep you up late at night turning pages. Sean, the protagonist, helps you see the world through his eyes in a total escape from daily life. You won't want to put it down."
— Dana Perino, former White House Press Secretary
---
"Crackling with gunfire and suspense, the opening pages of BROKEN SLATE make clear that John A. Daly writes with assurance and style — and without fear or political correctness. This third installment in the Sean Coleman series brings us an engrossing thriller, centered around a deeply flawed but compelling character: an antihero for the post-9/11 age."
— James Rosen, Fox News chief Washington correspondent and author of THE STRONG MAN and CHENEY ONE ON ONE
---
"What a great f***ing book. Seriously."
— Terry Schappert, U.S. Army Special Forces; host of Warriors, Shark Attack Survival Guide, Dude You're Screwed!, and Hollywood Weapons: Fact or Fiction.

---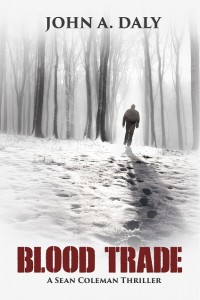 "Welcome back, Sean Coleman, you old so-and-so … Sean is slowly getting back to reality. He isn't drinking anymore and he is trying to really make a go of a security business. Then he falls into investigating the disappearance (murder?) of a man with the only clue being blood on the driveway. This was supposed to give Sean new direction in his life, but is actually threatening his life. Sounds intriguing? It is, believe me! I found Blood Trade very engrossing and gripping. Fantastic."
– Tanya Brough for NetGalley
---
"Set in Colorado this is a tense story of redemption and will keep your blood pumping till you finish. Our protagonist is flawed and very driven. This is my first john Daly novel and I plan on reading his first book. The descriptive locale and taunt plot will keep you very engaged. Good book."
– Patty Hribko for NetGalley
---
"This book has so many twists, turns, mis-directions and layers of plot that I even forgot to eat where I was so involved. The characters are larger than life and when you think you know them there is another surprise just around the corner."
– Best Selling Crime Thrillers
---
5 stars. "Blood Trade is an awesome read that keeps you on your toes. You never know what is going to happen next and each new piece of the puzzle that is revealed is something you'd never expect. This is not one of those "guess who did it" thrillers. You honestly can't do that. You'll have the ah-ha moments when your realize who did something, but you'd never guess it was that person before-hand.
John A. Daly is masterful at writing a good thriller and I can't wait to read more thriller novels from him."
– The Goth Girl Reads
---
"Convincing characters and a page-turning storyline…with just enough of the 'everyday' to make a link to the reader while offering a touch of horror."
– Sue Andrew for NetGalley
---
"This is the first book I've read from John Daly, it is not the first in the series but I was not confused. This book could be read as a stand alone. The main character Sean Coleman is not your typical Hot guy that can't do anything wrong. He has an alcoholic past, and the town where he lives doesn't take him serious, and is just a joke to them. Thus making a Believable character with flaws, that is more real."
– Vanessa Visagie, Vanessa Reviews
---
"The second in a series that will certainly continue, this book is a darned good read. The status of hero is shared by a super cop now living in a small community and his hapless (formerly) alcoholic brother-in-law. The main characters are well developed and the storyline good. This reader was torn between who to cheer for (the 'goodies' or the 'baddies') on several occasions and in many respects, the plot is quite unique.
An enjoyable read with characters that wouldn't fit in with either the 'gung ho' or the 'splendidly rich and beautiful' crowd that usually populate American action stories and all the better for it!
This is a stand alone book despite being the second in the series. My enjoyment wasn't marred by not having read the first and I will certainly go back and read the predecessor."
– Mary Edgley, Goodreads
---
5 stars. "Absolutely fantastic. Loved it. Great plot, great characters."
– Sue Wallace for NetGalley
"A fast reading suspense book that surprised me so much, I had to finish it in one sitting."
– Alice de Sturler of the American Investigative Society Of Cold Cases.
---
"A page turner, an exciting, well-written thriller with a solid back story and more than enough plot twists to keep you guessing."
– Marilyn Armstrong, Serendipity book blog.
---
"An epic thriller with a memorable, unorthodox main character… a riveting read…"
– Colorado Country Life Magazine.
---
"I totally enjoyed reading John A. Daly's 'From a Dead Sleep.' The author used creative writing techniques that make this a mystery/suspense that is very different from other books in this genre… The author also does a wonderful job of creating characters and scenes that are quirky, yet believable… I highly recommend this entertaining story."
– Paige Lovitt, Reader Views.
---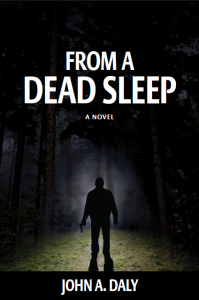 "Wow this book [From a Dead Sleep] will keep you on the edge of your seat… The story takes twists and turns that you just simply won't see coming. This is a very exciting mystery and you won't want to put it down… John Daly's writing style is a refreshing one. And I must say that when I finished reading this book I wanted to read more by this author. I highly recommend this book to anyone who enjoys a well written mystery, full of suspense and drama."
– Chris Condy, Recent Reads book blog.
---
"A thriller that packs a punch! This was a very exciting debut novel from John A Daly. This novel packs a lot of jaw dropping action into its well structured narrative – a narrative that gives life to the myriad of characters that inhabit its pages and provides plenty of plot twists and turns to keep you glued to the pages.
– Reading, Writing, and Riesling book blog.
---
"John pens 'From A Dead Sleep' in a well written plot filled with mystery, suspense and drama. Between his well developed characters and all the twists and turns within the story line, you will find yourself having a really hard time putting the book down….I know I did! Highly recommended for all mystery and suspense fans. I give 'From A Dead Sleep' a 5 star rating."
– Susan Peck, My Cozie Corner book blog.
---
"[An] exciting murder mystery that keeps the reader wanting more. A well written novel that shows one man's flaws and how he redeems himself to the town and ultimately himself. I love a good mystery and this one is one that definitely deserves a read by the mystery lover."
– Kathleen Kelly, Celticlady's Reviews.
---
"I loved this book. The suspense had me sitting on the edge of my seat… The author did a fabulous job with the setting details – I could picture every touch, smell, sight that the characters went through…"
– Yawatta Hosby, author of the novel, 'One by One'.