Fiction/Thriller/Suspense
Blood Trade, the next Sean Coleman Thriller, will be released on September 24, 2015. If you haven't checked out book #1, From a Dead Sleep, now's the time!
From a Dead Sleep

Few residents in the small, secluded mountain town of Winston, Colorado, have kind words to say about Sean Coleman. He's a bully, a drunk, and a crime-show–addicted, armchair detective with an overactive imagination. After a night of poor judgment, Sean finds himself the sole witness to the unusual suicide of a mysterious stranger. With the body whisked away in the chilling rapids of a raging river, no one believes Sean's account. Tormented over the doubts and mockery of the people of Winston, Sean embarks on a far-reaching crusade that takes him across the country in search of the dead man's identity and personal vindication. At the end, he hopes to find redemption and the truth—but sometimes the truth is better left unknown. There are times when the truth invites evil. There are times when the truth can get you killed.
~~~~~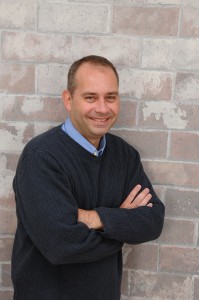 A lifelong Coloradoan, John A. Daly graduated from the University of Northern Colorado with a degree in business administration and computer information systems. He spent the next fifteen years developing accounting software and Internet-based workflow collaboration solutions.
With a thirst for creative expression that went beyond the logic and absolutes of computer programming, John developed an interest in writing. His early work included newspaper editorials and film and television reviews for entertainment websites. He later became drawn toward more substantive commentary on world events. He currently writes political, cultural, and media analysis columns for the website of Bernard Goldberg, former CBSNews journalist and The New York Times bestselling author.
John felt compelled to take his writing to the next level after watching a television interview with former NFL football player, Tim Green. Inspired by Green's career transition from a professional athlete to an accomplished author, John found the motivation to begin work on his first novel, From a Dead Sleep.
From a Dead Sleep is the story of a profoundly flawed man who witnesses a tragic event that no one else believes, and that man's quest for the truth and redemption. The mystery novel unfolds in the dense mountain ranges of Colorado where John has spent much time camping, hiking, and enjoying the outdoors.
Blood Trade, the second book in the "Sean Coleman Thriller" series, will be released in September of 2015.
John lives in Greeley, Colorado, with his wife and two children.
From a Dead Sleep is available in the BQB online store. All versions (print and eBook) are available through the following retailers, as well as all other major book and eBook retailers:
Please follow and like us: